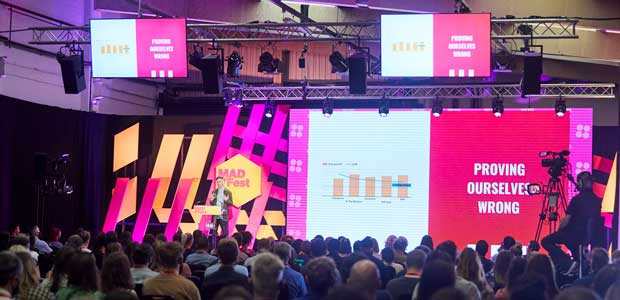 MAD//Fest Preview: The House Of Innovation - The Festival Home For Coca-Cola, M&S And AB InBev
Want to discover what's now, new and next in marketing and advertising technology? Then look no further than MAD//Fest London's House of Innovation, which will be open from 5-7 July at The Old Truman Brewery.
The House of Innovation is where the possible meets practical. It's a place where you can uncover the latest innovation from madtech start-ups and see how it can address real brand challenges through a series of £20k live pitches hosted by some of the world's top advertisers. 
Features include: 
Live £20k brand pilot pitches - with briefs covering personalisation, digital commerce, content inspiration, repeat purchases and more from Coca-Cola, M&S, AB InBev, McCormick, Walgreens and E.On


 

Cutting-edge content - 3 days of keynotes, debates and case studies focused on innovation and attention delivered by top brands, agencies, academics and start-ups including Kellogg's, Beam Suntory, Diageo, New Era, News UK, Samsung, GSK, Dreams, Mars, TikTok and more.


 

Meet the start-ups - say hello to the freshest solutions to your marketing challenges in our dedicated start-up House of Innovation


 
Speed dating - a bit like Tinder for tech! Join our 30 min speed dating sessions where you'll meet 5 rockstar innovations and find your perfect match. Emailing 

mark.janes@co-cubed.com

 to secure your place. 
 

Campari cocktails and personalised Guinness - of course all this innovation and inspiration is thirsty work - so why not kick back with a Campari cocktail or see how tech can personalise your a pint of Guinness? All in the name of research, of course!
THE BRIEFS
McCormick: How can we encourage consumers to do more homemade cooking in a post pandemic world?
As the world's largest herb & spice company, McCormick (Schwarts in the UK) has ridden the boom of home-cooking over the past 2 years. As part of this brief, McCormick are looking for solutions that can sustain growth through inspiring people to cook more in a post-pandemic world. 
When: 5 July, 11:20 am
Walgreens: Promoting and enabling personalised healthcare.
As the world's largest pharmacy chain, Walgreen's is constantly looking to cater to consumers' health-care needs on a more one-to-one basis. As part of this brief, Walgreen's are looking interested in tools that help the business better understand the needs of customers, customising products & services and connecting consumers to Walgreen's stores.
When: 5 July, 2:35 pm
Coca Cola (CCEP): Connecting with shoppers, instore and online
As the world's largest bottler of Coca-Cola products (outside the US), CCEP is looking for innovative solutions to connect, engage and influence shoppers. As part of this brief, CCEP are looking for tools to engage shoppers mid Grocery shop (Instore or Ecomm) to break their habits and to help them pick up something different.
When: 5 July, 4:20 pm
M&S
More information to come about this challenge but we're sure, as with all M&S products, it won't be just any innovation pitch.
When: 6 July, 11:20 am
AB InBev: Engaging and re-engaging consumers in a digital world
As the world's largest brewer, AB InBev is always seeking to connect and engage consumers on a deeper level - particularly in a digital workd. As part of this brief, ABInBev is in search of solutions that create personalised engagement with consumers of beer and other beverages. The product should provide recurring value so that users come back to it at least once a month.
When: 6 July, 2:35 pm
E.ON: Powering conversations and inspiring people towards a sustainable future
E.ON wants to shine a light on renewable solutions such as solar, EV and heat pumps. They are looking for ad formats or tech which can enable dialogue around adopting renewable products. E.ON is particularly interested in transferring their brand values through supporting ethical marketing opportunities.
When: 7 July, 11:00 am
Over 8,000 brands, agencies and media owners are expected to attend 2022's 'No Guts, No Glory' themed MAD//Fest London. Speakers include Rachel Waller, Global VP Innovation, Burberry; Cristina Diezhandino, Global CMO, Diageo; Tina Koehler, Global VP Marketing, Deliveroo; Broadcaster Jay Rayner; Rory Sutherland, Vice-chair, Ogilvy and Sir Martin Sorrell, Founder & CEO, S4 Capital.
The event also features the MAD//Carnival on 7 July, which features DJ Norman Jay MBE and food and drink activations from Dishoom, Heineken, Campari, Diageo, and Beavertown.
Click here to secure your ticket.