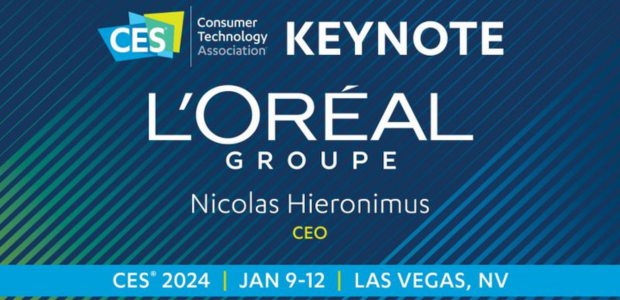 L'Oréal to Keynote at CES 2024: Defining the Next Era of Beauty Tech
The Consumer Technology Association (CTA) announced that L'Oréal CEO Nicolas Hieronimus will deliver the first-ever keynote from a beauty company at CES 2024. A nine-time CES Innovation Award honoree, L'Oréal's keynote will demonstrate how the company's ongoing technology transformation ensures that it remains prepared for a future of its business that is at once physical, digital, and virtual.
L'Oréal's keynote will showcase the role that sustainable, accessible, and inclusive beauty tech plays in driving positive impact at an individual and collective level, from a sustainable showerhead that leverages rocket technology to conserve water and AI-powered mobile applications that provide skincare guidance to augmented reality makeup try-ons and new codes and forms of beauty expression in virtual environments. L'Oréal knows that technology, powered by advanced data and AI capabilities, is an essential tool for creating powerful new connections and experiences for its consumers by solving their long-standing beauty challenges and offering them limitless tools for discovery, self-expression, and personalisation. 

"Beauty is a timeless pursuit and technology adds to its enjoyment while unlocking a world of possibilities," said Nicolas Hieronimus, CEO, of L'Oréal Groupe. "The first wave of beauty tech changed how people discover, evaluate, and buy beauty products. More recently, we've seen how it can better serve the underserved, by democratising skin health and increasing access to self-expression through innovations like HAPTA for people with limited arm mobility. This is just the beginning. L'Oréal envisions a future where no one feels left out by beauty trends, because they will have the power to create their own trends – whenever, wherever – with products and tools inspired by their own stories, experiences, and identity."  

L'Oréal, which has unveiled new consumer technology at CES every year for nearly a decade, released its inclusive beauty tech innovation HAPTA at CES 2023. The world's first handheld computerised makeup applicator, this motion-stabilising device assists those who have difficulty raising their arms due to limited mobility issues, people with limited grip strength, and anyone with limited wrist mobility who may find it difficult to get a comfortable angle when applying lipstick or mascara.  

"We are thrilled to welcome our first beauty company to the keynote stage to highlight innovation in the beauty tech category," said Gary Shapiro, president and CEO of, Consumer Technology Association. "L'Oréal has a powerful story to tell of its vision for what's next for beauty, and how technology enables it to meet the needs of its consumers and outperform the beauty industry today and prepare it for the consumer revolutions of the future." 

Earlier award-winning highlights from L'Oréal at CES include wearables for detecting one's individual exposure to the sun's harmful rays and handheld devices that dispense personalised makeup and haircolor at home. Over the years, L'Oréal has built a powerful global ecosystem of technology partnerships with startups, tech powerhouses, and academic institutions, has invested billions in its in-house research and innovation capabilities, and invested in a worldwide network of startups through its Open Innovation model, through startup accelerators like Station F in France and through its BOLD venture capital fund.  

For the latest information on CES 2024, visit CES.tech.