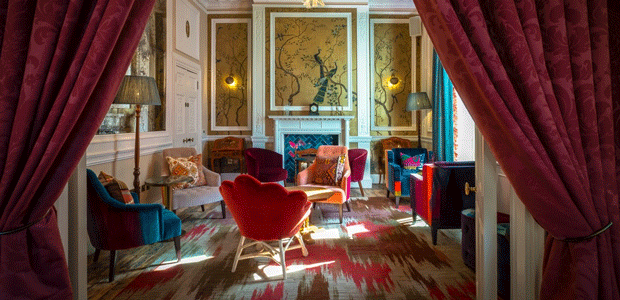 London's Leading Business Club Home Grown Supports New Entrepreneurs with a Space to Connect, Learn and Find Investment
Home Grown, a private members' club in Marylebone, London, and a global community of visionary entrepreneurs, investors and business leaders, has become a vital space for many of the new founders to connect and grow. By offering unrivalled access to market insights, industry knowledge and exclusive networking opportunities, the club provides entrepreneurial pioneers with unique resources to unlock the true value of their business potential.
Andrew Richardson, Managing Director of Home House and Home Grown, commented "We are excited to welcome new founders to our community of experienced entrepreneurs, sophisticated investors and trusted industry experts. I know from my own experience of starting a new business just how important it is to have trusted advisors that can help turn the initial idea into reality. With the incredible business knowledge and experience of our fantastic partners, I have no doubt that the support the new founders will receive is invaluable. I hope they will find our community not only rich in expertise and business support, but also in new friendships that will last a lifetime".
Community is at the heart of Home Grown. By joining the fast-growing business network, members will be able to share ideas, learn, solve problems and build long-lasting relationships. From exclusive investment opportunities to leadership skills, Home Grown's business community provides a 3D point of view to unlock business issues and accelerate success.
Home Grown Ambassadors include Richard Farleigh, former BBC Dragon and serial entrepreneur, Helen Brocklebank, CEO of Walpole, Oli Barrett MBE, Connector, Co-founder and Presenter, Julie Devonshire, Director Entrepreneurship Insititute King's College London, Nick Telson, Co-founder of DesignMyNight and Horseplay Ventures, Diana Verde Nieto, Co-founder of Positive Luxury, Stephen Page, CEO and Founder of SFC Capital, and many others.
Home Grown's events series has been curated to inspire lively debate and disrupt thinking with qualified opinion based on experience. They aim to help businesses grow by understanding their key needs and providing dynamic content to mirror this. The Home Grown programme of events includes exclusive insight and access to: Talent and Skills, Markers, Finance, Leadership, Infrastructure, Community and Wellbeing.
Set in a stunning six story Georgian building in the heart of London, Home Grown offers 35 modern bedrooms, innovative business lounges, bars, pitching suites and a stylish restaurant, the club hosts a variety of spaces to support growth entrepreneurs and investors on their journey to success. Designed by Russell Sage Studios, the bedrooms range from stylish and bijou to decadent and plush, with rates starting from £100 per night for members.
Members and guests can dine in Home Grown's quintessentially British restaurant from breakfast right through till dinner. With a focus on seasonal, home-grown ingredients, menus are locally sourced and wholesome, with a touch of the experimental. The Unicorn Bar is the perfect spot to enjoy a drink, and members can relax and unwind in the Blandford Lounge or Georgian Room.
Home Grown boasts plenty of spaces to encourage discussion, both formal and informal. In addition to the bar and restaurant, the club offers a unique selection of private meeting, event and social spaces, as well as a proven team who can deliver the highest standards of service, food and beverage and hospitality. All event spaces come with air con, super fast wifi, and the latest audio and visual technology.
"I sleep there, I eat there, I have business meetings there. I like it, it's my club." Gregg Wallace, TV Presenter
"Home Grown is more than just my office in London. It's a community. It's a place to network with other business people. But most of all, it's got that super friendly and positive vibe that you just can't wait to get there each time." Founder & Director, The Delegate Wranglers
"It's always a delight to meet, network and entertain amidst the generally relaxed vibes that radiate through Home Grown." Gladstone Small, former England Cricketer and entrepreneur.