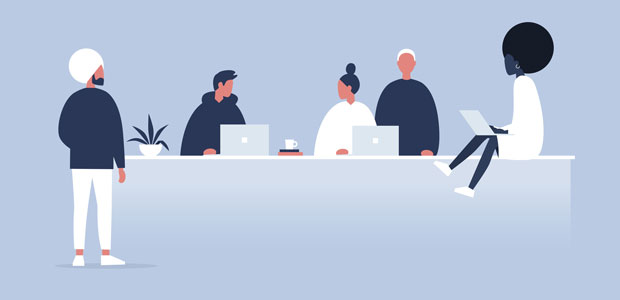 London's 'doughnut' boroughs see increase in demand for flexible office space
Rishi Sunak has predicted a rise in hybrid or flexible working in local hubs once the pandemic is over. Speaking on the Politico Westminster Insider podcast this month, he cited the rise of 'neighbourhood' serviced offices springing up across New York, and thinks these small local hubs for people who want to avoid the commute but don't want to work at home is something that should be picked up in the UK. 
According to research from Workthere, this is a trend already being seen across the capital, with the London boroughs and residential hot-spots that sit in the doughnut around the city centre, experiencing a significant increase in demand for flexible offices over the last year. 
Searches for flexible office spaces in London boroughs have soared, increasing by 669% in Clapham, 413% in Harrow and 327% in Stratford, Lewisham, London Fields and Tottenham. The flexible office specialist says that this rise in interest for serviced and coworking space outside of Central London is a clear indicator of businesses and, in particular, individuals wanting a workspace closer to home.  
Cal Lee, Global Head of Workthere, commented: "The trend of wanting to combine a workspace closer to home with going into a main central office has inevitably been accelerated over the last eight months and we are now starting to see this come to fruition with demand levels rising for more suburban locations."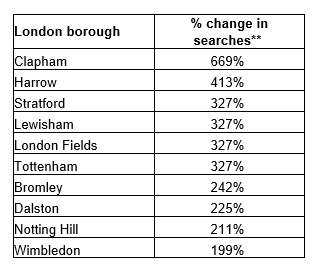 **Figures based on an index of searches on Workthere website for flexible space pre and post lockdown (pre lockdown is 1st Jan 2020 until 15th March 2020 and the post-lockdown period is 16th March 2020 until 26th August 2020). 
Despite the fact that demand is increasing for these less central London boroughs, Workthere noted that Clapham currently only has two existing co-working spaces in situ, whilst Stratford has four and Wimbledon only one.
Cal continued: "Central London is and will continue to be a leading global hub for flexible office space with large and independent providers well represented across the City and West End markets. However, given that demand levels for more suburban locations are increasing by such substantial levels, we would expect to see more of these names look to establish a presence in wider London boroughs and take advantage of the current supply / demand imbalance. 
"Whilst this trend is already evident in London, we expect to see other cities in the UK follow suit. The 'hub and spoke' model has been proven to not go far enough and is perhaps too rigid a model for uber-mobile working generations of today. Instead, the 'hub and roam' model allows for increased employee freedom, building on the idea of a central hub and its corresponding spokes, hub and roam does not dictate where these spokes should be. Instead, employees are encouraged to work from wherever suits them best to achieve ultimate productivity. This might be from home, from a nearby café, a hotel foyer, under utilised retail spaces or even from a local flexible office."