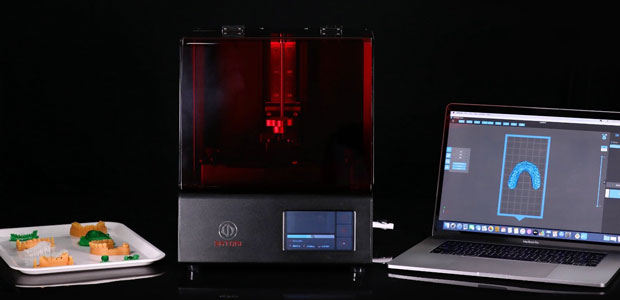 London-based startup is transforming 3D printing in dentistry
Satori is transforming healthcare in the 3D printing industry by offering accessibility, cost, and time efficiency through its affordable, desktop-sized, professional 3D printer, the ST1600.
Satori CEO Chengxi Wang spoke about how the company pushes the limits of additive manufacturing at the TIPE 3D Printing Conference  on 28th January, hosted by Women in 3D Printing. The event made history by being the first-ever 3D printing conference with an all-female speaker agenda, consisting of 147 female leaders from the additive manufacturing industry.
The London-based startup is transforming the 3D printing dental industry through the ST1600 3D printer, suitable for dental professionals and global innovators across all industries including jewellery design, engineering and manufacturing. The printer helps users cut costs and optimise work by printing up to seven teeth models in under an hour, with each model costing less than £5. 
Satori views 3D printing technology as a tool that empowers users to produce whatever they set their mind to, requiring creativity, innovation, and pushing the boundary to achieve its full potential. The company emphasises the importance of digitalisation, as it helps professionals transform their methods to be more resilient and prepared for supply chain distributions such as the ones caused by the global pandemic.
Satori thrives in paying attention to the big picture and having a positive user journey, which involves having a strong integrated collaboration every step of the way to achieve successful 3D printing in the dental industry. 
"It is crucial for users to collaborate with manufacturers in order to achieve the best possible outcome. By coming to manufacturers and asking for customisation of 3D printers to help achieve specific goals, dental professionals can really elevate their user experience to a different level." commented Satori CEO Chengxi Wang while speaking on the  "Pushing the limits of AM in healthcare" panel at the TIPE 3D Printing conference.