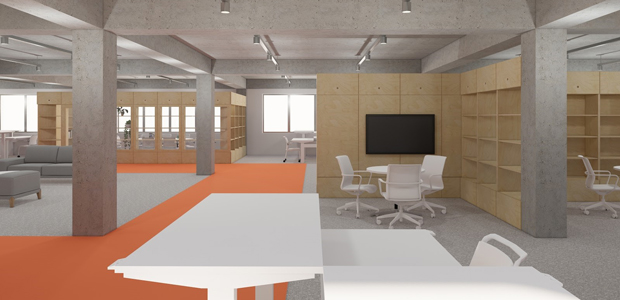 London-based startup launches COVID-safe 'Cubes' for offices
As part of its 'back to work' strategy, the UK government is allowing businesses to return to their premises when they cannot work from home. It will be essential that all returning employees are kept safe at all times on the return to their workplaces.
With the current public health crisis, the role of workspaces is dramatically changing. To meet this need, workspace technology startup, Incube has announced the launch of Office 2M - a smart, modular wall solution that keeps workers safe and protected whilst at work.
The modular wall components (known as Cubes) arrive with built in smart technologies and sensors that can be easily installed and moved around in response to space utilisation data. 
Office 2M offers a range of benefits that address the issues facing post-lockdown life. Social distancing is addressed by adjusting sections to accommodate a 2.5 metre track within the office, allowing occupants and guests to maintain a safe between each other. 
Communal spaces such as meeting rooms and breakout areas are adapted by reducing seating and adding partitions. 
All components come with an anti-microbial coating that can be applied to high touch surfaces. This stays active on surfaces for five years, killing 99.9% of pathogens that come into contact with the coated surfaces within six hours.
These new features build on Incube's existing capabilities that continue to be relevant in a post-COVID-19 world.
Upon arrival into the space, Cubes are connected to the WiFi allowing anonymised data collection tracking use of the space to be fed into a centralised dashboard, generating real time insights. This enables office managers to anonymously monitor adherence to social distancing and to adapt the space in response to actual usage. 
This is in addition to smartphone-enabled access into the office and meeting rooms, eliminating the need to touch keypads. Each Cube is provided on a monthly subscription with delivery, installation and IoT upgrades included. 
Incube is currently rolling out the showcase product with customers including Robert Bosch Group and Great Portland Estates.
George Johnston, Co-founder of Incube, said: "Social distancing is one of the most effective ways to minimise the spread of COVID-19 and we can't avoid employees heading back to their workspaces, so we developed a solution to enable this safely."
James Pellatt, Director of Workplace and Innovation at Great Portland Estates, added: "Now that the government has set out its plans for a safe return to work, the wellbeing of our occupiers is critically important.  
"We have been really impressed with the integrated solution offered by Office2m. It's hygienic, easy to install, flexible and provides real time feedback to occupiers to allow them to continue to adapt as the situation evolves."
Incube designed and operates the London Connectory, a collaboration space from Robert Bosch Group and Nitrous, in London's Old Street.