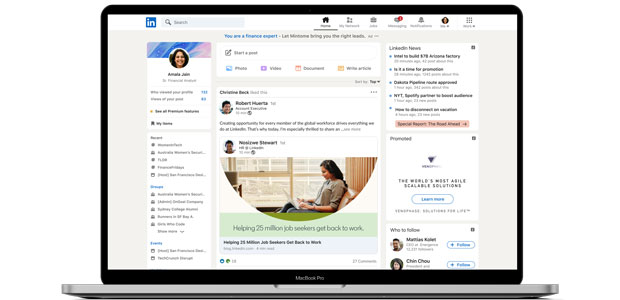 LinkedIn announces new design and member experiences
LinkedIn has announced a new visual redesign to help people connect with their network and community, and to make their LinkedIn experience as easy, enjoyable, safe, and inclusive as possible. Every element of the visual refresh has been designed with LinkedIn members in mind.
New look and feel
LinkedIn's first major visual redesign in five years offers a cleaner and more modern look and has been designed to convey a sense of community.
The guiding principles to bring it to life included: 
Warmth

- The warm colour palette uses foundational canvas hues, and blue and green accents to signal action and selection. LinkedIn has also added new illustrations that reflect the new world of work and more rounded shapes for a softer, friendlier experience.

Intuitive

- The new design optimises for space, size, and typographic structure to make it easy for members to understand and navigate LinkedIn. 

Simple

- The look and feel has been simplified with more whitespace being added, and the number of divider lines and decorative icons being reduced. 

Inclusive

- LinkedIn has created new illustrations that incorporate a wide range of professional fields and industries, and represent professionals from different ethnic backgrounds to bring to life the vibrancy of the community and the diverse perspectives that exist on LinkedIn. This new experience was also designed to meet LinkedIn's accessibility standards, and there are plans to introduce a dark mode option soon.
In addition to the visual redesign, LinkedIn has also enhanced its member experience: 
Messaging reimagined
Conversations on LinkedIn have skyrocketed during the global pandemic as people move office conversations online and connect with their network to stay informed and find opportunities. LinkedIn has seen a 25% increase in messages sent since last year.
For people that prefer private messaging, LinkedIn is adding new ways to connect with feature updates including reactions, and the ability to start a video meeting directly in a message thread.
Making messaging more visual

- In October, LinkedIn will be making it easy to switch the conversation from chat to face-to-face using Microsoft Teams, BlueJeans by Verizon, or Zoom directly from LinkedIn messages. 

Control over messages with edit/delete sent

- The ability to edit or delete sent messages has been added. It will also be easier for people to select multiple conversations at a time to archive, delete or mark them read/unread all at once.

React to messages with emojis

- LinkedIn has added the ability to quickly react to messages with emojis to make it easier for people to express themselves.

New ways to keep the LinkedIn community safe

- New in-line message warnings have been added to help people more quickly identify inappropriate, inflammatory, harassing or hateful content so that members can report bad actors.  
Search updates
LinkedIn is also making it easier for people to find everything available on LinkedIn:
One blended search experience

- Search will now show more organised results with jobs, people, courses, groups, events and content in one result, making it easier for members to find what they need faster. For example, when searching for "java", the results will show people you may know with that skill, jobs requiring that skill, relevant LinkedIn Learning courses and related groups to join. 

Find it faster with more filters

- LinkedIn has also added keyword filters for people (previously available only on web) to the mobile app, as well as filters for company by location, industry and company size to all platforms.

Spot more relevant insights in results

- While speed is important, relevant results matter. LinkedIn has added more personalised insights to search results: like surfacing connections who work at companies in your job search, and LinkedIn Learning courses 'liked' by people who work at your company. New result cards that show a connections' recent activity have been added, and also a "People Also Viewed" list of relevant companies or people to follow.