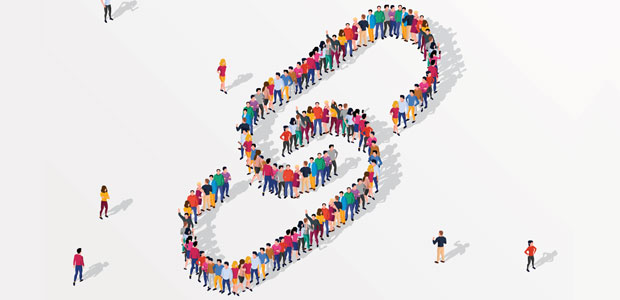 The link in the Social Chain
Having spoken to thousands of founders and businesses over the years working at Startups Magazine I have quickly learnt that it takes a certain type of person to become an entrepreneur and really pursue growing a business. 
Meeting Dominic McGregor this week, he said something very interesting that stuck with me: "I don't think you're always born an entrepreneur, yes the foundations have to be there but it can be learnt and developed too. I failed in business education, but that's because no one makes a decision tree to make business choices in real life."
Dom, who is now a Founding Partner at Fearless Adventures, was previously one of the Founder's and ex-COO at the massive $650m company Social Chain, and he shared his story to a room full of entrepreneurs last week at Legacy Club's 'In Conversation With' event. Interestingly enough the first thing Dom shared was growing up he was a normal lad, that loved playing football. He went to a Quaker school and then went onto University as that was what most schools expected of you, and having a passion to becoming a football analyst Dom decided to study in sport.
University was the first link in the Social Chain
It all started from a single tweet whilst Dom was studying Sports Science at the University of Edinburgh, he explained: "It was when Twitter was getting really popular, and I got really into it in the early days. I went to the toilet and had ran out of paper. I thought what a typical student problem, others must be going through this, so I decided to tweet and used #studentproblems."
Dom got no likes or retweets, but it made him happy so he decided to create a separate profile called Student Problems where he could continue to document his life and all the problems students face. It really didn't take long for Dom's following on the page to really start growing. He said: "It took me 400 tweets to get to 400 followers, it was therapeutic and I really enjoyed it. Then twitter introduced pictures – this was game changing."
That was a catalyst for the page, and just 500 tweets had landed 5,000 followers. It was around this time the meme started to take off and Dom started to post funny pictures. He laughed: "I am not saying I created memes but I was definitely around when they were invented."
Soon he was at 50,000 followers, and it was then that Steven Bartlett (who at the time was running an online messaging board/ student community Wallpark) messaged him and they decided to meet in a bar in York and see where they could take this. Dom said: "I thought this is great, I can make a bit of money to have more fun at university."
Steven's idea with Wallpark was to build a community for students. The duo decided to start posting about it on the Student Problems Twitter and all of a sudden 300 people were on the site. Dom explained: "This was an amazing lightbulb moment for us, and we decided to work together on this."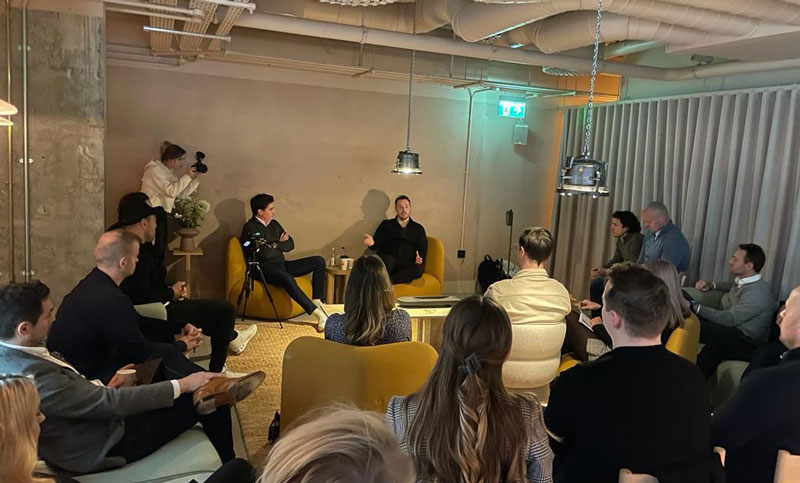 Side Hustle
At this point Dom had started to make some money on the side, whilst still studying for his degree. It came to the end of his second year, and he had some big decisions to make – to continue with his degree, or to really go for it with this opportunity. He said: "My parents said they would be supportive of whatever decision I made, but most of my friends thought I was stupid. What it came down to was watching the film The Social Network, and I thought that looked a good life, so I went for it."
Dom knew he was in a fortunate position, not having commitments like a mortgage and family, and was lucky to have a family who could support him, but it was a massive change in his life. No more waking up at 3pm and strolling into uni, he was getting up early, working until late in the evenings and a lot of sacrifices had to be made when it came to going out and socialising.
Wallpark actually went onto fail, however what Dom and Steven had done successfully is build a community. "People were going onto the platform, they just were staying on there," Dom explained. The social media influence was bigger than the website trade, so they got rid of the website and started to work on growing the social sites.
This was the beginning of social chain. Dom explained: "We sold a couple of marketing packages on these sites and started to drive a lot of traffic and downloads."
Social Chain
The pair quickly learnt they needed more pages and in more industries, sport, fashion etc. Dom described what they were doing as, "a couple of kids running social pages", to which there must have been more out there, so they gathered more to join them and quickly had built up a community and following of 50 million.
This is when some of the bigger names came in, Microsoft and Spotify to name a couple, but also a small local company called Pretty Little Thing. Dom said: "We were a gateway, it used to be hard to get people on to social media, now it is the easiest thing in the world."
But as the bigger names came in and the business started working with the likes of Coca-Cola, Uber, Amazon and many more, this is also when a lot more responsibility and stress came in, the bigger clients had a level of standard they expected of you, the company had to grow up quickly, mature and meet some serious deadlines; and cash-flow problems started to occur. Dom shared that they had mega deals but they didn't pay straight away, and this started to become a bit of a reoccurring problem.
"Running a business comes with trenches and hills," Dom described, and at such a young age, running a successful business but also having to deal with some of the struggles, and financial situations really took a toll on Dom and he turned to alcohol – both with the highs and the lows.
Talking about this time in his life, Dom explained as you start to hire more, go to more investor meetings and sometimes lose pitches things can get a little on top of you. On the flip side, as you land more deals and win awards there are staff parties and celebrating, he said: "For me it got to a point where alcohol was just there for every emotion, and I was becoming dependent on it."
From here it was a downhill spiral, and Dom explained there become two versions of himself – drunk Dom and sober Dom, and drunk Dom was ruining his life.
"It started with ruining professional situations, I turned up late or missed important meetings. I became depressed, fat, miserable and always tired. I didn't know what was going on and I became a shell of myself."
Of course, people started to be concerned, but Dom never wanted to admit it was the drink. There was an incident for Dom that was the straw that broke the camel's back, and it was at this point that his co-founder Steven intervened. Dom described the moment: "He came in for me, ready for war and was going to blow, and I just opened up to him and admitted I was a broken man. This was the first time we opened up about the struggles and turmoil's of running a business and I just said this is how I am dealing with it."
Dom realised at this point he needed to deal with his emotions that was leading him to alcohol, and now he proudly shared with us that he has been sober for five and a half years. He added: "It was a lack of understanding, as soon as I realised the problem was me and I took accountability for myself, I could move forward and things could change."
The merger and exiting
Dom and Steven when creating Social Chain wanted a business that one day would no longer need them. "We didn't want to be running a social media business after 30, this was always part of the plan, and one of the reasons building such a good management team was important."
As soon as the indicators were aligned they knew they could walk away, and they did – the business sold for over $200m.
No.10
Dom has been busy since the exit, in fact he partook in some advisory work for No.10, which he described as, "the most contrasting work ever." It was after one of his friends who worked in Downing Street approached Dom and said they wanted to become more digital and aligned with social media.
Doing this, Dom said he was pleased to go in and advise on socials and he met some amazing people, but the red tape and regulations really proved to stifle a little too much and is holding the Government back when it comes to innovation.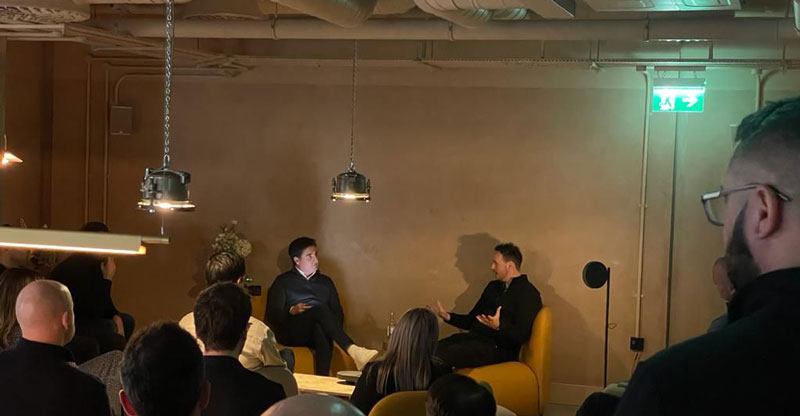 Fearless Adventures
Now Dom has embarked on a new (Fearless) Adventure. Together with Charlie Yates and David Newns the trio have founded a venture capital and private equity company who set out to invest in and support entrepreneur-led businesses with their expertise in growth strategy and talent acquisition.
Fearless Adventures has been created to help the next-generation of entrepreneurs maximise the full potential of the businesses that they have built, from first-hand experience in growing and scaling multi-million pound businesses.
Speaking to the audience, you could really see this is something special and close to Dom's heart as he said it is born from everything he has learnt from his journey over the past eight years, and therefore he wants to help people in a number of ways:
Being a founder – "This is so difficult based on decisions you have to make, and it all being down to you."

Agencies – "I hate agencies as they are only focused on growing themselves, and not the people they are supposed to be helping."

Raising Capital – "Especially in the North of England and in sectors like B2C it can be so difficult."
When it comes to raising funds, it is so much more than just money, and Dom said as a founder you don't want to raise money with someone you have little connection with. "We want to provide genuine help and support and work closely with founders. It is about investing in companies to help them grow."
New beginnings
The passion Dom now has for this new venture is abundantly clear. He expressed: "When we saw Social Chain on the stock exchange I didn't feel anything, it didn't make me feel happy. What makes me happy is helping people, being able to offer support and seeing others succeed."
And to close the chat off, Dom was asked if he had a message for his younger self who was about the send that tweet out, back at university what would he say? To which Dom replied: "Drink quicker, find out you're an alcoholic sooner, and get over it faster."
Commenting on the event, Organiser and Founder of the Legacy Club, Chris Caffrey said: "It was a huge privilege for me to be able to interview and share Dominic's personal and professional journey with the Legacy Club members.  For such a young man, he went through a rollercoaster of an experience with Social Chain, and it wasn't all glamour and success. 
"Every entrepreneur will face challenges on a daily basis, it's how they adapt and deal with them that will make or break them."