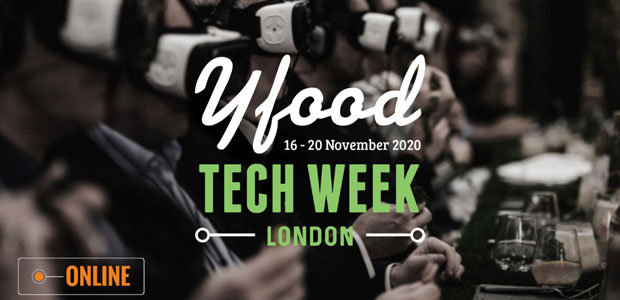 Line-up revealed for virtual London Food Tech Week 2020
London Food Tech Week - the week-long festival and showcase of the latest food trends and companies using technology to transform the food and drink ecosystem - will return virtually from 16th-20th November 2020 with a game changing line-up.
The line-up includes the Producers and Writer of the Netflix eye-opening plant-based documentary The Game Changers, James Wilks and Joseph Pace who will speak alongside Dr. Rupy Aujla from The Doctor's Kitchen, Professor Tim Spector, Michiel van Deursen of Capital V and Charles Michel, Food Educator, Researcher and star of The Final Table on Netflix.
Hosted from London with attendees and speakers joining online across the globe London Food Tech Week will play host to a series of high energy and engaging events including investor, expert and industry drop-ins for startups, case studies profiling small and large businesses that worked together to solve real life challenges in the food industry, and a series of talks by founders, innovators and leaders of disruptive businesses that spearhead thought-leadership in the Future of Food, raise the awareness of global food issues and how technology and innovation gives us the opportunity to solve these problems. They'll be shaking up online events with a high paced, whistle stop interactive tour on their Innovators Showcases each day.
Other speakers include:
Meera Zassenhaus, from New Harvest, the only Research Institute in the world dedicated to open public cultured meat (Lab grown meat) research. She'll be helping the audience 'Demystify Cellular Agriculture'.

Alec Lee, the Co-Founder and CEO of Endless West, which creates wines and spirits at a molecular level, creating the same flavour profile of wine or even whiskey, but with less associated costs and environmental impact.

Ben Scott-Robinson, Co-Founder and CEO of Small Robot Company, who are on a mission to help farmers regenerate the planet using robotics and AI.

Philippe Goldman, CEO Pazzi, the creators of the first fully autonomous pizzeria, where you can order your custom-made pizza through the kiosk or by smartphone, and enjoy the show as a robotic arm prepares the dough, adds the finest ingredients, slices and serves!
London Food Tech Week also has speakers and partners from Epic Games the creators of Fortnite, Max Burgers, Leon, Yo! Sushi, Compass UK & Ireland and Levy UK, Spoon Guru, Vita Mojo, M*lkman and Triodos Organic Growth Fund.
Nadia El Hadery, Founder and CEO at YFood, which organises London Food Tech Week, said: "We're excited to be bringing London Food Tech Week 2020 fully online. Now more than ever we need new tech, innovations, collaborations and investment to support us to innovate and seek out opportunities through these challenging times. We're providing the platform for the incredible people and companies in our community to come together and build companies for the future."
A passport to London Food Tech Week starts from £180 +VAT with 70% off for Food Tech startups. You can check these out here.