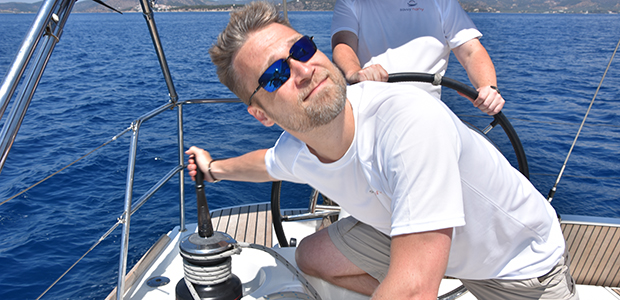 Life on the ocean waves just got a lot simpler
Inspiration can be found in the most unusual of places, although clinging to a yacht's mast in the middle of a Caribbean storm might not be an obvious source of entrepreneurial zeal. However, this was the case for Jelte Liebrand, Founder of marine navigation platform Savvy Navvy, who has also recently been named as the Seedrs Entrepreneur of the Year. We caught up with him to find out more.
With a background in mobile operating systems, it was while Liebrand was working for Google out of San Francisco that he indulged his passion for sailing when he took the opportunity to participate in the six-week, San Francisco to New York leg of the Clipper Round the World Yacht Race.
From a pure sailing perspective, the crafts that take part in these types of events are state-of-the-art. However, it struck Liebrand that the onboard technology was anything but, stating: "If you cast your mind back ten or 15 years, when navigating on land you'd probably have something like a TomTom in your car, which you'd have to buy maps for and then update by taking the CompactFlash card out, etc. 
"That's what navigation at sea is still like today. The data is all there but it's very difficult to get at and use constructively. The whole infrastructure, chart plotters, and navigation tools etc are all very disparate and user-unfriendly. So, you find that you tend to work out the necessary calculations for navigation yourself. In other words, while the onboard computer shows all the colourful graphs to indicate what the wind is doing etc, it's still down to you to work out how that is going to impact you and your journey."
The problem
On completion of his jaunt around the southern half of the North American continent, Liebrand started talking to people and found that this is a huge problem shared by other sailors around the world who regularly get the information they require via multiple apps which are clunky and outdated. 
He added: "The interfaces are certainly not what consumers have become used to. Nowadays, everyone has a smartphone, with Google Maps etc, so expect everything to be super-simple and click-and-go. That's not really the case if you're using apps at sea."
Liebrand also explained that the professional software packages for ocean navigation are very powerful, but they come with a user manual sized to match. Famously in the Volvo Ocean Race a few years ago, the Vesta Racing Team ran aground, and the team were lucky to escape with their lives.
The subsequent report blamed the navigator for not zooming in on the digital charts to notice that they were heading for a reef. "That's ridiculous," Liebrand continued, "if you have a piece of software (the sole purpose of which is to get you safely from A to B), then it should tell me if there is a reef somewhere along that plotted path, and should sound some alarm bells. It should not have to rely on me manually zooming in to work that out. So, in my opinion even the professional software isn't up to the task. And we're talking about a major safety issue where people could potentially lose their lives.
"So, at the moment navigation is either extremely difficult to learn; outdated and clunky; completely inadequate and impractical; or a combination of all of these factors, where the user is switching between a multitude of different apps to get the information they need."
Early hurdles
After a period of prototyping and talking to other sailors, Liebrand realised that if he wanted to develop his own solution then he couldn't just do it as a side line, and so he left Google and established Savvy Navvy in August 2017. 
An early challenge for the fledgling startup was that when trying to combine all the disparate data out there, it was vital to get access to the licences. For example, the hydrographic offices around the world own the ocean charts, so Savvy Navvy needed to talk to all of them.
Liebrand added: "In my first meeting with the UK Hydrographic Office they told me that if I provided them with the latitude and longitude of the area I wanted chart data for, they would be able to tell me how much it would cost. My response was very simple – I wanted all their data as I didn't want maps that the user must update – I want it to always be there and always be up to date. They simply didn't have a model for that type of request."
It was then that Liebrand identified one of the most valuable lessons that an early stage startup can learn – the recognition of what he was good at, and what he could and more importantly, couldn't do. As such he teamed up with an old friend from his days in mobile operating systems at Symbian, Kevin O'Neill, whose expertise lies in licencing and procurement, who then spent seven months with the UK Hydrographic Office to rewrite their licencing process.
The UK Hydrographic Office carries significant clout globally and represents ten other countries. So once Savvy Navvy established a deal with the UK, that gave the company access to other countries such as Spain, Croatia the Netherlands and others. 
Savvy Navvy has a roadmap to expand into other regions throughout the world. Currently the company covers the majority of the Mediterranean, the UK, the whole of the US, with New Zealand and Australia next to follow.
The product
Savvy Navvy analyses all the data that sailors need, taking into account real-time weather forecasts, chart and tidal data, in seconds, on your phone, providing navigation calculations in one place. Features include:
Departure and ETA planning: Savvy Navvy's four day weather forecast lets you pick the best time to leave the marina, ensuring you arrive on time and/or pick the best time for that perfect sail.
Real-time wind: Savvy Navvy integrate real-time GFS models to calculate the best wind angles for your boat. Users can quickly and easily see what the wind is going to do with Savvy Navvy's four-day weather forecast.
Tidal calculations: See tidal stream information and get a recommended course to steer (CTS) on your screen with a detailed preview of each section of your route.
Hydrographic chart data: Sail with peace of mind knowing your route has been plotted with reliable chart data from NOAA, UKHO and other hydrographic offices around the world. 
GPS location: Use Savvy Navvy on your phone or tablet and you'll be shown a blue dot to indicate your actual position.
Export waypoints: Use your onboard chart plotter by exporting the current route waypoints to GFX.
Savvy Navvy launched with aplomb at the London Boat Show in January 2018. Liebrand continued: "We expected around a half percent conversion rate from trial users to paid users but achieved closer to one percent. At that point we realised that we needed some funding in order to get to the next level. That's when we started our Seedrs round at the beginning of 2019 which also went a little crazy -  we were supposed to be on the platform for around 60 days, but within a week we'd received 265% of our funding target with over 400 investors, so we had to close it down as we were reaching the maximum amount of the company that we wanted to sell."
This year has been about putting in place the final core pieces of the product which includes tidal integration, the iOS and Android apps (Savvy Navvy originally launched with just the web app which allowed the company to iterate much faster), and in general perfecting the user journey.
"We'll be doing another round of funding with Seedrs in February next year. That round will allow us to really crank up the marketing and see us through to profitability for the core business in 2021," Liebrand added.
Savvy Navvy has also developed partnerships with brand 'ambassadors' - innovative thinkers who've backed the company and support the mission to build a safer, easier, modern solution to sailing navigation worldwide.
These include Oliver Cotterell, skipper of the 2013/14 Clipper Round The World Yacht Race on One DLL, attaining a podium third after three months of gruelling racing in some of the world's toughest oceans; Hannah Stodel, a three time world champion, four time Paralympian, and is aiming to be the first ever disabled sailor to take on the Vendee Globe; and Alex Gardner who holds a degree in Yacht and Power Craft Design (small craft naval architecture).
Roadmap
In terms of expansion Savvy Navvy will be looking over time at the motorboat market, where a lot of the principles in sailing (albeit not all), still apply, so the company will be looking to roll-out to that market in 2020. 
There are further plans for growth into other leisure marine markets, such as providing suggested routes for day sailors, racers, and even paddleboarders. 
And while commercial shipping isn't really on their immediate radar, it does provide an interesting potential future spin off. Utilising a more refined algorithm like Savvy Navvy's, which can take into account multiple factors, could really impact on factors like fuel savings – which could equate to billions of dollars.
"Another example would be cruise ships where, aside from fuel consumption, they don't want the sea conditions to be unstable for passengers, so a more localised, fine-grained algorithm could help. However, these expansions are much further down the line, and we are looking at them more as strategic partnerships, where those types of industries could be interested in the underlying IP that we have," added Liebrand. 
Award winner
We first were alerted to Savvy Navvy at the Seedrs Alumni Awards, where Liebrand was named as the Entrepreneur of the Year. So, we certainly couldn't speak to Liebrand without asking his advice about his entrepreneurial mantra for early stage startups.
And when asked about his startup journey so far, he concluded: "If you speak to ten people, nine of them will be naysayers. It can be very disheartening to continuously be told that what you have in mind is hard, impossible or even wrong - mostly by people who like to sit in their armchair and judge. You need to be prepared to handle a lot of "no's" and when (inevitably) things don't quite work, you need to adapt and keep going. It's a cliché but it's a roller coaster ride with many ups and downs that you need to be prepared for."