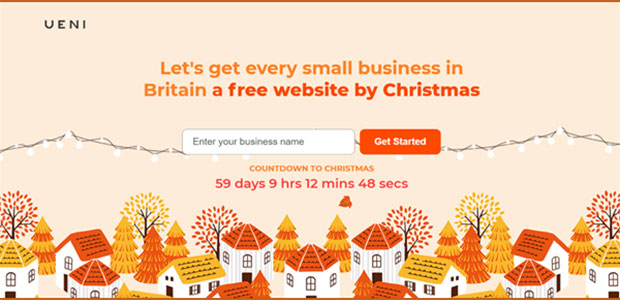 'Let's build every small business in Britain a free website by Christmas'
UENI believes every small business should have a high quality online presence that can sell products and accept bookings, that is why their mission is to give all business owners a website for FREE.
This is a big commitment from UENI in normal times but now a second national lockdown is in place and Christmas approaching, they have decided to accelerate outreach and work towards building every small business in Britain a free website by Christmas.  
UENI's campaign is significant because the free websites they build are ready to sell products and accept bookings from day one. The company's free website is an entry point into e-commerce at a time when so many businesses need the ability to sell fast, particularly with the holiday season upon us. This is a shift from the choices available to small business owners today. They either need to spend time setting up the website themselves or they need to spend big money on an agency to do it for them. UENI will do this for a small business for free so that it can start selling or taking bookings the same day.
How?
The business owner answers a few questions about their business and then UENI takes that information and through a combination of technology plus human capital, transforms it into a fully built, search-engine optimised website and Google My Business listing - free of charge. You should receive your website in three days or less. Once your website is live, you can jump into website editor and make any tweaks you like or to add more information.
Why are UENI doing this?
In the UK alone, 2/3 of sole traders and 1/3 of microbusinesses (sub ten employees) don't have a website. A website is a basic utility today, no different than broadband, and the company believe everyone should have access to one. Even among business owners that do have a website, many are not maintained or bringing value to the business. Thousands of businesses that signup for our service with pre-existing websites link to domains that return 404 errors or cannot be viewed on mobile.
UENI also know that it is not easy to successfully create your online presence. Based on UENI surveys, 3 out of 4 small businesses say they struggle to appear in online search results. Given that most customers search online prior to choosing which business to patron or buy from, small businesses therefore struggle to compete, and it is no wonder that there is a high incidence of small business closure every year.
These trends are accelerated by the coronavirus pandemic, which will hasten the closure of many small businesses. Many more have been crippled by the restrictions. According to the ONS, 47% reported their turnover had decreased compared with what is normally expected for this time of year.
Meanwhile, based on the last several months, we see that customer behaviour has meaningfully changed globally:
Weekly online shopping by customers has increased by around 30%

85% shoppers have increased

curb side

pickup during the pandemic

Buy online, pickup in store has surged as a phenomenon

A minority of customers expect to increase instore shopping before Feb 2021
Customers increasingly rely on regular information updates about local businesses they patron. Therefore, a customer's website and their Google My Business, an engine that powers Google Search and Google Maps, are increasingly critical.
Other website builders provide tools for small businesses to do it themselves. UENI addresses one of the clear challenges that has prevented small businesses from successfully going online: the business owner often does not have the time or knowledge about where to start.
The Mission
UENI (intentionally named and pronounced YOU and I) was created to help microbusinesses get online and grow their business. 
More than anything else, UENI is a community. A community of thousands of small, local businesses with big dreams. Some are far along the journey, others are just starting out, but they all are given the same opportunity by UENI. Getting your business discovered online shouldn't be for just rich corporations and tech wizards; it should be for the many.
UENI believe in this country's entrepreneurs and want to see them thrive - no matter how big or small.
"Our mission is now accelerated by the economic crisis, and we want small business owners to be able to sell and provide value to their customers during this holiday season. So, we are launching a campaign to build every small business in Britain a free website by Christmas. The demand is there, in the UK 2/3 of sole traders and 1/3 of micro businesses are without a website. Such a campaign speaks to businesses in the first instance, but as every individual knows of small businesses that they would want to help, the campaign really touches all of us.
"UENI serves 50,000 micro and small businesses in the UK (600,000 globally) and from talking to these business owners we know that our free product, a simple, efficient website and a Google My Business profile, is helping them communicate with customers, announce changes to their operations, accept bookings and make sales. Therefore, we started our business.
"By doing the setup for the small business and curating the experience, we increase likelihood of eventual success. In fact, compared with the leading website builders where 10-20% of customers publish their websites, more than 80% of UENI customers launch a website."