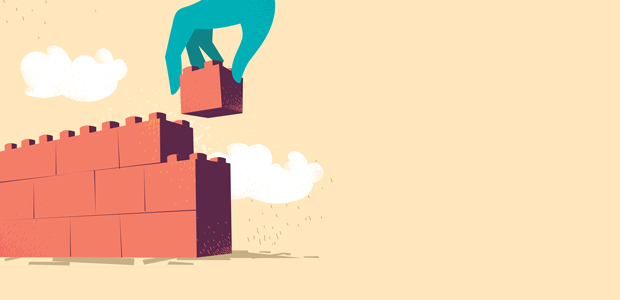 Let's build back better
Have you noticed that there has been a dramatic shift in people's priorities over the last 12 months? But as things begin to ease out of the third lockdown and into a 'new normal', how are we going to maintain habits and rebuild our businesses so they are fit for the unknown future? Here Sara Osterholzer, co-founder of The Good Business Club, shares some insights on the small business movement to Build Back Better and how to get involved.
COVID-19 may have impacted everyone in a unique way, but something I am seeing in most people who I'm engaging with is a new commitment to reconnecting with people and the planet, and a reprioritisation on how they spend their time and resources.
Whether it is in conversations with my neighbour about spending more time at home with his family rather than on the daily commute; or with a business associate highlighting their commitment to reducing international travel to lower their carbon footprint, I've never before seen such a unifying moment in society like this in my lifetime.
But it's also been a tough time for small business owners. Too many businesses weren't prepared for a dramatic shift in customers' needs and many feel lucky to have survived. As the world adapted to a whole new way of living, so many businesses were, and still are, figuring out their place amongst it all. 
So now we are easing out of a third lockdown and with it another shift in behaviours. What does this open up for small businesses across the country? Where should we be focusing our time and energy to build our businesses back to a better future?
One thing I've seen small businesses in The Club benefit from is being in a community and using a collaborative way of working to be agile and grow forward into a better future. As a community, this last year has highlighted the power of working together to achieve our business goals, filling the gaps in our knowledge and skill sets, creating ideas and campaigns to raise awareness, and remodelling the way our businesses run to drive change.
Whether members were starting up businesses or are leaders in their sector; whether they had seen success pivoting their business model or were starting over, they all have experience and insights to contribute.
I'm excited to share that The Good Business Club and Startups Magazine are working in partnership to unlock this hive of expertise in this series to support small business owners and teams to build back better; opening up knowledge from good business leaders and specialists in order to educate and share the skills needed for businesses to thrive in the new economic climate. Not just now but in the future. 
The Build Back Better series will offer educational resources and advice across business sectors including: 
Accountancy and financial planning/investment

Branding and marketing / PR

Wellbeing and self-care
I believe the future of business will be about creating resilient business strategies as companies move beyond integration of sustainability and truly redefine business and the role of the company in society, which will enable them to drive impactful and positive changes for people and our planet.
Our ability to achieve a world where this happens lies in working together.
You can follow the Build Back Better Series here.
Want to join the movement and create positive change? Sign up for our free 30-day trial