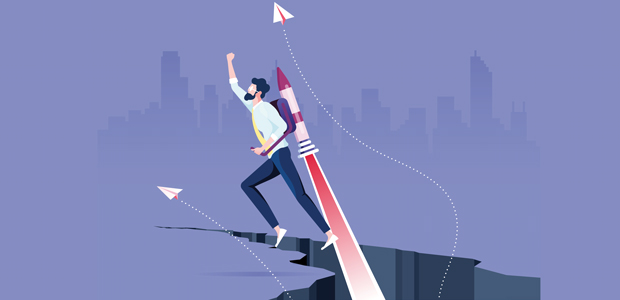 Lessons learned during the journey from CISO to CEO
Startups Magazine caught up with Flavius Plesu, Founder and CEO of OutThink, the world's first Predictive Human Risk Intelligence platform (SaaS), aimed at revolutionising security awareness and giving security teams the power that comes with identifying high risk users – fully understanding who is not behaving securely and why. 
Flavius has over 18 years of experience in the security industry, and prior to founding OutThink he worked for a number of blue-chip companies, most recently as CISO of Bank of Ireland. OutThink is recognised globally for innovation and has a number of large enterprise customers including FTSE 100 constituents Vodafone, Bunzl and Holland & Barrett, as well as Abu Dhabi Islamic Bank and Dubai Airports.
What made you want to start your own cybersecurity company?
"Over the course of my career as a CISO I saw that despite having all the great technology and processes in place, security incidents were still occurring. Addressing the People aspect of cyber security presented a significant challenge. The tools that looked to address this such as security awareness training – were falling short of delivering the promised results. I wasn't alone in this – the industry is going through a period of cognitive dissonance where it acknowledges what the problems are but does not know how, or does not feel able, to solve them.
"CISOs have done a great job at securing their company's IT infrastructure, so next they really wanted to focus on the human element, but there were no pertinent solutions in the market. I couldn't just sit there and get more and more frustrated about the lack of tools available to measure and manage human risk, so I decided to build the solution myself."
What is the biggest challenge in going from a CISO to a CEO?
"The roles are quite different, and I am willing to admit that I was perhaps a little naive about how challenging becoming a CEO would be. Of course, developing a great product that customers love is the biggest challenge, but once you have the reality of running a company really hits you. I was used to managing teams in my previous positions, so that part of the job wasn't particularly difficult for me, but as a startup in the early days, you end up doing a bit of everything. You are the head of sales, the CFO, the COO, the CMO, the CTO – you have a lot of different hats on. Once you have a little more money you start hiring people to take care of these parts of the business and then identifying, recruiting and managing top talent becomes your most important task. Building a great culture is the next thing on the list. You're always going faster than feels comfortable and you have to learn quickly."
What qualities do you think are important for the CEO of a startup?
"It must be the ability to learn fast and be adaptable, as well as bravery and mental resilience. I had limited experience in some areas of the business, such as finance, funding and sales, but you can pick it up quite quickly and it is nice to look back and see how much you've learned in a short space of time. Obviously, there are bound to be situations where you feel a little out of your depth, but you have to think about the sensible response and accept that you will make mistakes from time to time, which takes a lot of courage. Making the errors can be very costly in the early days of starting a business, so recognising your mistakes and ensuring they don't repeat is key to success."
What was the biggest surprise along your journey?
"How hard it really is and how little sleep the human body needs to be able to function – half joking. Probably, the realisation that I can actually do it. What starts as an idea, becomes a prototype, which becomes a product that customers buy, and your company starts to generate revenue. Along the way you have to put a lot of time and energy into getting your company off the ground, but if you have a strong enough will and a good enough idea then you can succeed. Looking back to when I first had the product idea, it was hard to believe we would be where we are today."
What advice would you give to budding startup founders?
"Build your product with the customer in mind, you must know your customer and what they truly want. It sounds obvious, but it is far from trivial. My customer is the CISO. I developed the initial OutThink product with three other CISOs, which means that our solution is built for CISOs, by CISOs. When speaking to customers, they really to like it, because it is something they really need, it's solving a big problem for them, in an innovative way. If customers don't love it, you will struggle and have limited opportunity for growth.
"The second piece of advice I would give is to build a new category. You will most likely be entering into a market that is already dominated by big players – at first you will be a small fish in a big pond, but when you start your own category you can be the shark in an entirely fresh pond. Read "Play Bigger: How Pirates, Dreamers, and Innovators Create and Dominate Markets".
"Finally, try to have some fun along the way. Being the Founder and CEO is really cool!"