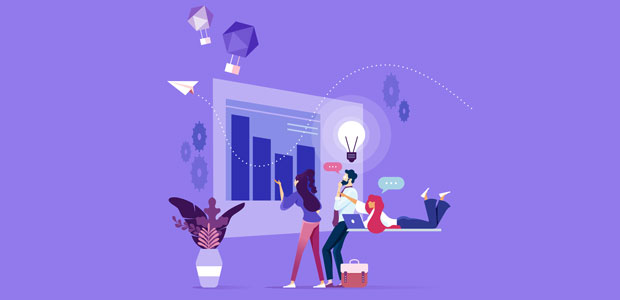 The lessons I've learnt running tech businesses with my husband
I set up SimplyHair in 2013. I was working alongside my husband, Pip, to grow digital marketing agency, digitalbeans and also juggling a role in customer services and a side business as a mobile hair extension stylist when I realised how poor online purchasing experiences were in the hairdressing trade.
Written by Amy Filippaios, Founder of ecommerce wholesaler, SimplyHair and Creative Director at digitalbeans
We saw the potential for developing a well-built ecommerce platform in the hair industry and creating a business that combined my passions for creativity and great digital experiences with an industry I knew.
If I have learnt anything over the years it is that starting a tech-based business will throw many obstacles your way. Working with your significant other doesn't necessarily make it easier but we've come to recognise that business partnerships share many similarities with marriages. Trust, communication and giving each other space to develop apply to both. Setting up a business is a commitment and can have the same lifelong responsibilities – especially if the business takes off. Pip and I have been together for more than 13 years so have experienced different life stages together as well as celebrating the successes and enduring the failures that come with entrepreneurship.
Sometimes you need to take risk
Pip and I started our businesses at different times, and at different stages in our careers. He founded digitalbeans (known as uTargeting in 2010) straight out of University. Digital was still seen as 'a bit nerdy and complicated', which meant that so many businesses were not using it to its full potential and would ask Pip to solve all of their 'tech problems'. digitalbeans started because we wanted to help businesses benefit from digital strategies without hiding behind the complicated jargon that many agencies did. I supported him with incorporating this message into the brand design.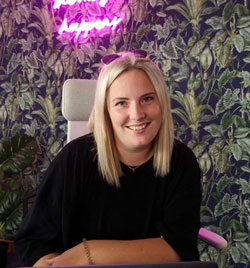 I had been working full-time for a few years and was running the businesses in the evenings and weekends before leaving my job to work for myself full-time. One of the hardest parts of starting your own business, is deciding when to take that plunge. All the while that you have your job to fall back on, you don't have the fear that pushes you to make a go of it. As a result, you are far less likely to reach your full business potential.
Tech is a problem-solving tool
Working with tech means you are continuously updating software and digital strategies - the digital landscape is always changing and practices that worked last month are outdated the next. This is especially true for SEO and Social Media so our digitalbeans team is always learning and adapting to deliver effective campaigns. When we launched SimplyHair, Instagram had only been around for three years, and wasn't really used for business purposes. Now Instagram is elemental in our marketing strategy - some of our customers use Instagram as their main platform instead of a website. 
Understanding software development has also helped us to scale up. It was important to us from day one that customer experience was a core focus of the business. As the volume of orders increased, our errors made when packing also climbed and sending the wrong colour or mistakes in the delivery address was not good enough. We created a bespoke system that considered all of the variables our team would need to consider when packing products, to ensure that errors were virtually impossible to make. We continue to develop this system as we encounter new challenges, so it grows with us.
Mistakes are inevitable
Pip and I have a list as long as our arms of failed ideas, ventures and enterprises. A big partof our working relationship is thinking through whether ideas have legs and often the ones that aren't feasible come down to the same issues. Therefore, it's important that your business partner knows you well enough to call you out before making hasty decisions or has vital skills and market knowledge that complements your blind spots to prevent costly errors.
Most business mistakes will be avoided if you always refer back to your target market. If you know what it is like to work in the roles or sector you are serving, you can sense check whether your ideas will improve processes and add value. For us, understanding the technology access and capabilities our potential customers ensured user experience was optimal.
Accommodate each other's working styles
Pip and I have very different ways of working, strengths and weaknesses, which lockdown really highlighted and whilst this can be beneficial, we also butt heads daily. I am creative and impulsive, whereas Pip is more analytical and can be distracted by new tech.
As a result, Pip finds it frustrating when haven't set up a spreadsheet properly and I am irritated by his experimentation with new software to optimise team working and client servicing - especially if it disrupts everyone's workflow. Ultimately, we have learnt that it is about finding compromise and remembering that these differences enable us to fulfil so many different roles within the business.
Adapt and let go
Adjusting to running a business as a family of four has certainly been a learning curve. We have gone from a time when we could dedicate our time and energy into business development to a life where family will always be the priority. We hired someone to cover my first maternity leave, which meant Pip managed SimplyHair and digitalbeans alone. I quickly fell pregnant again, extending my maternity leave indefinitely. I also developed postnatal depression and struggled to cope with the pressures of being a business leader and a mother to two small children, so I slowly transitioned back to the office, working two days a week. We had to learn to work together again, the companies had progressed, and I felt like a stranger in my own business.
Sharing childcare equally has given us both the space to focus on the business and family. Once I got used to relinquishing control to my team, I found a new energy to bring to the business, which coincided with some exciting projects including supplying hair to the stars of ITV's Dancing on Ice and developing new product ranges.
We are now so much more mindful of the time we have to get tasks done and where we need to trust our team and delegate. This is something that all business owners go through as they scale up and is something we can pass onto our customers.
As a B2B brand, I live by the mantra that the more successful our customers' businesses are, the more successful we become. Our digitalbeans campaigns drive to meet growth goals and in SimplyHair we look to provide salon owners with technical and commercial advice that will help them to grow. Drawing on my startup experience and sector knowledge we create tutorials, branding and business tips, which add value to our customers and gives us a point of difference.