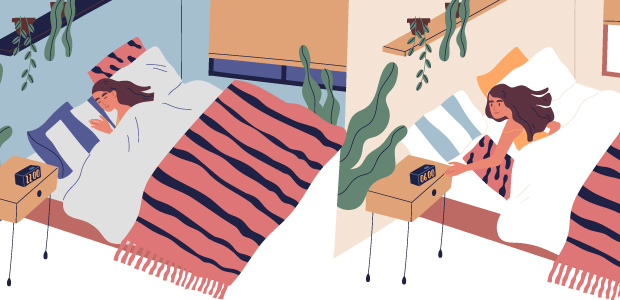 Less counting sheep, more counting data
Peak Labs, the digital health company, started with four co-founders (Gerald Goldstein, Itamar Lesuisse, Sagi Shorrer and Xavier Louis) in 2013 who set out with an aim to be the number one digital health brand using technology to help people's wellbeing. Fast forward six years later, and you'll find a 50-member strong team which has raised up to ten million dollars over three rounds of funding to accelerate and grow the company and its two digital products, Peak Brain Training and Rise.
Xavier Louis, co-Founder and CEO of Peak Labs, described its first application, Peak Brain Training which launched in September 2014, as similar to training your body at the gym: "In this way you can also train your mind - we have created a brain gym to train, challenge and improve your mental skills such as memory, attention and emotional fitness."
Through collaborations with science and academic partners, such as the University of Cambridge, Peak Labs built this evidence-based application to help improve the mental health of its users. Peak Brain Training has had 10 academic reviews to date, with four randomised controlled trials to demonstrate the positive impact of improving memory, attention and improving symptoms of depression. Peak Labs is also working on research into how to detect dementia earlier using the application as a 'Fitbit for the brain', Louis said, instead of tracking steps or your heartbeat, used on a regular basis it will track cognitive abilities. In the future, Louis spoke excitedly about a new type of app Peak Labs is working on which will focus on treatment for Alzheimer's, Multiple Sclerosis, Schizophrenia, depression and a number of mental health issues.
"We have had more than 60 million downloads on the app store for Peak Brain Training - not as big as Candy Crush," Louis laughed, "but pretty successful."
Louis measures the success of the Peak Brain Training app not just in its downloads, but in its feedback from users who have suffered from brain injury, strokes, depression and stress.
"We have helped millions of users with more than 50 games to help keep the brain active and make sure they are maximising their cognitive abilities. You can play for fun and entertainment, but a lot of users train with the app to stay sharp and keep a healthy mind," Louis explained.
With more than five million users engaging with the app every month, it's no wonder that in 2014 Peak Brain Training was named the 'Finalist App of the Year' by Apple, and crowned 'Best Self Improvement App' by Google Play in 2015 and again in 2016.
Introducing Rise
Following the success of Peak Brain Training, and with an abundance of research on tow, Peak Labs is now launching a new app focusing on sleep and insomnia called Rise.
"We launched Rise because we were looking at all the ways to improve cognitive abilities, that would be complementary to Peak Brain Training," said Louis. "Sleep is the biggest fighter of cognitive function and is responsible for bad memory, higher risk of Alzheimer's and many other factors. It was a natural move for us to think of how we could help improve sleep - especially as it is such a big problem in society and there is a lack of real solutions."
In its research, Peak Labs found that £400bn is lost to the economy due to lost productivity - in turn caused by lack of sleep.
Rise helps you not only to fall asleep, but to have quality sleep. Louis explained that there are a number of sleep clinics and therapies that work very well but they are inaccessible and expensive. Louis gave a nod to existing apps such as Calm and Space, but said that Rise is focusing on building a great experience focused on sleep, not meditation.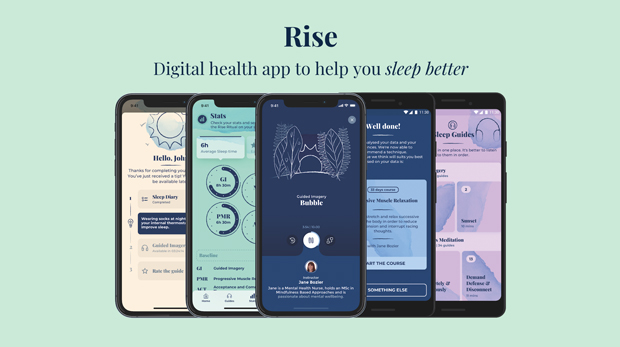 How do you help people sleep better?
"We have the widest selection of evidence-based sleep techniques with a number of experts in their fields, including three experts within the NHS, who each provide different techniques for sleep from meditation, guided imagery, acceptance and commitment therapy and CBT (Cognitive Behavioural Therapy)," explained Louis. "All of these unique techniques normally require the consult of a clinician, but through our application we are giving access to these valuable resources to everyone - at a fraction of the cost."
Though as Louis went on, there isn't a one-size-fits-all when it comes to sleep therapy, and Peak Labs has created value streams for its users by providing a large selection of techniques, as for example, meditation might work for some, but not for all.
Less counting sheep, more counting data
The success of Peak Labs in its apps is clearly due to the company's due diligence in its commitment to build research-led and evidence-based products that work. "Data is interesting," said Louis, "We can track sleep quality over time and detect what works for the user, so over time we can recommend which techniques will have the best impact to help the user fall asleep."
Rise already has over 100,000 users, and is tracking millions of nights, improving the 'sleep hygiene' of its users by more than 30% after just one week of using the application: "We calculate sleep hygiene based on the user's mood in the morning, their quality of sleep and how many interruptions they experienced during the night, etc, which is reported in the users' sleep journals."
Peak Labs is currently conducting research to validate Rise clinically.
Though Peak Labs has achieved a total funding amount of $10.5m, Louis still defines Peak Labs as 'an early-stage startup and small scale-up'. When asked when did he consider a company to become a scale-up, Louis answered: "I think you are a scale-up once your company gets traction - when you are launching and accelerating multiple products."