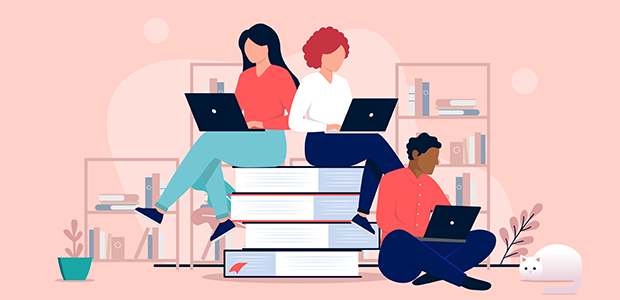 Leading the way: women in tech driving DE&I solutions
At the Dublin Tech Summit, an inspirational panel of women leaders in technology discussed how they are driving diversity, equity, and inclusion (DE&I) solutions in the industry.
The panellists shared their experiences and insights into the challenges and opportunities for women in tech, and how they are breaking down barriers and creating a more inclusive culture.
From mentorship to advocacy, the panellists discussed practical strategies for promoting DE&I in tech, and how this can lead to better innovation and business outcomes.
The panel was moderated by Shinjini Das, CEO, Das Media Group and featured the following women:
Anna Brailsford, CEO, Code First Girls

Bríd McMahon, Country Manager IAS Ireland & VP, Technical Customer Operations, EMEA, Integral Ad Science

Mary-Christine Nolan, VP of Global Professional Services, Pluralsight

Ruth Thomas, Director of People & Organisational Development, Personio
A lot of what we talk about is how to get underrepresented minorities – specifically non-traditional backgrounds that may not even be technology – into technology. So, how do we build that pipeline for non-traditional talent to enter technology?
Anna: First and foremost, we have to create alternatives to science degrees. It's a well know fact that the majority of people that study computer science are white, middle class males. One thing that our research has shown is that we may come back to technology slightly later in life … so one thing that Code First Girls has done is deliberately home in on those really big converting groups. Ultimately, it's okay to change your mind and we'll help you find a way where you're not going to lose your job in the process. We're going to fund your education and we're not asking you to apologise to people.
Mary-Christine: It's not just about making a fair and equitable world for everybody to participate in – it's an absolute essential next step for technology. What we have to do is look at the numbers. I was working at Intel back in 2015 … and the number at the time was that we knew by 2020 there were one billion technology positions that simply could not be filled because we knew by the number of undergrads that the numbers weren't there. You move that on now, the latest is that by 2030 there's going to be 10 million technology positions that simply can't be filled. So, we have to think outside the box. We have to create other opportunities for people to get in, not necessarily right out of high school.
Ruth: [As an organisation], you have to see the possibilities and make things visible. Create the opportunities as you're bringing in talent to get the space for them to explore the different pathways.
Bríd: If I bring it back to another tactical thing, the previous companies I've worked with looking at recruitment and how we're sourcing and attracting talent in the first place. A really simple idea is to take a look at the job description or specifications and remove all the jargon. If you look at any job description, it can be very complicated, very dense, and very off putting for underrepresented groups in particular.
A lot of us are shy about self-promotion but more people need to learn to be go-getters – we need the influence, and we need the power. So, when did you learn how to self-promote? 
Anna: I felt like a fish out of water throughout my 20s. I remember when the company I worked for was acquired by a Silicon Valley tech company. I was Director at the time, and I was the only woman in the room. I remember when the acquisition took place, all the guys had on Levi jeans and a checked shirt. And I was like 'Holy crap, I did not get the memo.' So, all of a sudden, I was there and thinking about how you dress for the boardroom without people thinking 'Oh, she's aggressive' or 'She's not bringing enough presence.' And it's a minefield because all these guys have that uniform. And that sounds really basic, but actually it's become really, really significant. I started reading this book recently called Executive Presence … and it basically says 5% of executive presence is appearance. But unless you get over that 5%, nobody will give you a chance to begin with.
Mary-Christine: When you asked me this question, I actually still feel like I'm learning how to self-promote. I think we have to accept the fundamental differences between the way women are raised and how men are raised. When I graduated with my degree in Applied Computing, I graduated with first class honours ... and I was in the top 5%. For a long time that was something I kept to myself [but] I realised I needed to share that so that I can tell these young women that it's not that we can 'participate', we can absolutely succeed, and we can do it as well as the men.
Ruth: I think it starts with really believing that you deserve and feel like you should have a seat at the table. I think for me, it was taking a step back and thinking about the implications I was having on others. I was an aspiring leader at the time, I was leading a team of incredible people, a lot of them women, and I didn't want them not to self-promote. So, what example am I setting by not doing that?
Bríd: I think it's something deeply rooted as to why we experience discomfort when we're self-promoting. I had brilliant parents … but they would say 'don't get too big for your boots, stay humble' and this was something I brought with me through my university years and into the early days of my career. I remember when I realised how important [self-promotion was] when I took a workshop called 'I'm remarkable' at Google. It really focused on this concept of self-promotion and on celebrating your achievements. And I learnt that accomplishment do not necessarily speak for themselves … but you can't assume everyone knows everything about you. It's like a muscle you constantly need to stretch and invest until you find your own true voice.
Something we're also trying to do here is change what a leader looks like. We know that there are data driven strategies to really promote that when different people enter the room, there are better results. Could you speak on those data driven strategies for us all to change what a leader looks like in 2023?
Anna: Look at how you can bring in skills and mindsets that actually disrupt the status quo for the better. The more diversity of thought and background, the more that you can make an impact, the more you can innovate, and the more you can create products that are representative of the actual society that we live in.
Mary-Christine: When I look back over the last 23 years, and even as an undergrad, my path would definitely have been easier if I had just gone with the flow. Wear the jeans and the checked shirt. [But] I wear pink, I wear heels. I know when people looked at me, [they thought] I didn't look like an engineer, and it definitely made my path that bit harder. And I dealt with a lot of assumptions that 'you're not technical enough'. But when I look back, my advice to people is be the disrupter and be your true authentic self. Because, whilst you might be the only person sat at the table surrounded by the stereotype, you are making that change.
Ruth: For me it's always about bridging that gap between education as a baseline and having these conversations. I think it starts with educating everybody to really rethink how we define diversity.
Bríd: Every company needs to be tracking their metrics … because you don't know where the baseline is. You can talk all you want about DE&I but what is the gender mix within a company, how does that change as you go up the ladder?