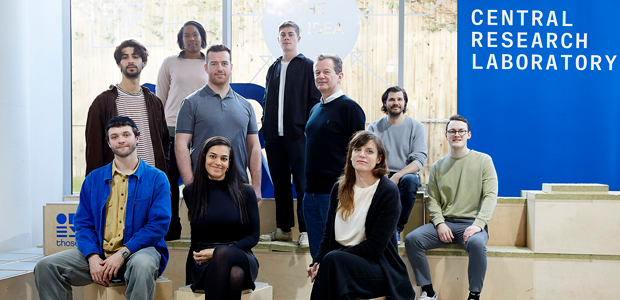 The lead up to Demo Day
After a very unusual year indeed, the CRL and Mouser cohort is coming to an end, and with the National lockdown and pandemic it caused some interruptions and delays, however, speaking to the startups involved it seems everyone is feeling the same, and is a little bit of sadness that the end is in sight.
This year's Demo Day, for the CRL cohort, sponsored by Mouser Electronics, will have a different set-up and undoubtedly a different feel to it, as it is all virtual, with the startups having pre-recorded their Demo Day pitches. But CRL are still expecting a good turn-out, with a lot of effort and work having gone into to the organisation and networking session within.
Having followed the startups who have taken part in this year's cohort very closely it has been amazing and such a pleasure to see them grow. Speaking to the founders on the programme individually ahead of Demo Day, Mira Nameth – Founder of Biophilica, a rigid and flexible material made from urban plant waste, said she was feeling really good: "I'm really proud of where we have come during our CRL journey. Since joining a lot of things have happened for us. We're now planning pilots, we've also got an Innovate UK grant and we also have a product launch partner now actually, which is very exciting."
Mira agreed with me that CRL was one of the places that started to normalise quite early on, so now we are here again feel like a bit of a U-turn, and unfortunately we cannot do Demo Day in person. Mira said: "Like many other things it is going to be digital, but the really good thing about it is that they have turned it into a fuller digital experience so we've been working a lot on the films, and we also have the breakout rooms for people who are interested in speaking to us in person."
The founders have all been working hard on their pitch videos, and so the lead up to Demo Day has been arguably even more full on and busy than normal. Matt Anderson, Founder of Cryogenx explained it was the first time he has ever experienced a proper videographer filming him: "I didn't know what to anticipate but we had, a lot of support, help and preparation, and we were able to let him lay out what his vision for the content was, and what he thought the most impactful elements of our story and our message were."
Matt's product, the Cryosuit focuses on solving the problem of heat stroke and a spectrum of heat illnesses through the use of large conduction pads that are applied to large surface areas of your body such as the torso and upper legs and he shared that a member of the CRL team very kindly nominated themselves, which allowed them to show the product in use.
On Demo Day, Matt did say it is undoubtedly disappointing that it cannot go ahead in person, but he thinks CRL have done a really good job. "They have been so responsive and have moved swiftly to this digital event, and it's definitely the best case scenario. It has enabled us to rethink the role of a typical Demo Day pitch, as typically, you'd have a PowerPoint presentation and deliver it to a group of people but having the ability to pick what we want to say in this video and how to convey it, hopefully as we're currently in the process of seeking investment, it will give us a really useful asset to gauge investment post cohort."
It has been particularly busy for MyoMaster, and speaking to one half of the founding team, Lottie Whyte she said the next six weeks will hopefully be even busier, with Black Friday and Christmas coming up. MyoMaster creates products which help with sports recovery, designed by professional athletes with one core belief, recovery improves performance, and has been selling products on their website for a little while now, but Lottie says it is difficult for small businesses to compete with the big ones. "Big retailers start planning for this in June, which we don't have the capacity to do, but we do have a proper sale happening, and a number of really good discounts, including some bundles so fingers crossed."
Lottie shared that she is feeling a bit nervous about the end of the cohort: "It's not so much Demo Day, but I am really going to miss the cohort. We don't really have a team, so one of the things I have really enjoyed is the sense of community, and the relationships with the other founders. We get together every Monday and talk about what's going on, the challenges and the wins - the little things like that it's really nice to have those moments, and you feel like you're part of something bigger."
On Demo Day and the pitching, Lottie said it would be more nerve-wracking if they were standing up and giving the presentation live, but doing the pre-recording has been really fun. "The process of writing the script and thinking about how best to tell and communicate our story has been really effective, and good process to go through. We are in the middle of trying to raise some money so it's a good opportunity for us."
Having to do the pitch pre-recorded, means the members of the cohort have been preparing earlier than first expected. John Murphy, Co-Founder of Stix said: "It is a bizarre feeling really actually, as you almost feel as though you are done, and the work is done, but then you have the day itself where you can sit back at watch – the hard bit is over."
John and his son Liam have created mindfulness products for children with ADHD. Liam ahead of Demo Day expressed: "For the pitch recording we had done so much preparation, but sometimes when you are in front of the camera you just can't get it and I kept forgetting everything. We got there in the end, but it took a bit longer than we anticipated."
The pair had ordered a batch of prototypes, manufactured in China for the footage, and were excited to receive them. Liam said: "For Demo Day I would say I am excited, as it is not going to be as stressful as perhaps a normal Demo Day. I would have enjoyed doing a live pitch of course, but this Demo Day will be more relaxing."
COVID has really affected the journey for Stix, and back in March when the national lockdown started they were not able to reach out for the user testing and go visit families as planned. Liam said: "So a lot of our development was just in the workspace, and building it from there. We didn't have the face-to-face contact with the kids that we wanted, and a lot was zooming with parents."
John added: "Yes I think because of this we lost momentum, and we did lose out as a result of COVID. We didn't get to go on the China trip. At some points we didn't get the momentum of being here with the team, and that did have a significant impact on us, and even though we have had 11 months rather than seven, it does feel that we have lost something. That been said, I do think it has been very good being involved."
The last few months for Warner Patch, according to Co-Founder Dr Melissa Berthelot have been amazing: "I think we've reached a point where we're pretty happy with the product, and it has been really encouraging to be honest. With Demo Day, the filming has been great, and I think it will give the guests a proper vision into seeing how the product could be used in real life, which is very exciting."
Warner Patch consists of augmented decision making for clinicians by enabling remote continuous symptoms monitoring for high-risk chronic patients. Melissa is confident that Demo Day will be a success, as she said being virtual it should run smoothly. "It is still trying to make the best of the experience and showcase you at your best. Its allowing people to see what we've been doing over the past year, so yes I am very excited."
Melissa said that being on the CRL cohort has been one of the best experiences: "I think it was so good not only for the product development, but also being part of the team. A team of other startups and founders, and people trying to do the same thing as us is quite motivating and also has been enjoyable, especially when the team is this good, so being surrounded by these people that have different visions and horizons has been really beneficial."  
Finally, ahead of the big day I managed to speak to the two Co-Founders Pete Barr and Eli Heath, who in my opinion have one of the most interesting cohort stories. Having joined the programme with the startup business Enayball, a social enterprise startup to enable people with disabilities to draw, through adding tools to a wheelchair, have ended the cohort with two businesses, Enayball and Soapstone.
Soapstone is the sustainable way to keep germfree, it is a revolutionary hand sanitising solution, and whilst COVID may have stumped some business, it technically gave Pete and Eli the idea to create this one. Pete explained: "A big part of our journey has been the switch to Soapstone. Weirdly an opportunity has arisen from this pandemic, and I think that's really cool. Obviously, viruses are bad, but here we are able to contribute to the wellbeing of people. During this time, we have used skills that we have learnt and put them to use to do something major, and that is amazing. What has been most significant is because it's a commercial product, we have sold units, people have actually given us money, which is super exciting and is completely different than all other design projects I've ever done."
The pair although have given themselves a lot more work, have thoroughly enjoyed the whole experience, Pete said: "I've loved it personally. It is really good to be around other people that are doing socially led projects. You share common goals of using design in a socially-led way, and so are able to talk to people and have these peers around you to help has been amazing."
Whilst Soapstone is the short-term vision for now, the pair plan to pick up Enayball in the new year. Pete said: "We will be working on Soapstone until the New Year, and then the plan is to take a bit of a breather, just take the opportunity to review see what we want for the future, and then strategize. But we have definitely enjoyed this year and this experience, that is why we are running our own business, it is hard and there are challenges, but as long as you are doing it for the right reasons, the good definitely outweighs the bad, and you can see why it's all worthwhile."
You can still grab a ticket to Demo Day, which takes place Tuesday 24th November at 1pm, here.