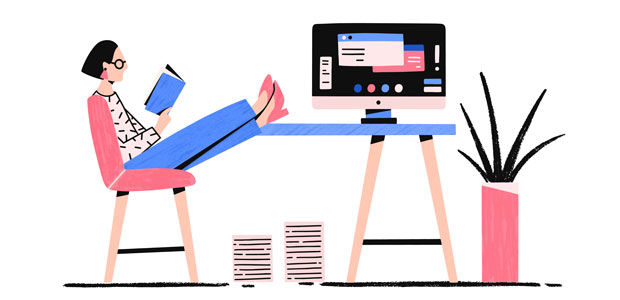 The latest autumn reads to help you adapt to new ways of working
As we move into Autumn, and continue to adapt to new ways of working, Wiley have put together a list of some recent and forthcoming titles.
1) 

Work Together Anywhere: A Handbook on Working Remotely - Successfully - For Individuals and Teams
Today, companies and organisations in all sectors are embracing the game-changing benefits of the remote workplace. Managers benefit by saving money and resources and by having access to talent outside their immediate location, while employees enjoy greater job opportunities, productivity, independence, and work-life satisfaction. But in this new digital arena, companies need a plan for supporting efficiency and fostering streamlined, engaging teamwork.
In Work Together Anywhere, Lisette Sutherland, an international champion of virtual-team strategies, offers a complete blueprint for optimising team success by supporting every member of every team, including: EMPLOYEES advocating for work-from-home options; MANAGERS seeking to maximise productivity and profitability; TEAMS collaborating over complex projects and long-term goals; ORGANISATIONS reliant on sharing confidential documents and data; and COMPANY OWNERS striving to save money and attract the best brainpower.
Packed with hands-on materials and actionable advice for cultivating agility, camaraderie, and collaboration, Work Together Anywhere is a thorough and inspiring must-have guide for getting ahead in today's remote-working world.
Written by Lisette Sutherland and K. Janene-Nelson, published by Wiley in paperback and ebook, priced £18.99. 
2) Working From Home - Making the New Normal Work For You
We knew virtual workplaces were coming, but we didn't think they would come so soon. Yet, here we are, sitting in our home offices, trying to make sense of our now-remote careers. Do our employers still remember that we exist? How can we get noticed from a distance? What does it mean to lead and inspire a team that never meets face-to-face?
Offices are carefully planned work environments that emphasise focus and productivity. When we shift to remote roles, not only do we lose the benefit of meeting in person, we lose that emphasis and find ourselves isolated in spaces that might invite us to distraction. The first step to successfully working from home is to create an environment where you will thrive professionally.
In Working from Home, author and Salesforce executive Karen Mangia, provides readers - whether early-in-career professionals, sales leaders, team managers, or business executives looking for fresh ideas on the future of work - with sound advice on how to set up a virtual office, claim that work-from-home space, remotely connect with colleagues on a regular schedule, and move their career forward from anywhere.
Written by Karen Mangia, published by Wiley in hardcover and ebook, priced £16.99.
3) 

Power Teams Beyond Borders: How to Work Remotely and Build Powerful Virtual Teams
Whether you have recently been thrust into a world where remote and virtual cooperation is a new necessity, or are a veteran of online teams seeking to refine your skills,  Power Teams Beyond Borders, takes you on a step-by-step journey to increase the effectiveness and efficiency in today's remotely connected world.
Written in three engaging parts,  author and renowned virtual leadership coach Peter Ivanov covers how to build trust and clarity amongst their virtual team members, establish structured communications that allow all team members to contribute, and how to fully utilise the global talents of a distributed team.
Full of actionable advice and concrete strategies for readers, whether leading a small and local virtual team, or part of a 100+ member remotely connected international organisation, Power Teams Beyond Borders demonstrates how to better structure a team's interactions for the best results possible, explaining how to get the most out of each individual team member, as well as how to improve communication and connection, even when spread across multiple time zones.
Written by Peter Ivanov, due to be published October 2020 by Wiley in hardcover and ebook, priced £18.99.
Peter Ivanov will be hosting a webinar to celebrate the launch of the book on Thursday 8th October 2020, from 3pm-4.30pm BST. For more information and to sign-up to join the event, visit the event page here.
4) 

Leadership U: Accelerating Through the Crisis Curve
The world has changed forever. Today leadership means becoming comfortable with being uncomfortable. Leadership is all about others - inspiring them to believe, then enabling that belief to become reality. That's the essence of Leadership U: it starts with 'U' but it's not about 'U.' These words are timelier than ever today, as leaders look to accelerate through the crisis curve.
As author Gary Burnison observes, "There will likely be more change in the next two years than we have seen in the last twenty." In Leadership U he lays out a framework - his 'Six Degrees of Leadership' - to show leaders how to create change.
Anticipate

 – foreseeing what lies ahead, amid ambiguity and uncertainty that are throttled up like never before.

Navigate

 – course-correcting in real time, to keep the organisation on an even keel.

Communication

 – constantly connecting with others; the leader is both the messenger and the message.

Listen

 – breaking down the organisational hierarchy to gather insights at all levels—especially what the leader doesn't want to hear.

Learn

 – applying learning agility, to "know what to do when you don't know what to do."

Lead

 – empowering others in a 'bubble-up' culture that is more nimble, agile, innovative, and entrepreneurial than ever before.
Burnison explains how, only by embracing these truths can leaders master another 'U' - the 'crisis curve' that will completely disrupt the business landscape.
As Burnison says, when a door closes, leaders cannot afford to stand there, staring at it. It's a 'get up or give up' moment. For leaders, the only choice is to find and open another door. Leadership U defines and inspires the pathway through that door.
Written by Gary Burnison, published by Wiley in hardcover and ebook, priced £18.99.
5) 

Virtual Selling: A Quick-Start Guide to Leveraging Video, Technology, and Virtual Communications Channels to Engage Remote Buyers and Close Deals Fast
In the midst of a global pandemic and new laws around social distancing, to remain competitive sales and business professionals have been required to quickly shift the way they engage prospects and customers. And now virtual selling is here to stay. Jeb Blount's latest book, Virtual Selling, is the definitive guide to leveraging video-based technology and virtual communication channels to engage prospects, advance pipeline opportunities, and seal the deal. It teaches readers a complete system to enable them to:
Gain confidence with video, phone, text, live chat, social media, and direct messaging

Accelerate the speed of sales and increase productivity

Master virtual selling techniques that separate you from your competitors

Make virtual selling more human
Virtual selling can be challenging. It's natural to feel intimidated by technology and digital tools. In the virtual world, everything moves fast.
But virtual selling is powerful. The good news is with a little training and a few easy-to-learn techniques, readers can confidently master virtual sales calls, protect their income, and continue to serve and provide solutions to the customers who depend on them.
Written by Jeb Blount, published by Wiley in hardcover and ebook, priced £20.99.
6) 

The Book of Real-World Negotiations: Successful Strategies From Business, Government and Daily Life
Rather than discussing hypothetical scenarios, The Book of Real-World Negotiations will help readers change their approach to negotiation by learning key strategies and techniques from 25 concise, actual cases. Through the examples included in the book, readers will learn exactly how to effectively and productively negotiate. 
Author Joshua N. Weiss, reveals what is possible through preparation, persistence, creativity, and taking a strategic approach to negotiations. The book immerses readers in scenarios that will enable them to better grasp the true power of negotiation to deal with some of the most difficult problems faced, or to enable them to put together the best deals possible. 
Whether readers are current or future negotiators, they'll learn more about:
Exactly 

how

 to achieve Win-Win outcomes

The critical role of underlying interests

The kind of thinking that goes into generating creative options

How to consider your and the other negotiator's Best Alternative to a Negotiated Agreement (BATNA)

Negotiating successfully in the face of power

Achieving success when negotiating cross-culturally
Written by Joshua N. Weiss, PhD, due to be published October 2020 by Wiley in hardcover and ebook, priced £20.99.
7) 

The Customer Success Economy: Why Every Aspect of Your Business Model Needs a Paradigm Shift
Customer Success is changing rapidly. It has gone from being a job function to a company-wide mandate in a few short years. In today's business landscape, the ways in which customers think about vendors has changed dramatically: cloud-based technologies allow customers to change vendors whenever they want.
Customer expectations are higher than ever, and businesses that aren't focused on customer-centric strategies are destined to be left behind. The only way to survive and thrive in this new environment is to ensure that your customers succeed with your product or service - to make Customer Success Management your top priority.
The Customer Success Economy helps readers to unlock their customer's huge growth potential through digital implementations that deliver recurring revenue, less churn, and increased customer retention. This practical guide explains why Customer Success has become the standard, teaches readers to infuse Customer Success into every aspect of their business model, and shows how to successfully integrate the Customer Success philosophy in their company.
Featuring numerous real-world examples that illustrate how companies have made the transition, as well as interviews with dozens of CEOs, investors, Chief Customer Officers, and Customer Success thought leaders from across the worlds of the Fortune 500, private equity, venture capital, and Silicon Valley, this book will explain how to meet the challenges presented by transforming organisational charts and changing leadership roles, guide readers through the next phase in the evolution of Customer Success, and get the entire company working together in total service to the customer to achieve exceptional business outcomes today and well into the future.
Written by Nick Mehta and Allison Pickens, published by Wiley in hardcover and ebook, priced £21.99.