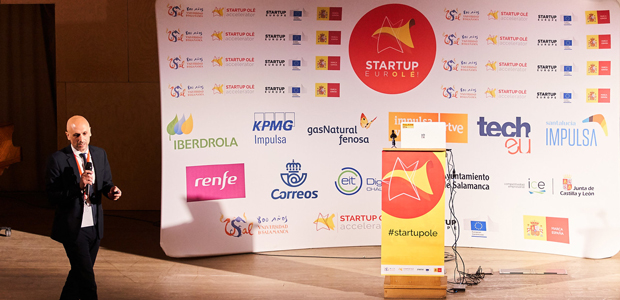 Latam Roadshow goes digital again for 2021
After seeing such success in 2020, Startup OLÉ is continuing with its international events, and launching the third Latam Digital Roadshow with the support of its main partners.
This new digital Latam Roadshow, which is already consolidated as the biggest European tech event for startups operating in Latin America, will be celebrated 100% digitally during the coming months from February to April 2021 with events in five countries. The first confirmed dates are Colombia, February 25th, and Argentina, March 11th. Subsequently, the events in Brazil, Chile and México will take place and dates will be announced soon. The main objective is to connect these entrepreneurial ecosystems, opening an exclusive door to the international market by bringing corporates, investors, accelerators, business schools and media.  
At each of the events in these countries there will be activities such as presentations about the novelties and benefits that Startup OLÉ provides to the ecosystem, as well as round tables about the Latin American region in terms of investment, open innovation, etc., in addition to reverse pitch, pitch competition, matchmaking between international investors and corporates and the best latin american startups and scaleups. 
Startup OLÉ third Latam Digital Roadshow has already confirmed great speakers from the ecosystem such as María Apólito, Deputy Secretary of Knowledge Economy and Mariela Balbo, Deputy Secretary of Entrepreneurs (both belonging to the Ministry of Productive Development of the Government of Argentina) Luis Felipe Barrientos, Vice President of Scaling and Innovation (INNpulsa Colombia), Esteban Campero, SME and Entrepreneurship Advisor (SEGIB), Esteban Mayoral, Deputy Director of the Innovation Centre (RTVE- Impulsa Visión), Leah Edwards and Bill Reichert, Partners (Pegasus Tech Ventures), Gabriela Ruggeri, Managing Partner (Kamay Ventures), Juan Domingo Palermo, General Director (el Observatorio del Trabajo), Juan Manuel Giner, Executive Director (ARCAP), Liliana Reyes, General Director (AMEXCAP), Bernardo Brugnoli, Executive Director (ASEA), Federico Saravia, General Director (Buenos Aires City Government), Luis Castañeda and Miguel Vallone, Principals (Axon Partners). Emilio Corchado, as the CEO of Startup OLÉ, will act as the Master of Ceremonies and will introduce Startup OLÉ to the audience and the benefits of being part of Startup OLÉ Community.
The ten winners of the pitch competitions in each country will receive a direct pass to Startup OLÉ, which will take place on September 8th to 10th, 2021. The best startups from Argentina, Colombia, Chile and Mexico will receive a direct pass to the Semi- Final of the Startup World Cup, organized by Pegasus Tech Ventures, where they will pitch to attend to the Startup World Cup Grand Finale which will reward the winning startup with one million dollars in investment and which will take place on May, 2021 in San Francisco.
As a result of Startup OLÉ LATAM ROADSHOW, the first success stories about investment are beginning to be generated. For example, thanks to the second ROADSHOW in 2019, the investment fund G2 Momentum Capital invested in the mexican startup Envíoclick. 
The last and successful edition of this tour reached the participation figures of 226 startups/scaleups and 48 relevant actors of the ecosystem such as Jorge O'Ryan, General Director of ProChile (Chilean Ministry of Foreign Affairs), Juan Manuel Giner, Executive Director (Argentinian Private Equity Association), Mónica Pascua, Research Director (Mexican Association of Private Capital), Juan Pedro Córica, General Director of Entrepreneurs  (Buenos Aires City Government), Ramón Guzmán, Economic Advisor (ICEX), Luis Castañeda, Principal (Axon Partners), Thiago Cunha, Analist (SEBRAE), Telmo Pérez, Head of Innovation (Acciona), Javier Collado, General Director (INCYDE Foundation), Javier González Báez, Open Project Manager (Acciona), Alberto Escofet, Country Manager (Enagás), José Antonio de las Heras, Country Manager (Enagás), Bruno Melchior Carvalho, Innovation and Quality Manager (NeoEnergia- Iberdrola), among others.
Startup OLÉ celebrated its sixth and last edition in the city of Salamanca from the September 9 to 11, 2020, in a 100% digital way reaching a great international success and counting on the support of ecosystems from countries such as: Argentina, Portugal, Colombia, Brazil, United States, Iceland, Italy, Switzerland, Austria, Chile, United Kingdom, China, Israel, Poland, Balkans, Mexico, Nicaragua, among others. In addition, Startup OLÉ had the great honour of having the exclusive participation of Mariya Gabriel, European Commissioner for Research, Innovation, Education, Culture and Youth of the European Commission during the opening of the event.
Partners of the show include: the Undersecretary of Knowledge Economy and the Undersecretary of Entrepreneurship of Argentinian Government, Buenos Aires City Government,  Argentinian Association of Private Capital (ARCAP), Argentinian Association of Entrepreneurs (ASEA), Mexican Association of PE & VC Funds (Amexcap), INNpulsa Colombia-CEmprende, Innovation Diplomacy Programme of Brazil, the Ibero-American General Secretariat (SEGIB), Grupo PRO, Pegasus Tech Ventures, Axon Partners, Bid Capital, Kamay Ventures, Globant Ventures, Artifex Angels, AC Ventures, BID Capital, Impulsa Visión-RTVE, el Campus 360, International Institute for Entrepreneurship, Startups Magazine, el Observatorio del Trabajo, Muypymes, El Club del Emprendimiento, Dirigentes Digital, PRO Magazine,  Negocios de Carne y Hueso-Capital Radio y Negocios.