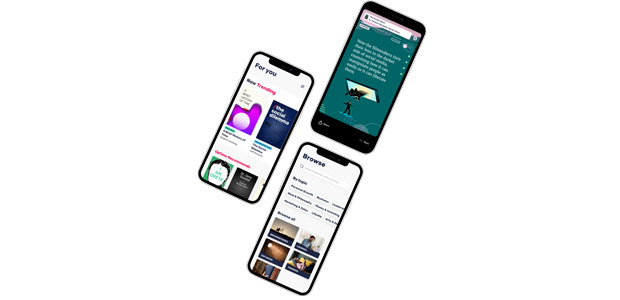 Knowledge hacking app raises $16m to transform digital learning
Uptime, the free app that presents expertly curated five-minute Knowledge Hacks of the world's best books, courses, and documentaries, has raised a $16m Seed round to bring its platform to more users globally. 
Founded by serial entrepreneurs Jamie True and Jack Bekhor (formerly LifeWorks, acquired in 2018 for $325m) with former YouTube and Facebook executive Patrick Walker - the trio created Uptime to empower people to gain easy access to the world's best ideas and thrive in a fast-changing world.
The free app uses a combination of advanced machine learning and human curation to identify only the very best books, courses, and documentaries from the most reputable sources, ranging from the New York Times bestseller list to the most relevant courses and Academy Award-winning documentaries. The essence and actionable insights of knowledge from these sources are then distilled into five-minute 'Hacks'. Each one is designed to keep users informed, entertained and inspired while saving them time, effort and money. Uptime is available on the Apple App Store now and will be live from 22nd February on the Google Play Store.
Uptime's visual story Hacks are presented as fun, engaging and shareable snippets consisting of a unique mix of text, photos, videos, audios, and animations. Presenting the knowledge and information in this way makes it easier to digest, remember and share. Scientific research has found that people remember 10% of what they read, 20% of what they hear and 30% of what they see - but when information is presented in a way that combines these, as Uptime's visual story hacks do - the retention rate averages 50%. 
Uptime changes the game by being a one-stop-shop for knowledge. Users will find a curated selection of dedicated content and fresh perspectives from only the most trusted experts, organisations, and sources. This creates a safe space, free from negativity, doom scrolling and advertising, where people can enjoy discovering and absorbing knowledge.
At the end of each Hack, the user is presented with the option to buy the book, watch the full documentary or sign up for the course from the original source. In this way Uptime creates additional distribution opportunities for authors and content creators, giving them another way to reach new audiences and markets.
Uptime is unique because it's a multi-platform edtech product in an industry of typically single-point and siloed services. Until now, the majority of apps in the edtech space have concentrated on individual products - books, podcasts, courses, and so on. Not only does this limit these services' ability to scale quickly and substantially, but they also don't offer a comprehensive user experience. People are required to download multiple apps with multiple passwords. 
A billion-dollar opportunity
The global education technology market was valued at $89.07bn in 2020 and is on course to grow to $375bn in the next five years. Within this market, lifelong learning is a growing trend, with adults keen to improve their so-called soft skills and gain additional knowledge at a time and location that suits them. Soft skills are those which impart knowledge, give you wisdom, or which help make you a more rounded individual. In job recruitment terms, these are the kinds of skills that employers look for in addition to hard or technical skills and include examples like problem-solving and critical thinking, among others. 
While this presents a huge opportunity for educational content creators, it also leads to an information overload, and an oversaturated market for users. Every year, more than two million books are released, and hundreds of thousands of courses go online. The selection is so large, it has been estimated that if a person was to read one book a day, it would take them in excess of 365,000 years to read all of the books ever written. 
This makes it exponentially difficult for users to sift through the entire catalogue of content to find the books, courses and documentaries that are relevant and good value for money. A point that is demonstrated by the fact that online courses typically have high dropout rates, meaning the person has lost time, and potentially money, on something that ended up not being useful for them. 
A growing body of research also points to a correlation between the level of digital overload and a person's increased risk of anxiety, depression and tech addiction. Humans reportedly have a shorter attention span now than they did a decade ago and this, coupled with the need to stay relevant, all while attempting to homeschool children while working, or similar, can have an impact on productivity, creativity and overall well being. 
Uptime helps to tackle these societal issues and reduce this overload by taking on the heavy lifting of scouring millions of book reviews, course directories and documentary synopses across millions of sites. Its five-minute Knowledge Hacks are a fast, easy and free way to keep people in-the-know and up to date with the latest leading insights in a format that suits their schedules and budgets. 
What's more, the use of curated content recommendations, and the app's design helps people connect the dots between books, authors, courses and other smart sources making knowledge more contextual and easier to navigate.  
 "At a time of unlimited access to information, we all need a place for safe, curated knowledge. On Uptime there is no fake news, there is no doom scrolling, there is no fluff. We only select sources of knowledge and make recommendations with fresh perspectives from authors and creators our users can trust, and on topics which matter most to them," said Co-founder Patrick Walker. 
"Our users are given a unique opportunity to explore, learn and share knowledge in a way not possible anywhere else. From a content-creator point of view, Uptime gives them a new way to reach new audiences who are engaged and willing to listen to their perspectives or discover their wisdom," said Co-founder Jamie True. 
"It's an exciting time to be growing a dynamic new EdTech platform. To serve a global audience, we've built an incredible team representing 18 countries in Europe, Middle-East, Africa, Asia and the Americas, from ages 18 to 53, and from high school diploma to M.Ed, MBA and PhD. It's truly a pleasure to work with such talent who've joined us from leading, innovative brands such as Benevolent AI and Bumble to the BBC, TED and YouTube to help us with our mission to transform online learning," said Co-founder Jack Bekhor.
Lily Cole, environmentalist and author of Who Cares Wins: Reasons for Optimism in Our Changing World said, "Uptime makes education and knowledge more accessible and affordable! I'm delighted that Who Cares Wins is featured on the platform, and the team at Uptime did a fantastic job of condensing the messages of Who Cares Wins to its core."
Oobah Butler, journalist and author of How to Bullsh*t Your Way to Number 1: "My brain has turned to bad spaghetti over the past year. Too much sauce; not enough sustenance. Discovering Uptime has been great for me. Distilling books and schools of thought so I can get to the heart of it and understand it. Better yet, my mom loves that people are getting my bullsh*t advice by reading my book on Uptime."
Dr Tara Swart, neuroscientist, senior lecturer at MIT Sloan, and author of bestseller The Source: Open Your Mind, Change Your Life: "With regular lockdowns, homeworking, homeschooling, and anxiety about the current circumstances top of mind, it is understandable that people might not feel at their best to unlock their minds and reach their full potential. I'm excited that more people will be able to experience The Source's key messages through Uptime in a way that fits into our busy schedules."
Sir Terry Leahy, former CEO of Tesco who also invested in True and Bekhor's last venture, LifeWorks, said: "There's a lot of hyperbole in the world of investment, with apps and services being described as the 'next big thing', but when it comes to Uptime, I truly believe Jamie, Jack, Patrick and their team are building the future of learning and knowledge hacking. From the team's mission to enrich people's lives with knowledge, to the combination of advanced technology and the unique way hacks are presented, I knew straight away that this is an investment that I wanted to make."
The funding will be used to reach new audiences, expand product development and scaling the content library. At launch, Uptime will offer more than 1,500 Knowledge Hacks from books, courses and documentaries with more titles added every week. At launch, Uptime's app is free to use and is available to download on the Apple App Store.