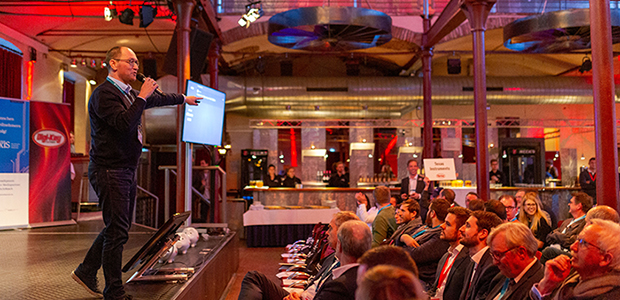 The key to future innovation
Jason Brand, Regional Sales Manager for Mass Market customers in North East Europe and South Africa, at Texas Instruments, discusses why startups are critical to future innovation, and what the semiconductor company is doing to maximise their potential.
For many companies, driving innovation by understanding the trends of today is hard enough, but for semiconductor manufacturers, it means knowing what will be important five years from now. And that takes some serious creativity. Across industry, getting the innovation process right can give any company the competitive advantage. But for Texas Instruments (TI), innovation isn't just a 'nice to have', it's in the company's lifeblood.
Always five years ahead 
Did you know that the semiconductor manufacturing lifecycle alone takes around two years? Add to that the years of data collection needed to give the chips the intelligence required to deliver it to the marketplace and suddenly you're looking at four or five years from a semiconductor's inception to it being widely available.
TI design, manufacture, test and sell analogue and embedded semiconductors that help approximately 100,000 customers around the globe create differentiated applications in markets such as industrial, automotive, personal electronics, communications equipment and enterprise systems. For example, TI engineers were pioneers in taking the world from vacuum tubes to transistors and then to integrated circuits (ICs). The company has been advancing IC technology and the ability to reliably produce ICs in high volumes for decades.
Each generation of innovation builds upon the last to make technology smaller, more efficient, more reliable and more affordable – opening new markets and making it possible for semiconductors to go into electronics everywhere. "Why not look ten years into the future if you're already foreseeing the next five? It's why we understand the importance of startups," commented Brand, "We'd much rather be working alongside these growing companies and supporting them as they change the world, giving the resources to get them off the ground."
Mutually beneficial   
It's through TI's close cooperation with startups that enables the company to identify trends and technological innovation at an early stage. He added: "Startups help us keep our finger on the pulse of technological innovation and enable us to discover and promote promising technological solutions."
However, he added that working with startups benefits both parties. Startups have great ideas, but are often unaware of the challenges they will face when taking a proof of concept into volume production. This is critical to their idea becoming a commercial success. Choosing the right partner with the right hardware and software platforms – those that are scalable and can handle volume production and robustness – is important in taking their innovation and making it a reality.
Growing together
Looking to form mutually beneficial partnerships with budding companies, was the impetus behind TI establishing its signature startup pitch event TechMatch in 2017.
Brand continued: "These events have been a great way for us to connect with startups, giving young companies a platform to present themselves while at the same time putting us in contact with the very people disrupting our industry. From our TechMatch events, we've been able to identify the most promising startups, and the ones showing the highest degree of innovation."
From there TI work out how it can best support each startup in order for both companies to sustainably grow together. "It's a win-win situation for both sides. We get to partner with the most innovative talent, and they get access to our technical experts as well as our technology and development expertise," he added.  
Getting innovation moving
An example of this successful collaboration between TI and a startup is Munich-based UrmO. Created by founders Felix Ballendat, Jakob Karbaumer and Sebastian Gouy, UrmO's vision is to revolutionise urban traffic with its light and self-balancing electric scooter, UrmO (short for Urban Mobility). UrmO is an electric vehicle, which can be folded to handbag-size within seconds, thanks to the patent-pending folding mechanism. Because the UrmO weighs in at only 13lbs, the e-scooter can be perfectly integrated into everyday life, getting its owner from A to B and then conveniently stored in small spaces, such as by their front door, or under an office desk.
"UrmO is exactly the kind of innovation we're looking to support," Brand added. "In 2017, Jakob and Felix were in the development stages of the scooter when they heard about our first TechMatch event. They applied for participation, got accepted, presented their concept to the event jury and won."
As a result, the entrepreneurs were put in close contact with TI's technical experts, who were able to give advice, support, and provide the materials that would be used for the creation of the initial UrmO prototype. UrmO was officially founded as a company in 2018 and has since landed funding from a federal German startup initiative, as well as from the European Space Agency.
Scaling the programme
"Our work with UrmO is just one of many of our successes in the space," Brand continued. "Identifying promising startups like this through the programme has encouraged us to scale our efforts for TechMatch further, launching a European-wide startup programme for founders and growing companies across the UK, Germany, Denmark, Finland, Norway, Sweden, Poland, Italy, France, Spain, Portugal, Israel and South Africa."
The programme has been specifically designed to help startups harness their ideas and scale them into viable businesses. Taking a great idea to fruition is a tough ask, especially when you're a small company and don't have the resources for trial and error, or wasted effort. TI has therefore taken everything it has learnt from working with growing companies in the past to build an initiative that supports them at every step of the process – right from ideation, through to concepts and on to design, manufacture and trial.
TechMatch gives startups access to a range of different TI resources, including reference designs, technical documentation and software – all available either in person or via a dedicated site on TI.com. The site also provides access to more than 2,000 technical training modules that can be accessed anywhere and at any time through the website. All participants also have access to 24/7 online support with TI technical experts.
Recognising what's important
Furthermore, TI supports the most promising inventors with its marketing efforts, getting them recognition for their designs, which will attract support from other technology providers and investors. According to the team at UrmO, their support from the federal German startup initiative and from the European Space Agency was due to the wider recognition they received through taking part in TI's programme.
Ultimately, startups are incredibly important across the technology industry. Even the largest companies need to be looking to growing companies and their entrepreneurs for the innovation that will keep them at the forefront of the industry, with the most competitive products.
Brand concluded: "As a semiconductor company, it's not just important for us to be working with the latest, most exciting designers and inventors, but to nourish their innovation and creativity, working with them to keep us on the front foot as we imagine what the world will look like not only over the next five years, but beyond. If you bring your game-changing ideas, we can bring our size and expertise so that everyone wins when they're brought to fruition."