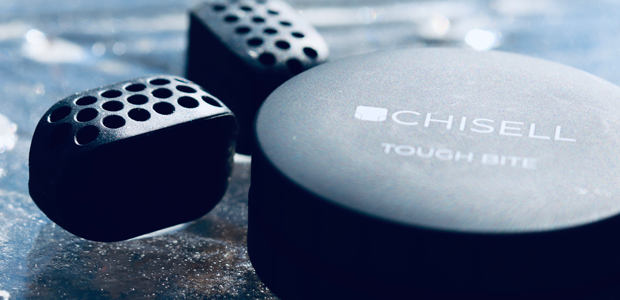 Jawline training e-commerce startup redefines the global thinking
Your face can be developed in a natural way from the comfort of your couch. It is no longer determined only by genetics! 
CHISELL, a jawline exercise tool, is the pioneer of the newly-emerged jawline industry that helps people achieve good jawline and look better. CHISELL, is used by over 25000 progress-striving people in 120 countries around the world as a jaw trainer.
Right after Dmitrii Vasiukov, CHISELL co-founder, finished his Bachelor studies at Stockholm School of Economics in Riga, he found out some new information about jawline trainer that helps achieving good jaw with a set of chew exercise. As he believed that the face was not something you could change by yourself, he didn't pay much attention to this weirdly-new product at first. Nevertheless, curiosity took over Dmitrii, and he decided to do some research. After a month of workouts, he was surprised by a significant improvement in his facial lines - a chiseled jawline. In a while Dmitrii approached his friend and second Chisell co-founder Reinis Beķeris and presented his breakthrough to him. As a result, both friends agreed to finance the project and develop a newly-established jawline industry. As a result, the industry front-runner was born.
The main purpose of CHISELL is to break the widely held belief that facial attractiveness is determined purely by genetics. CHISELL strives to empower its customers to dominate their facial looks with the help of innovative product, high style, and untamed communication. CHISELL's aim is to make chiseled jawline accessible to everyone who desires it.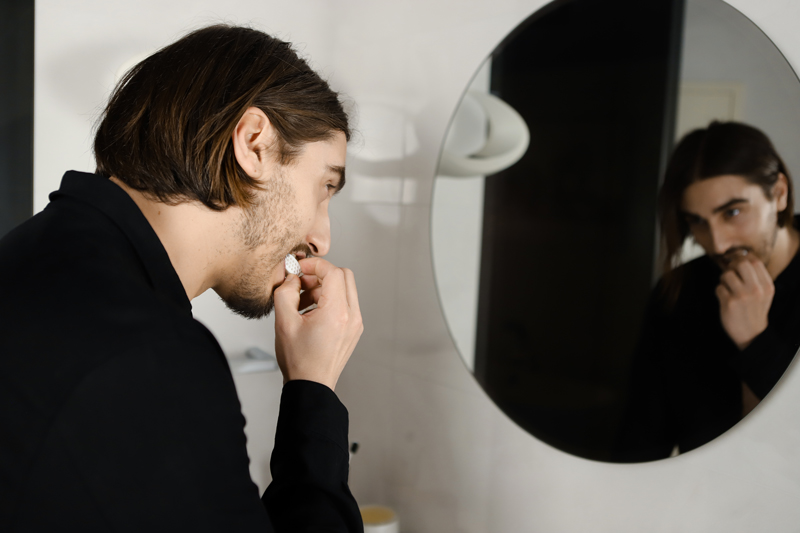 CHISELL's message is simple - Train Your Jaw and Dominate
The topic of facial fitness and grooming has rocketed in men's beauty industry in recent years. The interest to self-development in convenient way and a short-period of time is increasing. As a result, CHISELL offers efficient tool for jawline development.
One of the biggest challenges the growing e-commerce startups like CHISELL face is staying up to date and constantly progressing. That is why the constant growth and progress became CHISELL core value.
CHISELL believes that thinking differently is the ultimate key to success, while progress is happiness. The company is not afraid to experiment and think out of the box to come up with an efficient and more interesting product. As the front-runners of jawline industry CHISELL learns fast from its mistakes that allows the constant growth. CHISELL is here to change the status quo, which can be done only by thinking differently.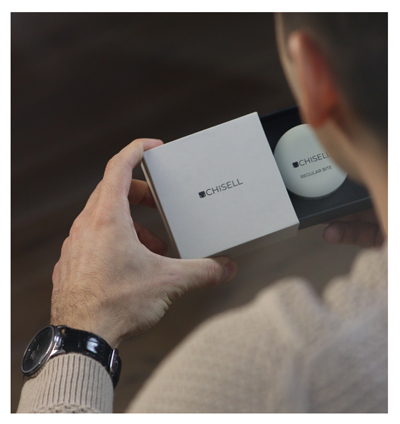 CHISELL spreads pure honesty and friendly support. The company wants to be fully sure that its chew exercise product brings the desired result and train your jawline efficiently. As a result, CHISELL aims for anatomically correct product with maximised durability and fresh style. CHISELL ceaselessly conduct studies and consult with the dental field specialists to create an anatomic wonder. As a result, 3 different product resistances are produced: light bite, regular bite, and tough bite. That is the only way CHISELL can ensure jawline industry growth and world-wide awareness.
According to Reinis, there is a significant increase in number of people getting used to shopping online in recent years. Physical retail will never disappear, but never before has the world seen such a dramatic push to make people change their shopping habits. After the world returns to normal from the COVID-19 pandemic, Reinis believes that the people who were reluctant to shop online will have had a taste and some of them will never go back to the perils of trying to find what they need in their local store. They will come online... and CHISELL, as the world leading jawline exercise tool, will be providing them with a service which is hard to match.
Dmitrii adds that that sales figures have even been increasing during the COVID-19 pandemic: "Online sales for health and beauty products have gone up significantly. The only trouble has been with transportation." But otherwise, they don't face any problems and, in this case, being in an e-commerce business is an advantage. The main focus is promoting the product in countries where people are not afraid to try unconventional things like the USA, Canada, Australia, and in the EU.
The future vision for CHISELL is to become a fully data-driven jawline training company that makes decision based on detailed data analysis. That would allow to minimise risks while boost total productivity and team efficiency. Another goal for CHISELL would be to become an automated company, where computers make the toughest work, while CHISELL team make strategical decisions.
In this fast-changing environment you can be sure that the CHISELL team will not rest until jawline training becomes widely acceptable and chiseled jaw becomes a new reality.
Your face is not all about genetics. You have the power and control to get the chiseled jawline.
Train Your Jaw and Dominate with CHISELL.