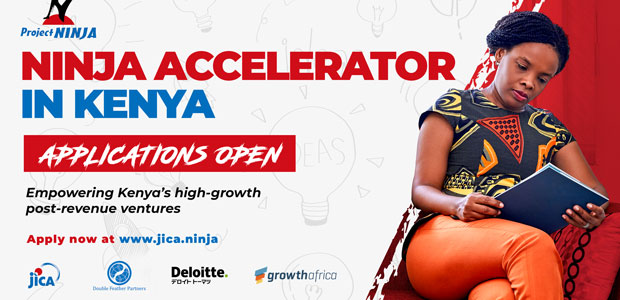 Japan Doubles Down on African Startups
As part of its Next Innovation with Japan project (Project NINJA), the Japan International Cooperation Agency (JICA) is expanding its startup accelerator program (NINJA Accelerator) to Kenya, scheduled to take place in Nairobi on 7th April, 2021, in partnership with the Double Feather Partners (DFP) / Deloitte Tohmatsu consortium, and GrowthAfrica.
The 'NINJA Accelerator in Kenya' is the first of a series of NINJA Accelerators that JICA plans to launch in Africa over the next three years, further broadening JICA's engagement with African startups, building upon its 'NINJA Business Plan Competition in Response to COVID-19', whose Grand Finale will be streamed live from Tokyo on 26th February, 2021.
Japanese-led accelerator expanding to Kenya
After Ethiopia in 2020, JICA expands its startup accelerator program to Kenya. The NINJA Accelerator in Kenya will take place in partnership with Japanese consulting firms Double Feather Partners (DFP), Deloitte Tohmatsu Venture Support (DTVS), Deloitte Tohmatsu Financial Advisory LLC (DTFA), and Kenya-based business accelerator GrowthAfrica.
A first cohort of five Kenyan startups will be carefully selected to take part in a three-month, tailored, intensive program, offering a unique blend of Japanese and African expertise, local knowledge, and access to a pool of Japanese, African and global mentors and investors.
Moreover, each selected startup will be offered a symbolic $15,000 Welcome Award from Double Feather Partners, as well as a chance to participate a business event in Tokyo courtesy of JICA among other surprises.
Applications to the NINJA Accelerator in Kenya are now open until 22nd February, 2021. More information can be found on the program's website here.
The Grand Finale of the NINJA Business Plan Competition in Response to COVID-19
In addition to its upcoming NINJA Accelerators in Africa, JICA will be organising the Grand Finale of its 'NINJA Business Plan Competition in Response to COVID-19' on 26th February, 2021 in partnership with Japan's leading business publication Nikkei and Japanese consulting firm Double Feather Partners.
Launched in July 2020, 10 Finalists were selected out of over 2,700 African startups from 19 countries for a chance to sign a work contract with JICA, win an equity/debt-free sum of up to $30,000, and take part in a pitch event, the Grand Finale, hosted in Tokyo for further investments and business partnership opportunities sponsored by JICA.
The 10 Finalists (in Alphabetic order) are: Agrinfo (Tanzania), And Africa LLC (South Africa), Appy People (Angola), Emergency Response Africa (Nigeria), Lifestores Healthcare (Nigeria), MajestEYE (Tunisia), Mobile Scan Solutions (Uganda), Moja Ride (Côte d'Ivoire), TranSoniCa (Ghana), and Upepo Technology (Kenya).
The Grand Finale will be streamed online, for free, with simultaneous interpretation in English and French, on 26th February, 2021. Viewers can register and gain additional information on the event's webpage here.
More information about the NINJA Business Plan Competition in Response to COVID-19 can be found here.