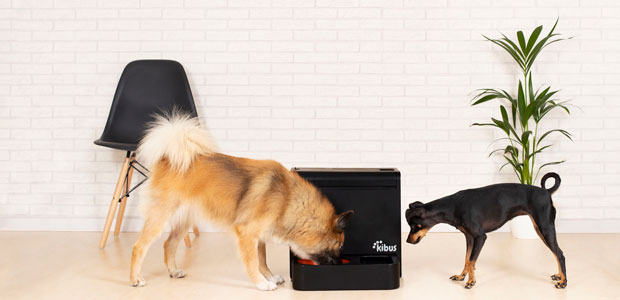 Introducing the smart device that cooks healthy dog food automatically
Kibus Petcare, a pet product company, has launched a Kickstarter crowdfunding campaign for Kibus, its proprietary at-home product that cooks pet food with the healthiness of traditional home-cooked meals. An automatic, convenient device that cooks healthy, natural, and minimally processed dog food, Kibus meets the needs of demanding dogs and their owners worldwide.
Kibus achieved its funding goal of €10,000 on Kickstarter in less than three hours from their launch on 15th of October.
A seamless and integrated device, Kibus has an all-in-one design that cooks dehydrated pet foods via a six-minute rehydration process that is easy and automatic. Each Kibus device contains a food tank, water tank, food bowl, and water bowl, and rehydrates food and dispenses it in pre-set portions, up to four times a day, individually and precisely. Giving fresh, warm, and healthy food to our furry friends, Kibus makes food available for days on end with minimal effort and can be placed in the corner of one's home seamlessly with its black-coloured body.
Easy and convenient to use, getting started is simple for consumers. First, unbox the Kibus and connect it to a power supply. Second, program how much food a pet is to consume each day and how frequently. Lastly, add dehydrated pet food to the food tank and fresh water to the water tank, and close the top lid. Kibus' automatic rehydration process takes care of the rest. Food and water bowls will stay extended until the next cooking process is scheduled to begin, or until they are removed for cleaning.
As part of this campaign, Kibus Petcare plans to develop a companion mobile application for monitoring and tracking a pet's diet and programming feed settings, along with an exclusive white-coloured variation.
Kibus Petcare is excited to bring this new way of feeding dogs to homes around the world. Declared the most innovative product in Spain at AECOC 2019, Kibus has similarly been recognised by the European Commission, Google for Startups and TechCrunch, first-class universities, and Brinc, one of the main hardware accelerators. Feeding dogs a healthy and natural diet, automatically, will never be easier thanks to the support of pet owners and their furry friends. For a limited time, support Kibus on Kickstarter [here] and get exclusive rewards as a token of your support, including early bird pricing, customisations, and add-ons.
"We have developed Kibus to offer pet parents a way to feed their pets on a healthy and natural diet in a convenient way", explained Albert Icart, CEO of Kibus. "They can even schedule Kibus to work on its own at the scheduled time, with no need to be at home."