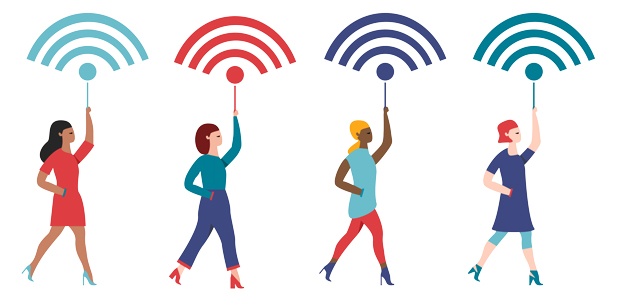 Inspiring Fifty 2021: recognising the women transforming the tech industry
The Inspiring Fifty UK awards, hosted by accelerateHER, opens nominations to spotlight women excelling in technology careers across the UK and showcase 50 incredible trailblazing leaders.
Nominations to Inspiring Fifty UK can now be made online here and entries will close on 2nd July 2021
Inspiring Fifty is a programme by accelerateHER that aims to increase diversity in tech by making women role models more visible.
accelerateHER is a global network and event series which exists to re-balance gender in the technology sector to secure women, and all who identify as such, an inclusive future across all business.
Entrants to the awards can come from any career sector or job function.The Inspiring Fifty awards was set up to raise awareness of those changing perceptions of what women can achieve in these sectors.
Laura Stebbing, Co-CEO of accelerateHER said: "Ignoring the value of gender diversity for fostering innovation and driving economic growth is a major, yet avoidable, risk for technology businesses. Becoming more inclusive is essential for the industry to evolve and succeed. Inspiring Fifty highlights just how many women are the backbone of UK tech businesses today. We want to raise awareness of these incredible women that are driving change."
She continued "A recent report by PWC described gender diversity in tech as a "crisis". One example of this is that women are losing out on high earning jobs in the fastest growing industries. Women continue to be in the minority in the sector, making up just 12% of leadership positions in technology and less than a third of the overall workforce. The study found that only 27% of girl school children said they'd consider a career in tech, and just 3% said it was their first choice."
The Inspiring Fifty UK event will bring together thought leaders and influencers across the technology sphere and help champion women who are making an impact on all aspects of business.
Judges for this year's programme include:
Brent Hoberman CBE, Co-Founder and Executive Chairman, Founders Factory

Nicole Crentsil, CEO, Black Girl Fest

Linda Fayne Levinson, Chair of the Board of Hertz, Independent Lead Director of Jacobs Engineering Group and a Director of Ingram Micro and NCR

Madhu Murgia, European Technology Correspondent, Financial Times

Lara Lewington, Journalist & Presenter, BBC's Click

Hayaatun Sillem CEO of Royal Academy of Engineering

Nicole Quinn, General Partner, Lightspeed
Nicole Cretsil, CEO of Black Girl Fest and judge of Inspiring Fifty UK 2021 said: "If the previous winners are the benchmark, the calibre of nominees for Inspiring Fifty UK this year is expected to be incredibly high. It is a privilege to be able to judge this competition and I'm excited to hear the stories of incredible women who are not afraid to push boundaries and help make women role models more visible in what is a very male dominated and hugely competitive sector."