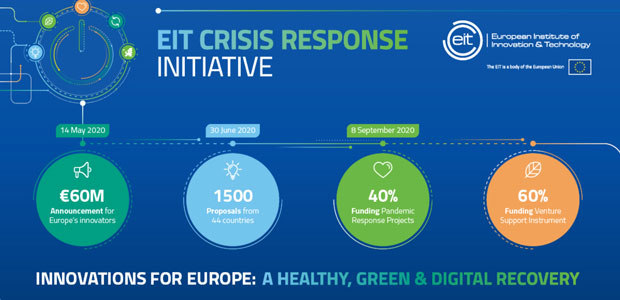 Innovations and ventures awarded €60m from EIT Crisis Response Initiative
As part of the 'Pandemic Response Projects', 62 new innovation projects bringing together 212 partners from 25 countries are developing solutions directly tackling COVID-19 related challenges. The 'Venture Support Instrument' is supporting 145 startups, scale-ups and SMEs from 23 countries that have been enormously impacted by the COVID-19 crisis.
Mariya Gabriel, European Commissioner for Innovation, Research, Culture, Education and Youth, responsible for the EIT said: "The €60m provided by the EIT Crisis Response Initiative is part of the EU's comprehensive response to the COVID-19 crisis, including substantial support to innovation.
"Thanks to the EIT, 62 innovation projects and 145 entrepreneurs have been given the support they need to contribute tangible products and services in the face of the pandemic. Their projects are deploying rapid solutions, equipping us with new technologies to help combat the virus and save lives. The EIT Community's efficient mobilisation is a valuable contribution to Europe's efforts to overcome this pandemic."

The selected innovations provide immediate solutions within the EIT's key focus areas, from health and digitisation to food and urban mobility, to meet the wide array of challenges posed by the crisis. The 207 projects and ventures supported include effective solutions such as biotechnology and diagnostics, using 3D prototypes to re-configure congested parts of the city and co-working areas, supporting food supply chain disruptions, and solutions to reduce airborne contaminants. More information on selected projects and ventures offering innovative solutions can be found here and here.

Gioia Ghezzi, Chair of the EIT Governing Board, said: "I am thrilled with the response to the EIT's call to action: innovation will play a key role in Europe's road to recovery and our innovators are united in their vision of a stronger, sustainable Europe. I am proud to see results from the EIT Crisis Response Initiative already emerging: for example, EIT Health's 'Digital Control Centre' in Spain has documented a fifty percent reduction in mortality rate among COVID-19 patients thanks to the use of their developed AI tool. We must continue to innovate, ensuring that this leads Europe on its path to a more resilient society."

Through the rapid mobilisation of the EIT Community, the EIT is delivering short term innovation projects while powering long term investments into Europe's recovery by helping to secure critical funding for startups, scale-ups, and SMEs that are experiencing significant difficulties, including loss of capital and customers.

Tom Sam, Head of Affix Labs and a recipient of the EIT RawMaterials' 'Venture Support Instrument' said: "The €200 000 support from the EIT Crisis Response Initiative is crucial to ensure we stay on track with our initiatives. Our product Si-Quat, an anti-microbial surface coating developed to kill viruses and proven to be effective against coronavirus, is now launching in new markets around the world thanks to this critical funding. Our goal is to roll out Si-Quat globally to help communities re-open in a safe and sanitary way, and thanks to the EIT Crisis Response Initiative, we are speeding up our production and the development of a variety of flexible solutions."
By deploying a rapid response mechanism, all EIT Crisis Response activities will be completed by the end of 2020 to help Europe recover.