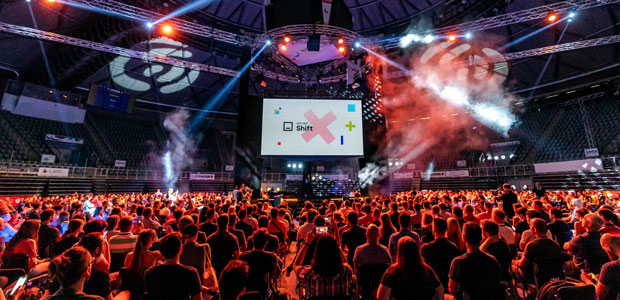 Infobip Shift 2022 gathers the global developer community on the Croatian coastline
Thousands of developers, founders, industry disruptors, DevRel experts, and global tech giants will join the central developer event in SE Europe.
Sun, sea, and devs; Infobip Shift, the biggest developer conference in Southeast Europe, will once again gather the global developer community on the Croatian coastline. On September 19th and 20th, the city of Zadar will host the 11th edition Infobip Shift conference. With more than 4,000 expected attendees, a record number of speakers, and an impressive list of global tech giants, this year will be the biggest and most eventful edition of the conference yet.
''Infobip Shift 2022 will once again establish itself as the central event for the developer scene in our part of Europe. In addition to the quality of the program, we have elevated the level of the event production which will completely transform the venue and offer one futuristic, high-tech experience, matching the world's biggest tech events. We are expecting more than 4,000 who are coming from Croatia and central Europe, but also USA, Scandinavian countries, and even Australia. All of them will be able to learn from more than 60 speakers who will be giving talks, participating in discussions, or holding workshops.''- said Ivan Burazin, Infobip's Chief Developer Experience Officer, and Infobip Shift's founder.
Speakers from Microsoft, Google, Amazon, Cisco, and more
Speakers at the Infobip Shift are very well-known names in the developer industry and representatives of global tech giants. Microsoft, Google, and Cisco are headlining the impressive list of companies whose developers will take the stage at the conference.  Charity Majors, CTO at Honeycomb, Hakon Wium Lie, the father of CSS, Kent C. Dodds, co-founder of Remix.run, Tejas Kumar from Xata.io, and Kitze, creator of Sizzy, are some of the global tech stars who will be speaking at the event.
''I've heard great things about Infobip Shift from colleagues in other companies and I am looking forward to attending I've seen last year's spectacular stage, and I am especially looking forward to holding my talk about testing applications with Playwright there.. Of course, this event will be a great opportunity to connect and network with developers from the region, and it's all happening in a beautiful location,'' says Debbie O'Brien, Senior Developer Manager at Microsoft.
Separate stages for Startups, web3 and Cloud Native
Infobip Shift 2022 will have six stages, with the circular main stage splitting into three separate, smaller stages. Web3 and Cloud Native will have their own halls and stages, just like startups in the Startup Tribe Stage.
"Startups who are in Infobip's Startup Tribe will have the chance to present their ideas and products on the mini-EXPO in our hall, and also try their luck in the pitching competition. Most importantly, startups will have a chance of taking a next step in their career because they will be in the same room with investors such as Goldman Sachs or Palm Drive" - said Nikola Pavešić, Infobip's Director of Startups.
Infobip Shift has always been known for its unique atmosphere which separated it from the similar events on the global tech scene. This year will be no exception, with outside Garden areas and afterparties guaranteed to create a memorable experience for all attendees.
With its size, program, number of attendees, and level of production, Infobip Shift 2022 will firmly establish itself as one of the most important tech events in Europe. And with its side events and parties, this year's edition once again promises an experience attendees won't forget. For more information on the event and how to attend, visit the official website