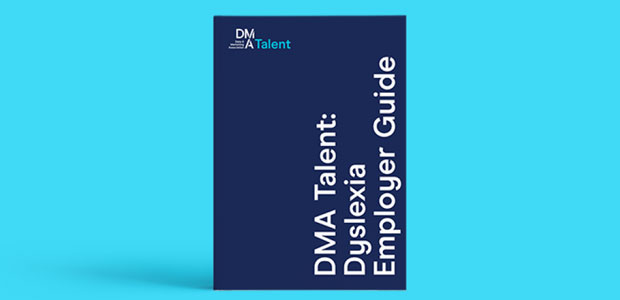 Industry body calls on businesses to become more inclusive of dyslexia
The Data & Marketing Association (DMA) has published new guidance, 'DMA Talent: Dyslexia Employer Guide', created using insights from neurodiversity consultants, brands/employers, and dyslexic employees working across the creative, data and marketing industries.
Dyslexia is a neurodevelopmental condition which mainly affects the development of literacy and language related skills. It is estimated that 1 in 10 people have dyslexia, but symptoms will likely range significantly between each person.
Using expert insights from neurodiversity consultants and feedback from dyslexic professionals, this new guide will help employers to understand dyslexia and what they can do to make their workplace more inclusive.
"Although awareness has increased in recent years, dyslexia remains misunderstood and businesses must do more to become inclusive workplaces. Our new employer guide addresses this by helping employers to understand what they can do to support a diverse workforce," said Kate Burnett, General Manager, DMA Talent and Co-author, 'DMA Talent: Dyslexia Employer Guide'.
"Our Dyslexia Employer Guide is the latest instalment in our neurodiversity guidance series, offering organisations free advice on how to create a positive, supportive, and flexible workplace culture that permeates all levels of the business."
The guide provides comprehensive guidance and recommendations on reasonable adjustments that employers can make to recruitment processes, the workplace environment, support networks, and most importantly, how to treat employees as individuals.
In addition, it features case studies offering advice for dyslexic people written by dyslexic professionals, from junior marketing executives all the way to managing director level, on useful coping mechanisms they apply on potentially problematic areas and how their skillsets have helped them to thrive in the creative industries.
"I used to keep my dyslexia a secret when I first entered the working world. For the first 15 years or so of my career, I rarely, if ever, mentioned it for fear of revealing a vulnerability and being seen as 'not good enough' in some way. Unfortunately, too many adversarial agency cultures persist, where people feel they need to present themselves as invulnerable and as an ideal, titanium version of their role. It's unrealistic and exhausting for everyone, not just the neurodiverse community," added Laura Chamberlain, Managing Director, Sign Salad.
There is limited knowledge and best practice available on how to make the workplace environment more 'dyslexia friendly', especially guidance created in partnership with dyslexic professionals.
"It is hard for individuals to succeed in isolation, and the most successful outcomes are where the employer and the organisation are working together, and the workplace culture is a supportive and inclusive one. Employers operating in a competitive commercial world may feel it is not easy to create dyslexia-friendly work environments, but it can be done. Many adjustments are relatively easy to introduce and are not expensive," concluded Katherine Kindersley, Co-Author, Dyslexia Employer Guide, and Director, Dyslexia Assessment & Consultancy.
To download a free copy of the 'DMA Talent: Dyslexia Employer Guide', check out the DMA website.