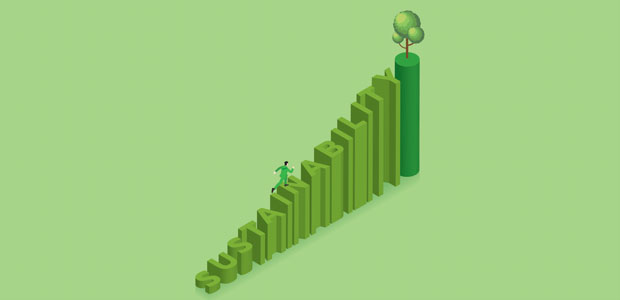 The importance of accountability in meeting business climate targets
As COP26 came to a close at the end of 2021, businesses across the globe were given a new sense of urgency to meet climate targets and achieve Net Zero. But while there is now undoubtable agreement that businesses must take on more accountability to reduce their emissions, the question within an organisation often surrounds where this accountability falls.
While it is encouraging to see businesses taking an executive-level approach to sustainability, achieving true sustainable change within an organisation will require a company-wide approach - and should not be a sole-individual's responsibility. Achieving Net Zero will require both strong leadership and clear goals, as well as a clear strategy that holds everyone accountable for their actions in meeting those goals, and use of new technologies which allow us to monitor energy usage more accurately.
The rise of the Chief Sustainability Officer
The past few years alone have already seen businesses begin to develop their managerial structures to allow for a greater focus on sustainability. In 2020, a report from Weinreb Group stated that fortune 500 companies hired more Chief Sustainability Officers in that year than the previous three combined, with demand up 228% for the role.
The importance of Chief Sustainability Officers and other ESG-focused executives have also evolved beyond just a focus on the environment, notes Weinreb Group. With ESG now top of the agenda, investors and employees alike want a clear stakeholder which upholds a businesses' promise to meet ESG demands. Thus, we can only expect the role of sustainability officers to further grow in the coming years as it becomes inextricably linked to business growth.
But while strong leadership plays an important part in meeting business climate goals, sustainability must have representation in all areas of a business if it is to be truly successful.
For example, taking a recent litmus of 11,000 roles on LinkedIn with the word 'sustainability' in their title in the UK alone, it shouldn't be surprising that the vast majority of these roles aren't in the C-suite. And nor should they be.
At Hark, we've worked with some of the leading names across retail, energy and manufacturing - in particular to improve their energy consumption and efficiency of legacy assets. As a result, we're seeing directly how sustainability and energy efficiency are influencing the workloads of a multitude of different stakeholders and staff, and how these individuals are all playing a part in the bigger picture.
Company wide accountability
From our own experiences, sustainability isn't - and shouldn't be - refined to a single department, and is likely to impact everyone's role at some point in time.
For example, on a recent project of ours with a national retailer, we worked with the Head of Innovation and Innovation Team while a different project for another retailer saw us work closely with a Software Engineering Team briefed by their sustainability department.
On the other hand, on a recent manufacturing project part of our remit included us helping a Finance Director encourage factory employees to make sustainability a bigger part of their day-today.
What's been clear is that there isn't a 'one size fits all' approach to sustainability or achieving energy efficiency. Everyone's role, no matter how small, contributes to the bigger picture of business sustainability goals. The crux being - the businesses that can harness this and build KPIs around it to identify inefficiencies will be better placed in understanding their journey to Net Zero.
The role of technology
But while organisational-level change is important, technology is perhaps even more important when it comes to meeting sustainability goals.
For example, according to McKinsey, it is estimated that managerial and process changes can help increase energy efficiency by 10-20%, whereas technological or digital changes are closer to 50%.
Most businesses today don't have a basic, asset-level understanding of their energy consumption. This means there might be a view of total energy usage across a business, but a lack of visibility of how much of this is lighting, heating or other equipment. By understanding energy consumption at a more granular level, it's possible to identify inefficiencies and make changes - almost instantly.
Hark's platform is an example of how cutting-edge technology can help identify and solve these inefficiencies. Through use of our cloud-based sensors, businesses can gain an asset-level understanding of their energy usage to better spot inefficiencies. With this insight, businesses can make direct changes to their energy output, while sharing data with staff so they can understand how their efforts can contribute to reducing energy use.
But whose responsibility really is it?
Ultimately, successful businesses will handle sustainability in a similar vein to how forward-thinking businesses have approached digitisation.
Just as 'Heads of Digital' help guide the introduction of new technologies, processes and cultures throughout an organisation 'Heads of Sustainability' will help take the business, and its employees on the sustainability journey together. It's this guidance that will help give employees - at the very least - a strong awareness of how their work impacts overall energy efficiency.
By taking staff along that sustainability journey, as well as using technology to get better visibility of energy use, businesses can only hope to be on a better path to achieving Net Zero and meeting their sustainability targets.