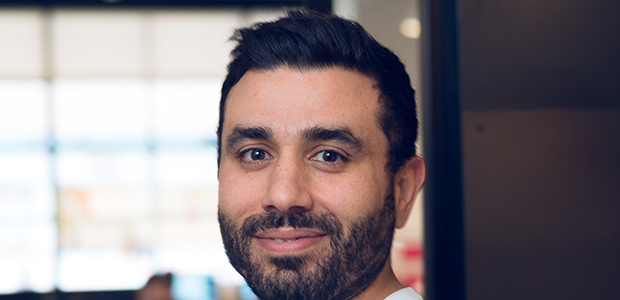 Immigrant, refugee, founder
It's no secret that being a founder is a tough ask. However, you'd be hard pushed to find an entrepreneur that has had to overcome as much adversity as Nour Mouakke, Founder of Wizme, a meeting and group booking management technology solution for venues, intermediaries and organisations that provides end-to-end automation of the booking process.
With a background in the hospitality industry, Mouakke is originally from the Syrian city of Aleppo and moved to the UK to study in 2009, leaving behind his four younger siblings. However, two years after arriving in Britain the civil war broke out in Syria, and is still raging today, meaning that Mouakke is unable to travel back to his homeland and has not seen his family since 2010.
One can only imagine how hard it must be to get a business off the ground against such a backdrop, but Mouakke, in his own words, had a dream and an entrepreneurial spirit. He went on to complete a Masters in Marketing at Durham University, and secure the role of Global Account Manager for Intercontinental Hotels Group (IHG), who sponsored Mouakke as a highly skilled immigrant, enabling him to stay in the UK beyond his two-year work permit.
As part of his role Mouakke managed global companies and helped negotiate annual travel agreements with IHG hotels around the world. "It was a high-level job, working with big corporates and their decision makers, driving more business into our hotel group," he commented. "It was an amazing experience and I built up a global network of contacts and experience. In Syria I learnt about hospitality on the ground, but with IHG I learnt more about the corporate side of the industry, understanding the business model, operations, systems, and crucially the problems with those systems."
Mouakke went on to explain that meetings and events are a huge market for the hospitality industry. However, many hotels don't have the right booking systems in place and the ones that do are old and no longer fit for purpose. In fact, booking even a small meeting can take at least eight days due to the current manual process that relies on emails.
Bumps in the road
With that in mind, Mouakke took the step to set-up Wizme in 2015 (the name coming from an amalgamation of 'wizard' and 'meetings'), bootstrapping the product initially, with the aim of creating an automated marketplace where people could instantly book meetings and events. He commented: "This technology didn't exist with the process typically being done manually. I was one of the first people to introduce the concept, however as a sole founder I had my own challenges."
After taking the decision to set up Wizme, Mouakke hit an immediate hurdle. As a highly skilled immigrant he was tied to the company that had initially sponsored him, and as such it would have been impossible for him to set up his own business (in fact, he first had the idea for Wizme as early as 2011). Therefore, Mouakke gave up his highly skilled visa, and applied for refugee status: "When you are a refugee you have the same rights as any UK citizens, and that includes being able to set up a company," he said. He was then able to leave his job at IHG Group (which he would not have been able to do beforehand) and set up a limited company.
This was still a massive gamble however, as during this time the war in Syria showed no signs of abating, with Aleppo being one of the worst hit regions. He continued: "I was worried about my family, but if I am seeking refuge from my home country, by definition, I am unable to travel back home – not until I'm a British citizen will I be able to do that. In addition, most Arab countries don't recognise a refugee passport so I can't even go and see some of my siblings that have moved to Cairo (I tried to apply once and got rejected). In the same way I was denied a visit to the US, and I was even prevented from boarding a flight to France to visit my uncle - I was treated like a criminal."
Far from the personal sacrifice, Mouakke explained that there are also significant limitations to being a refugee and a business owner, and opportunities can be missed. "That hurts you as a startup founder because you need to be dynamic and go and meet people," he said. "I do miss opportunities, for example, I was nominated for entrepreneur of the year at the GTMC Awards, which is the body that represents all the agencies in the UK that book meetings, events and travel. I was shortlisted as one of five startups for the ceremony in Amsterdam, but I couldn't go because as a refugee, I was still waiting on my documentation to come through from the Home Office.
"My biggest missed opportunity, however, was when I was invited to speak at Travel Leaders' (a sister company of Amex) executive forum which is attended by senior meetings and events individuals, agency owners and industry leaders from around the US. They wanted me to speak on the innovation panel along with two other startups – at the time I was still building the first version of the product, whereas the other two were established.
"Even though I was at such an early stage of the business I was still invited over all the other startups in the US that were developing meetings and events solutions, who work out of places like Silicon Valley etc, yet I couldn't go because I was Syrian."
When you have family living in a war zone and struggling to survive, it was hard for Mouakke to prioritise raising funds and putting money into Wizme. "Mentally this is a big challenge," he added. "I remember speaking to two of my siblings who were fighting over a potato because fighters had cut supply lines and there hadn't been any food in the city for a few weeks. However, I was helpless, and sometimes I have no contact with them at all, so I don't know if they're alive or not - it's very challenging."
This certainly adds some perspective to our everyday 'problems' living in the UK, even the trials and tribulations of trying to grow a fledgling business. However, Mouakke was able to take solace from the fact that even though he was apart from his family, his efforts to make Wizme a success also represented his family's hope as well."
Breakthrough and building
During early 2017 Mouakke essentially became homeless and was sleeping on a friend's sofa. It was then he was invited by someone very senior in the business travel industry to present in front of 100+ business owners at an annual agency consortium event in France. "I had less than two months to prepare but I accepted. I had no money, product or team - my friend thought I was insane," he continued. However, off the back of the event's success he was able to secure 130k investment for 11% equity in the company, and the rest is history.
Wizme raised £80k with Seedrs in July and the product is ready now. However, that is by far the end of the story, as Mouakke added: "I'm going to keep pushing as I know I'm building something that will provide a stage to do other things. I want Wizme to become super-rich and philanthropic so that I can do charity work.
"There's a lot of potential in the Middle East to build an eco-system for startups. I'm someone who is dynamic, and I have the network and the knowledge, so hopefully in the future I'll have the money to be able to do more. And Wizme could be the engine that funds it - I'm a hustler and I like to connect the dots and bring people together."
Wizme are about to close its Crowdfunding campaign on CrowdCube and are implementing the solution with its first agency client in the UK that has £35m turnover. Bex Deadman, MD of Blue Cube Travel, commented: "We are absolutely thrilled to have met Nour and been introduced to Wizme. The tool is really intuitive and detailed - both our experienced and newer team members are impressed. 
"Wizme refines searches ensuring that you are connecting with the venues you need and that they receive enough information to give you a valid quote - without the convoluted email trail! We are excited by some of the features and look forward to communicating with our venues on the platform. We are delighted to be partnering with Nour as the first travel management company to use Wizme." 
Mouakke concluded: "We believe in the power of human relationships, and it's these connections that drive commerce around the world, and by bringing people together at meetings and events we enable this to happen."