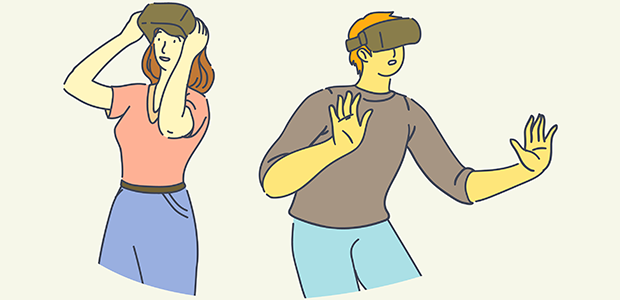 Immersive language-learning platform for students in the UK
GoStudent launches GoStudent VR in the UK – an immersive, tutor-led, VR language learning platform that is set to transform how students engage with new languages.
The launch comes after research from GoStudent's Future of Education Report 2023 found that 81% of UK children think technology makes it easier to learn, with 77% believing it fuels creativity. Three quarters (74%) of 14-16-year-olds in the UK feel confident about being surrounded by new tech, while the majority want to see even more advanced tech in the curriculum.
The platform offers tutor-led group language learning experiences for students aged 13+ in virtual reality, immersing students in 'real-life' settings to bolster their foreign language fluency and confidence. Tutors seamlessly join from their desktops, with students having the flexibility to engage via VR headset or desktop, catering to the unique needs of both parties.
The UK findings follow a wider trend in Europe. Four in five (80%) of 14–16-year-olds expressed an interest in using the Metaverse as an educational tool, with two thirds (64%) of them believing the Metaverse will make education more fun, while more than half (57%) believe that they will learn more effectively thanks to the Metaverse.
Despite enthusiasm from students, the same report found that only 13% of students across Europe are currently using VR at school. With the introduction of GoStudentVR to UK shores, that is set to change. UK students aged 13+ can now learn Spanish - the first language available on the UK platform – after research showed Spanish is set to become the most popular A-level language in England and is forecasted to overtake French as the most popular language at GCSE by 2026.
GoStudent VR has been created in collaboration with Immerse, an award-winning VR training platform, and supported by Meta via a hardware donation of Meta Quest 2 VR headsets. The platform holds a maximum class size of just seven students, allowing for personalised and attentive tutoring. It aims to make language learning not only effective but also fun and engaging, boosting students' confidence and fluency in 'real-world situations'.
Felix Ohswald, CEO, and Co-Founder of GoStudent, Europe's highest-valued EdTech company, said: "Having seen the impact GoStudent VR has had on students in the DACH region, we are excited to be launching in the UK, where we know appetite for new, tech-driven learning methods is high. The launch in the UK with the introduction of learning Spanish as a language, means we're opening doors for students to embrace one of the world's most spoken languages, in a virtual, immersive setting.
"We've transformed the traditional classroom into an engaging playground where students can experience, interact with, and learn languages in ways that are both fun and effective. That will always be our mission and we're confident that GoStudent VR helps us further provide innovative and personalised learning experiences to students."
The launch comes on the back of GoStudent VR's successful English lessons roll out in the DACH region in June 2023. Lucy, a GoStudent VR student who has participated in VR English lessons, shares, "My experience with GoStudent VR has been transformative. The immersive environment made learning effective, engaging, and fun. It didn't feel like the usual classroom setting and I was gaining confidence in real-time conversations."
Christina, an English tutor using GoStudent VR, says: "It's been truly rewarding to see students break out of their shells in this virtual space. They're not just learning a language; they're gaining confidence and experiencing the joy of learning. Observing their progress and seeing them flourish in such an interactive environment reaffirms the transformative power of immersive education."
The launch adds yet another layer to the innovative educational and digital solutions the company offers UK students. In addition to providing 1:1 online tutoring via its custom digital classroom, GoClass, GoStudent recently launched GoStudent Learning. Powered by AI, GoStudent Learning provides interactive, curriculum-specific content, enabling students to self-study between tutoring lessons. Tailoring how content is presented to students, based on how they like to learn and how they've engaged with previous quizzes, tests and mock exams, studying with GoStudent Learning is designed to be engaging and enjoyable - ensuring students are happy instead of stressed.
GoStudent VR is available in the UK for pre-existing GoStudent customers and is currently priced from £99 for a one month package, including the headset. Existing GoStudent customers can sign up for GoStudent VR at any time and can purchase VR lessons on top of their existing membership.