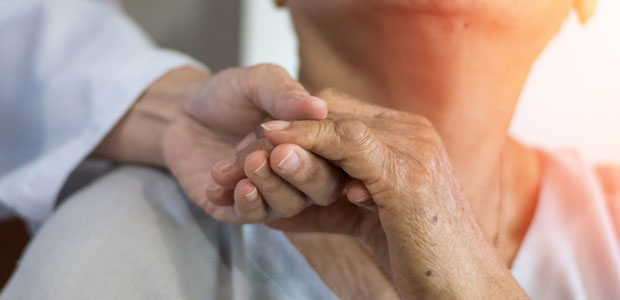 iLoF – a new era of personalised medicine
Every three seconds someone develops Alzheimer's. And although there are currently 44 million people worldwide living with the disease, there has been no new treatment approved in the last 14 years and over 400 clinical studies have failed. There has been €540bn spent on Alzheimer's and Dementia globally. It has also been estimated that the number of Alzheimer's patients are expected to triple by 2050.
Founded by Mehak Mumtaz, Joana Paiva, Paula Sampaio and Luís Valente, healthtech startup, iLoF is enabling a new era of personalised, precision medicine, by providing screening and stratification tools in an affordable, fast, portable way. The team is currently focusing their technology platform on Alzheimer's disease, however, they are hoping to expand to more diseases in the future.
The team explained that clinical trials in Alzheimer's disease have been a graveyard for promising treatments. Their research found that 90% of initially enrolled patients drop out of studies, mainly due to invasiveness and inconvenience of screening procedures. Eighty percent of screened patients are deemed unsuitable for trials after undergoing lengthy, risky, and invasive procedures. Screenings can also cost as much as €2,000 per patient, totalling a screening spend of over €400m per year for clinical trials, while the complex pathophysiology of the disease and patient heterogeneity are often not accounted for in clinical trial design.
The iLoF platform uses a few drops of blood to collect biomarkers or personalised biological profiles of different disease subtypes using photonics, which is then stored in a cloud-based fingerprint library. Using this database and Artificial Intelligence (AI) as an engine, iLoF provides screening and stratification tools that can be used to recruit patients for clinical trials in a more efficient and patient-centric way.
Mumtaz explained that iLoF's goal is to become the number one smart platform that can democratise access to personalised medicine, as well as enabling pharmaceutical and biotechnology companies to develop accurate, personalised treatments in a flexible way. She said: "We are focusing on Alzheimer's disease right now as clinical trial failure in Alzheimer's tops most other diseases, and one of the reasons for that apart from the complexity of the disease, is invasive inconvenient screening procedures like lumbar punctures or PET-CT scans. This is where our non-invasive, inexpensive and portable tool comes in. It is going to revolutionise drug discovery for a disease like Alzheimer's. In the long term, the platform will allow and accelerate the arrival of new effective treatments for many diseases that are currently still incurable. Our dream is to change the lives of millions of people suffering from complex diseases."
In March 2019, iLoF joined 'The Wild Card', an accelerator programme which is funded and supported by the European Institute of Innovation and Technology (EIT), which helped the startup to validate the need for the platform. iLoF was then able to start the next phase of its journey when it won the EIT Health Wild Card programme and secured its first round of funding.
Since the company received its first round of funding last year, iLoF has grown to a team of 15. Paiva believes the magic really happens when various disciplines and specialities come together, she said: "We've got people working in disciplines ranging from photonics, software and AI to the data science side of things. I'm really proud that we've been able to collect a really multidisciplinary team in just under a year."
iLoF achieves its results without using any expensive consumables - Mumtaz described it as a completely label-free method in a minimally invasive way. She further explained: "We don't use lumbar punctures which are currently used to screen a patient for Alzheimer's disease, and we do this without the use of expensive equipment hence we believe it is a completely revolutionary technology. iLoF has the potential to disrupt the way screening and clinical trials are conducted, as well as the development of personalised therapeutics."
One of the biggest challenges iLoF has faced so far, was finding initial use cases. Paiva explained that being an agnostic technology company, the possibilities are endless. She said: "As an early stage startup, finding the right area to focus on was key. We were very fortunate to be able to identify a market need when we were going through the validation process during the accelerator programme. We got lots of interest and found people willing to put their names down on a piece of paper but it wasn't such an easy process, we had to interview a lot of people and extensively research the market."
Mumtaz went on to say: "This is something we are really learning by doing, everything from trying to find a clinical need, getting initial meetings with customers, to pricing, and internal challenges such as finding the right people with the right skills. And even personal ones, such as time management or dealing with setbacks. There are new challenges every day and they seem to be changing extremely rapidly. But that's what makes you grow exponentially and that's the attraction for startups in today's generation."
If you're a large established company or just getting started, COVID-19 has impacted all different types of businesses. Not only did iLoF have to adapt to continue working through the pandemic, but the company was also involved with forecasting clinical outcomes and predicting the severity of symptoms after being approached by one of its clinical partners in Portugal who wanted to use the platform to develop a stratification tool to identify infected patients. The project is ongoing throughout the pandemic.
Looking ahead, iLoF is putting its main focus on scaling the team after they recently received another round of investment from Microsoft. The plan is to continue scaling to deliver on some of the pilots with clinical partners. iLoF is also preparing a semi-automated prototype which would then allow the company to carry out testing at client sites. iLoF are busy as they are also working on some internal projects.
As this issue is focused on Women in Tech and female founders, we couldn't not dive into the ongoing topic of diversity and inclusion in the tech industry.
Mumtaz shared her thoughts on the industry and whether there is still a lack of diversity: "Tech has had quite a difficult past, as well as present, concerning diversity, be it gender, socioeconomic background or even race. The narrative has started to become more widespread now. We're getting seats at the table and it's clearly on the agenda but I'm not sure to what extent it's been translated into action, and it doesn't really seem like there's been any sustainable change.
"I strongly believe that investors have a huge role to play in bridging this funding gap, but I think talk and token gestures are not enough. It's absolutely crucial that people start to allocate capital, that they prioritise diversity and inclusion and they really start putting their money where their mouth is. More initiatives like the one we went through (the Microsoft female founders' competition) is very welcome and a much-needed start. But there's a still long way to go."