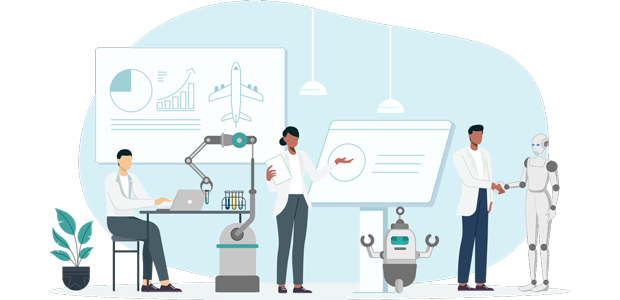 IAG's latest hangar 51 accelerator
Startups using clean technology to recycle CO2 into aviation fuel and creating real-time digital queues to maintain social distancing, are among those joining International Airlines Group's latest Hangar 51 global accelerator programme.
Hundreds of global startups applied to be in this year's first ever virtual programme which is being run in collaboration with Aer Lingus, British Airways, Iberia, Vueling, LEVEL, IAG Loyalty, IAG Tech and IAG GBS. The successful applicants were selected after presenting their innovative products and services before 250 senior aviation and travel industry executives at a virtual pitch event.
The startups are co-working remotely for ten weeks with mentors and experts from across the Group, gaining access to resources to test and validate the best emerging technologies for potential to scale and rapid commercialisation within the aviation industry.   
The Hangar 51 finalists in seven categories include:
Airboard

(Australia) offers real-time digital queues to eliminate physical lines and maintain social distancing at the boarding gate.

Bagchain

(Netherlands) develops mobile touchless baggage check-in solutions for customers.

Trust Stamp

(USA) delivers secure biometric identification solutions that protect passenger privacy and provide a streamlined contactless authentication experience.

Temi

(Israel) has developed a customer service robot that can offer food and drinks to customers in airport lounges.
Smarter Working
Espressive

(USA)

has an

AI-based virtual support agent which automates resolution of employee questions, issues and requests eliminating up to 70 per cent of help desk tickets.

Leapwork

(Denmark) gives business users the ability to create zero code automation for repetitive tasks and processes.

Zapiens Technologies

(Spain) offers software to support training and promote knowledge sharing across remote teams.
Sustainability
ZeroAvia

(UK) is developing a hydrogen powertrain for aviation.

Countalytics

(USA) improves and streamlines inventory management through cutting-edge visual recognition technology.

EcoVadis

(France) provides sustainability ratings for suppliers.

Opus 12

(USA) has created a technology that can help turn CO2 into aviation fuel.
Cybersecurity
Panaseer

(UK) provides continuous controls monitoring to help businesses make better decisions and manage risk more effectively.

RedHunt Labs

(UK)

helps give businesses continuous internet assets visibility using their state of the art scan engine.

SecuredTouch (Israel)

use behavioural biometrics to detect sophisticated fraud attempts that bypass other detection tools.
Loyalty:
GMN

(USA) allows loyalty points to be collected and spent in the gaming industry.

Wayfarer Points

(Hong Kong) uses gamification mechanics to offer programme members micro-challenges, tasks and activities to increase engagement.

Gremlin (USA)

helps enterprises simulate technical outages to help build resilient platforms.
Connected Operations
Airnguru

(Chile) has developed an airline network simulator for strategic and tactical purposes to optimise operational and commercial decisions in diverse demand scenarios.

Appelix

(USA) develops drones with precision flight capabilities for inspecting and cleaning purposes.

BagsID

(Netherlands)

offers an image-based baggage recognition system that removes the need for paper tags.
New Products and Services
Gamitee

(Israel) has a collaborative browser plugin which helps customers make booking decisions using social interactions.

Renacen

(Spain) allows passengers to visualise the seat they're about to select thanks to their 3D SeatMapVR technology.
Dupsy Abiola, IAG's Head of Global innovation, said: "Our latest Hangar 51 accelerator has new Contactless Travel and Smart Working categories to offer innovative and safe solutions to our customers, employees and suppliers as they adapt to the new reality created by the COVID- 19 pandemic. 
"Also, for the second consecutive year, we've included a sustainability category, highlighting the Group's continued commitment to reducing CO2 emissions. We have exciting projects to explore, including a hydrogen-electric powertrain for aviation and new sustainability ratings for IAG suppliers."
The Hangar 51 demo day will be held in February 2021. For more information, click here.