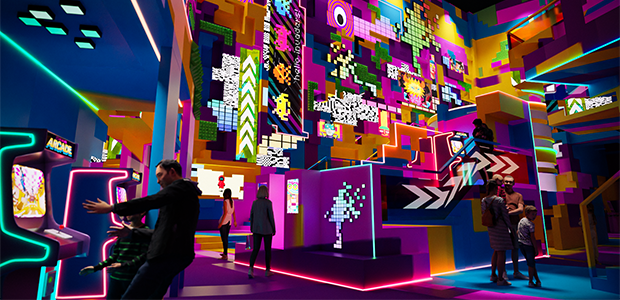 HyperSpace Announces $55M Funding to Create Future of Physical-to-Digital Entertainment
HyperSpace, the multi-brand entertainment attractions developer that is building entertainment parks and proprietary technology to create the future of physical-to-digital experiences, has announced the closing of a $55 million Series A financing round led by Galaxy Interactive.
The round comprises a mixture of equity and debt, and includes participation from Saudi Arabian entertainment initiative, Riyadh Season, SEGA Ventures, and Apis Venture Partners.
Headquartered in Riyadh, with offices in Dubai, HyperSpace will use the injection of capital to further expand internationally, including entering the US market and debuting its newest parks brand, House of Hype, at Riyadh Boulevard opening November 16, 2023. The business will also continue investing in its proprietary technology platform, expand further into AI-driven applications, and invest in IP development, as it further scales.
Founded in January 2021 and comprising a team of award-winning, multi-disciplinary industry experts from well-known companies such as Google, SNAP, The Mill, Amazon, Unity, and Apple, HyperSpace is bridging the gap between the allure of AAA video games, social media and other forms of digital entertainment, and the timeless appeal of in-person fun with friends and family.
The company's debut entertainment attraction, AYA, located at Wafi Mall in Dubai, is a digital immersive experience consisting of 12 experience zones across 40,000 square feet and has sold over 480,000 tickets in its first 9 months of operation. HyperSpace plans to open two additional, larger parks in the coming 6 months, House of Hype of Hype at Riyadh Boulevard and House of Hype Dubai Mall.
"We are thrilled to announce the closing of our Series A funding round, led by Galaxy Interactive," said Alexander Heller, HyperSpace Co-Founder and CEO. "This investment validates our vision to build the future of physical-to-digital entertainment experiences. With the support of our investors, we will continue to innovate and expand our reach, bringing our unique attractions to new audiences around the world, while building generational brands and IP."
"We are excited to witness the rapid growth of HyperSpace in Saudi Arabia as they endeavour to build this generation's next entertainment company, which comes at the intersection of technology, entertainment, AI and Web3" said His Excellency Turki Abdulmuhsen AlAlShikh, Chairman of the General Entertainment Authority of the Kingdom of Saudi Arabia. "HyperSpace is on pace to build a global entertainment company, launched from the Kingdom and exported to the world, starting with the opening of an industry changing product, House of Hype for Riyadh Season 2023, in line with the entertainment pillars of Saudi Vision 2030."
"HyperSpace is at the forefront of a new era of entertainment," said Sam Englebardt, Co-founder and Managing Partner of Galaxy Interactive. "The company's team of world-class creatives and technologists is building the most innovative and engaging entertainment experiences on the planet. We are excited to partner with HyperSpace to help them achieve their vision of creating a global entertainment powerhouse."
House of Hype
House of Hype, set to open first in Riyadh Boulevard in Saudi Arabia, aims to be the world's most innovative and engaging entertainment park, erasing the line between physical and digital worlds entirely. It is a hybrid of a content creation arena and a physical video game, with a game economy incentivized by digital assets and an in-world currency, and a digital layer that incorporates AR, Web3-enabled wallets and AI-powered experiences for each guest as they move through the park.
Location-based entertainment is the heart of HyperSpace's vision, with a belief that new physical-to-digital experiences will become the pillars supporting new retail ecosystems, driving footfall, boosting profitability, and stamping a distinctive identity on each location.