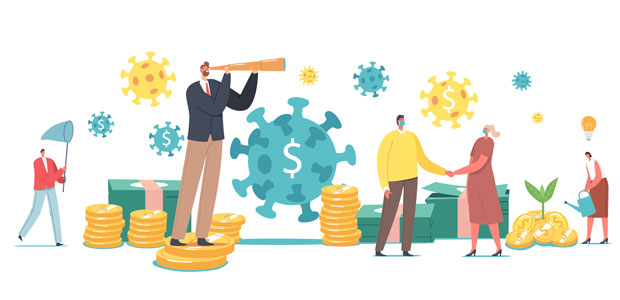 Hyper-personalisation: Your key to the prosumer-led economy of the future
Today's consumers are an evolved, diverse and versatile breed with ever-changing expectations. They make educated choices, are equipped with relevant information, and continuously challenge the enterprises they interact with. That said, enterprises that go the extra mile to understand their customers and their customers' needs have an added advantage.
By implementing pragmatic strategies in producing and supplying goods and services that are individually tailored and globally standardised, they can gain an edge in the next decade of this hyper-personalised, hyper-sensitive, and hyper-volatile world of prosumers.  
As consumers develop super-personalised choices and intricate preferences for the products and services they wish to consume, the market landscape is also evolving. The desire for personalisation and differentiation has slowly blurred the lines between producers and consumers - paving a path to the prosumer economy.
Today, many consumers micro-manage their consumption by taking up production (DIY) or relying on peer producers and the gig economy. Cloud kitchens, home-based confectioners, custom apparel designers, and ride-sharing apps have become a mainstay in the economy. These small-scale prosumers are changing consumerism dynamics with their easy reachability and the opportunities for nurturing tight-knit relationships with other prosumers.
To compete in this prosumer-led landscape, enterprises need to re-evaluate how they approach their core value chains of research, design, production, marketing, sales, and distribution. Agreeably, it is practically impossible for enterprises to employ a personal liaison to each of their consumers, or in some cases, even prospects.
At this inflection point with emerging technologies, evolving generations, geopolitical-economic conditions, and the pandemic, how can enterprises capture the interests of today's buyers and consumers? Making a fresh appeal to their customers and assuring that their constantly evolving voices will be heard needs a progressive plan. Hyper-personalisation is the answer to this puzzle.
Hyper-personalisation can help businesses cater to the needs of the prosumer era. It embraces the theory of abundance and enables consumers to choose how they want things instead of someone else making the choices for them. Prosumerism is not new, and nor is hyper-personalisation. However, its enablers and the capacity to achieve it give businesses the impetus to explore feasible, viable, and desirable options to engage with the next decade's prosumers.
Enabling Hyper-Personalisation at Scale
The concept of hyper-personalisation has been around for some time. Still, its adoption at scale across industries, geographies, and segments is not that prevalent so far. However, the time is now ripe to see strides of adoption in hyper-personalisation, making it ubiquitous and pervasive across the world.
Significant shifts in technological advancements, market dynamics, geopolitical and economic environments, and disruptions in demographics are opening up ways for enterprises to enable hyper-personalisation at scale. It is now a possibility and a much needed one at that. The pandemic situation is the catalyst for the accelerated adoption of hyper-personalisation strategies. Four of the most critical influencers include:
1) Technology: Breeding New Capabilities
Technology has played a role in increasing efficiencies for decades and is creating new possibilities with an abundance of 'everything everywhere by everyone' - a prosumer phenomenon. For instance, today's cars are more than just a means of transport; they have become a technology offering with a comprehensive range of in-built entertainment, navigation, and connectivity options.
Tech is also influencing traditional learning, transportation, communication, workspace, sustainability, healthcare, logistics, and much more, encouraging us to desire better services for our needs and wants. Various technologies, including blockchain, quantum computing, 3D printing, robotics, and nanotechnology, will drive new use cases for hyper-personalisation.
5G will form the bedrock for future expressions, experiences, interactions, and scale personalisation through micro-geo targeting with mass standardised models.
IoT can enable a phygital world with smart systems that can influence our ecosystem and unlock new potential and possibilities.
Robotics, whether it is the transient RPA-powered bots that take care of menial, repetitive tasks or humanoids capable of six degrees of freedom, is poised to drive the future of 'demand catering' for prosumers at a rapid scale.
Blockchain can help build digital trust, transparency in B2B2C transactions, and personalised connections. It can also offer traceability of the global supply chain to prosumers.
3D printing taps into the abundantly creative minds of prosumers with the ability to experiment, design, prototype, and produce new products.
Quantum computing redefines Moore's Law with exponential computing power that enables real time hyper-personalised experiences.
Nanotechnology can help create smart textiles for addressing personalized healthcare requirements.
2) Millennials - Zen X and Zen Z: Transforming the Demographic Play
With millennials already taking up the lion's share of today's consumer base, businesses always need to be swift on their heels to sense their pulse. Generation Z, quite known for their 'instant gratification' needs, a do-it-yourself attitude, and a mindset that has shifted from ownership to 'consume-as-we-go,' plays a significant role in deciding an enterprise's portfolio.
The good news here is that millennials' dependence on digital tools, social media networks, gig economics, and the learn-and-work ecosystem means the groundwork has already been laid for businesses. The question is no longer about creating channels for requirement gathering; it will be up to companies to tap into the wealth of information from existing digital media and analyse them.
Technologies such as machine learning, IoT, smart home appliances, and cognitive science will drive both producers and consumers into the world of hyper-personalisation and shape the prosumer economy.
3) Macrotrends: Necessitating Directional Shift 
Several other macro factors play a crucial role in the adoption of hyper-personalisation. Global supply chains are getting disrupted because of a preference for local products, industry segments are becoming digital and service-oriented than just sales-based, quid-pro-quo agreements are increasing, new digital currencies are evolving, the barter system is making a comeback, and the attention span of prosumers is receding.
Enterprises are now focusing more on winning customer trust instead of just selling products and services. Another trend is how Direct-to-Consumer (D2C) buying has recently witnessed a rise among the millennial population. With millennial spending power at its consistent peak, a study estimates that over one-third of consumers in the US prefer D2C shopping.
Such trends fuel the need for hyper-personalisation and enable enterprises to align business models with the prosumer era by making dynamic adjustments to their value chain, business models, offering catalogues, and prosumer experience touchpoints.
4) COVID-19: Catalysing Change
The COVID-19 pandemic has forced people to stay indoors and businesses to run virtually. While the rebound is still a long way ahead, on the positive side, more people have started preferring home-cooked meals, many have been able to design custom fitness regimes, and several businesses have created new revenue models. This shows people's desire to personalise their living routine when given more flexibility to do so.
During the pandemic, with the help of 3D printing and localised micro-factories, apparel and automotive companies quickly adapted to bridge the initial gap in the supply and demand of masks and PPE kits. While many of these manufactured goods reached first responders, countries could also curb their reliance on imports, as most such protective gears were distributed to local communities.
The Hyper-Personalised Way of Life in the Prosumer Era
In a way, the pandemic proved to be testing waters for a re-imagined hyper-personalised choice of living. For businesses wanting to capitalise on this market, the burning need is to transform their businesses into a sentient platform - one that is agile and flexible to adapt itself to the evolution of consumer needs.
By wrapping their business models around prosumers, businesses can create as many as 7 billion individualised experiences in the relevant segments. Offerings like Infosys Cobalt that act as a force multiplier to enable accelerated launch for cloud-powered custom experiences can be a critical driver for this.
Cars became highly sophisticated technology devices before we knew it; similarly, we can reimagine a day when clothing becomes self-sufficient in tracking and monitoring health parameters. A hyper-personalised kitchen can integrate with an IoT-enabled refrigerator to auto-populate grocery lists and place orders at e-commerce stores. And who knows, a 3D food printing dessert maker can prepare a fantastic recipe before your guests arrive.
The possibilities are virtually limitless. The only question is, will your enterprise be the one to unlock the opportunities of a prosumer-led economy beyond 2020?