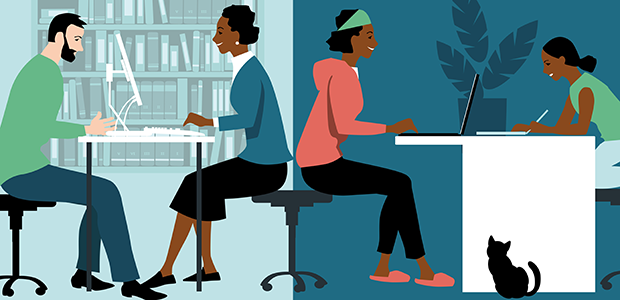 Hybrid working: Reorienting and reskilling the workforce
Today, businesses are under pressure to navigate the fast-changing skills and digital landscape.
In Deloitte's 2020 Global Human Capital Trends survey, 53% of respondents stated that between half and all of their workforce will need to change their skills and capabilities in the next three years. This is easier said than done for companies, as they are up against the last effects of the COVID-19 pandemic, changing business landscape and constantly evolving capabilities.
With the introduction of hybrid working, businesses will need to reskill their workforce for the 'new normal' of working. A hybrid workplace is a flexible workplace model that is designed to support a workforce that is distributed both in-office and remotely. Whilst organisational culture and efficient communication can easily be transferred to this new model, there are new opportunities to develop widespread upskilling, to bring benefits of long term resilience, agility and business success.
Transitioning through the new normal
Reorienting and reskilling employees was already a top priority for businesses prior to the pandemic, in line with digital transformation initiatives that were driving change in workplaces across the globe. Nevertheless, with the introduction of hybrid working, the demand for reskilling and upskilling the workforce has also risen due to many companies fast-tracking digital initiatives and adopting emerging technologies to support their new ways of working.
Looking ahead, business leaders need to prioritise core competencies for training their employees, such as strategy, social responsibility and digital capabilities. By focusing on the long-term, organisations can support future agility and business growth in a hybrid environment and identify skill gaps or market opportunities early for relevant training programmes. They may also look to introduce short-term upskilling that enables employees to adapt to hybrid working, use new software and understand cybersecurity measures.
By fostering a culture of continuous learning, both in the short and long term, businesses will establish a more agile and flexible workforce that is able to proactively respond to the changing business environment and new opportunities as they appear.
Reskilling the hybrid workforce
The first step in reorienting and reskilling the hybrid workforce involves identifying the skills that the organisation needs to be successful in both the short and long term.
This means mapping out the skills that will create the most value going forward, including digital capabilities that are required by the hybrid workforce. It's also important to identify if there are any skills gaps or market opportunities that need to be prepared for in the future.
After these skills have been identified as a priority, it is time to upskill and reskill the workforce either formally or informally. A mix of formal training takes place at an institution, and informal learning on the job is highly recommended.
Whilst many businesses may hold off on introducing a reskilling initiative due to uncertainty, it's vital to remember that this type of business landscape is here to stay for the foreseeable future. Organisations that are better prepared with reskilled employees, will fare well in the case of further disruptions. What's more, successful reskilling isn't a process that takes place only once.
As the business continues to evolve in line with the market or customer demands, so does the workforce's required skills and capabilities. In order to remain successful, the company's reskilling programme must adapt and continuously improve the employee's skills.
Future of learning
It's clear that companies must act quickly to build critical workforce capabilities. The COVID-19 pandemic has accelerated trends in workplace skills that were already underway through the digital economy, shifting marketplaces and changing employee roles. In order to successfully respond, business leaders must look to create a reskilling programme that develops employees in both the short and long term.
Establishing the top priorities is the first step in ensuring that organisations are better positioned to make the most of hybrid working both now and in the future.