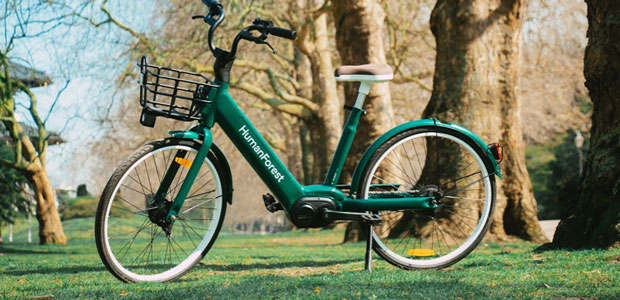 HumanForest Crowdfunding campaign surpasses £1.25m target
HumanForest, London's only truly sustainable e-bike, has secured it's target crowdfunding investment of £1.25m. The campaign is now overfunded thanks to commitments from more than 445 investors so far.
Following a successful trial in London over summer, and a seed investment round of £1.8m earlier this year, HumanForest launched its crowdfunding campaign to existing HumanForest users on 5th November 2020. 
Agustin Guilisasti, CEO and Founder, commented: "We are thrilled by the response we have seen to the initial phase of our crowdfunding campaign and the interest from such a variety of investors. It's reassuring to know that investors are looking to support companies with sustainable values at their core, who are making a real-world difference to the future of our planet." 
Capital raised will be used by HumanForest to acquire 1,500 electric bikes, expand into 15 London Boroughs by Summer 2021 and grow internationally in 2022. 
Free for ten minutes daily and with no unlocking fee, HumanForest offers a new and affordable approach to urban mobility. HumanForest partners with companies that share the same core environmental values and, by advertising on its digital marketing platform, enable the free 10 minute ride. HumanForest successfully partnered with three sustainably-minded companies during the trial; The Financial Times, Whole Foods Market and Rude Health.
At the heart of HumanForest is a mission to help improve air quality in cities and enable people to make sustainable choices that protect the environment. With the crowd's investment, HumanForest will facilitate up to 7,000 rides and avoid almost 4 tons of Co2 from being emitted into London's air every day.