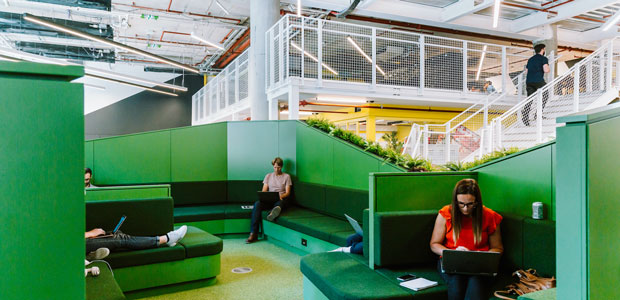 Huckletree announces three major corporate firms as sustainability partners
Creative workspace and accelerator, Huckletree has announced international law firm, CMS to join as their first sustainability programme partner alongside Silicon Valley Bank, and A/O Proptech - Europe's largest proptech VC firm. All three will provide support and services to Huckletree's educational programmes, members and events.
As the need for action on the climate crisis on the global business stage remains urgent, Huckletree approached all three partners to help raise awareness and provide expertise of the challenge at hand, give entrepreneurs who are taking on the climate challenge opportunities to learn and seek investment, and collectively champion green reform within the tech and innovation ecosystem. 
The official partners will support two key programmes; Alpha, Huckletree's inhouse accelerator which commences in April and, for the first time, will be focusing on the theme 'sustainable planet' to help early-stage companies tackling the climate crisis roadmap, to raising their seed round; and an upcoming major sustainability event spearheaded and designed by Huckletree.
Gabriela Hersham, CEO and Co-founder at Huckletree commented: "The need has never been greater for businesses to acknowledge their role in the climate crisis and to source real-world solutions. We have a responsibility to not wait for others, to get to work, and to lead in whatever way we can. We want every entrepreneur or business owner who is taking on the climate challenge, whether they're in AI, foodtech, SaaS or banking, to know that we are a home for them - committed to bring them the best expertise, minds, resources, network and spaces to achieve their mission."
"This is our first major partnership announcement of this nature, and a big moment for Huckletree, showing our commitment to addressing the climate crisis and our ambition to build a better tech and innovation ecosystem that thinks about footprint, impact and legacy, not just about scaling fast or making it to an IPO. We're thrilled to partner together and to get started together."
Anthony Waller, Founder of CMS equIP Programme and Partner in Corporate and Technology at CMS added: "We are excited to be partnering with Huckletree to support their first sustainability summit and collaborate on their upcoming "sustainable planet" Alpha programme. CMS is passionate about fast growth start-ups and sustainability. Our commitment to both is demonstrated through our dedicated equIP start-up programme and the fact that we are leading the legal sector with our own climate change targets. Innovative new businesses have a huge part to play in helping us address the climate crisis and we look forward to working with them.
The CMS equIP programme works with start-ups in the technology sector globally to support their growth and has assisted more than 150 start-up members within the UK alone. CMS provides start-ups with Tech industry-focused legal advice across all areas of law at special discounted rates and has extensive experience of working with entrepreneurial companies of all sizes, at every stage of growth."
Tom Butterworth, Head of The Early Stage Practice, SVB UK & EMEA said: "Huckletree plays a key role in the innovation ecosystem supporting Early Stage companies across their co-working spaces and Alpha programmes. Silicon Valley Bank is delighted to support and champion under-represented founders with a focus on sustainability through the startups that they build. This is a very exciting space to be in as the innovative companies within this programme will go on to make a difference to our planet."
Gregory Dewerpe, Founder of A/O PropTech added: "There has never been a greater sense of urgency to act on climate change. As proptech investors, our vision is to help the decarbonisation of the most polluting industry globally: Real estate. We are excited to partner with forward thinking firms such as Huckeltree who are enabling the democratization and access to valuable knowledge for the most promising and hard working entrepreneurs out there. The good news is that through science, technology and collaboration we can solve climate change. Onwards and upwards!"
Huckletree recently announced its most-recent cohort of its Alpha Programme, a 12 week pre-seed accelerator aimed at turbocharging innovative startups, with this cohort's theme being 'sustainable planet'. CMS will provide support for Alpha through workshops to programme members, and is also currently building a research project around environmental law, born out of its association with Huckletree. Meanwhile, Silicon Valley Bank will provide free banking services to the Alpha cohort, along with targeted support throughout to both Huckletree and the cohort itself. 
The Alpha Programme 2021 cohort include: Saved Food, an insect-based protein company, Tupp, a reusable lunch bowls as a service, Spruce, an ethical cleaning brand, Instant Pickup an online platform where organisations can find exclusively environmentally friendly vans for their same day logistics needs, Nula Carbon, an environmental business perks company, and Bendi a tool to help consumers shop more sustainably online.