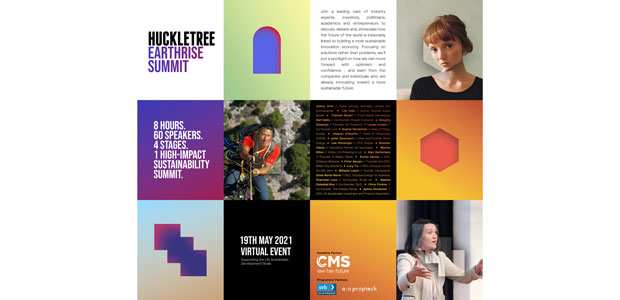 Huckletree add Iceland, UN, Bulb and 14 other speakers to sustainability festival
To mark Earth Day 2021, creative workspace and accelerator, Huckletree has announced a second wave of speakers for its upcoming Earthrise Summit, a virtual festival to unite sustainability leaders, founders, politicians, change makers and innovators from all corners of the world - to inspire people to take action. 
New sessions include high-octane talks on Making Bitcoin Green, The Digital Future of Fashion, Climate Positive Mobility and The Blue Economy: Can Healthy Oceans Save Our World? 
Earth Day 2021 is a global call to world leaders, innovators, industry and investors alike to take concerted action and find better solutions to restore our planet, and Huckletree hopes to play its part with the virtual festival. Earthrise Summit will lean into the UN SDGs around Climate Action but will focus on solutions rather than problems, putting a spotlight on how we can move forward with optimism and confidence.
The newly announced speakers include Richard Walker, MD of Iceland Foods, Subham Jain, Founder of digital fashion company XR Couture, and Emma Young, VP, Head of Global Communications at Bulb. The additional sixteen names join other notable business leaders, academics and activists such as Lily Cole, Nimco Ali and Jimmy Chin, who on 19th May will participate in Q&As, panels and curated workshops to raise awareness and highlight the role we all need to play in fighting climate change - on a global and local level. 
Richard Walker, Managing Director, Iceland Foods commented: "On Earth Day, it feels appropriate to announce how excited I am to be joining the Earthrise Summit. The day's programme addresses many critical issues in our fight to support a healthy planet while putting a spotlight on exciting innovations within sustainability. I'll be delivering a call to arms on the importance of Corporate Activism while also joining a panel to discuss the hypocrisy of food waste alongside Florence Kollie Raja, Tristram Stuart and Saasha Celestial-One."
The new Earthrise speakers announced include:
Aina Abiodun // Chief Brand Officer & Fellow, On Deck        

Alissa Aulbekova // Co-Founder and Creative Director, AUROBOROS      

Boaz Paldi // Global Partnerships & Campaigns, United Nations Development Programme    

Chris Gorrel Barnes // Founding Partner, Ocean 14 Capital       

Daniella Loftus // Founder, This Outfit Does Not Exist           

Diana Biggs // CEO of Valour and Associate Fellow, Saïd Business School, University of Oxford   

Emma Young // VP Communications, Bulb           

Fridtjof Detzner // Co-founder, Planet A           

Niccolo Manzoni // Founding Partner, Five Seasons Ventures     

Nimco Ali // Founder, The Five Foundation           

Pavithra Ram // Impact Navigator, Tony's Chocolonely   

Richard Walker // MD, Iceland Foods

Samata Pattinson // CEO at Red Carpet Green Dress at Oscars        

Sebastian Stricker // Social entrepreneur and CEO, Share        

Shilpika Gautam // Climate activist and VP Strategic Partnerships, Elucidate      

Subham Jain // Founder, XR Couture 
Model and actress turned activist and social entrepreneur, Lily Cole, will headline the festival, with her key session focusing on 'Optimism, Ingenuity and Tackling the Climate Crisis'. Cole will be joined by Academy Award–winning filmmaker, National Geographic photographer, and a professional mountain climber Jimmy Chin, exploring 'Environmental Stewardship & The Human Imagination' in his talk.
Huckletree's Earthrise Summit 2021 festival will bring together 60+ speakers across four stages for eight hours to discuss, debate and showcase how we can build a more sustainable future.
Patrick Keogh, Programming and Festival Director, Huckletree added: "We took inspiration from the past year; the global pandemic has taught us that nature and innovation go hand-in-hand and that institutions are slow to act. We believed that the call to protect the future health of the planet is too great for any business leader or any community to ignore or pass accountability on. We also believe the climate issue is so serious that it needs serious creativity. Rather than silo-ing the agenda to one sector or one institution, we need as many diverse minds collaborating and weighing in, exploding the topic, taking it to new brave areas, and creating positive outcomes that are actionable today, tomorrow not just 10 years out."
International law firm CMS, Silicon Valley Bank, and A/O Proptech are lead sponsors of the summit, and all three will provide support and services to Huckletree's educational programmes and members too. 
Keogh added: "Our vision is to build a festival of ultra collaboration where artists comment on policy, climbers advise on marketing, academics get their hands dirty on product development, investors and venture partners weigh in on education. For us the event is all about raising mass awareness and tolerance through 8 hours of heated, actionable, no-holding-back collaboration and it's open to anyone; entrepreneur or not. This is not the time to slow down. We have been building momentum off the back of our Alpha Accelerator which is themed around Sustainable Planet and the announcement of three Sustainability partnerships last month. We're so excited to see 60 speakers take to the virtual stage for our biggest event of this kind in Europe."
Find out more and buy tickets here.