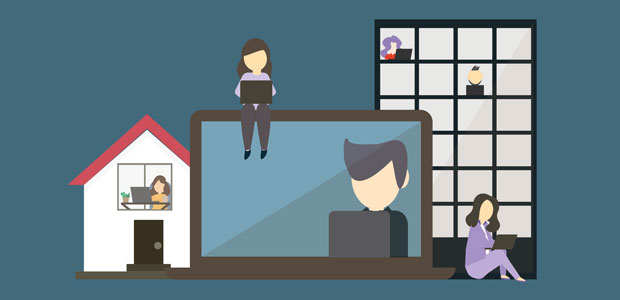 How to work successfully with a combination of remote and in-office staff
One of the many consequences of COVID-19 is the increase in those working remotely, with almost 50% of people working from home at some point during the pandemic. This type of working has many benefits, as does working in an office, and as we have begun to return to normal this has provided a new challenge for many companies. How do you navigate managing a workforce where some people are remote, some are hybrid and some are full-time office-based? In this article, we will explore some of the best techniques for achieving synergy within a geographically diverse team.
Encourage communication
It goes without saying that communication is key in any organisation, but this is a particularly prevalent concern when staff aren't all working from the same physical location. Encouraging team members to maintain regular communication with one another is important for many reasons, most notably for effective problem solving and team support. It is especially important to factor this in when onboarding remote new starters who have never met anyone in their team in person before. Open communication within a business is vital for building both trust and success. Scheduling regular catch-ups is a great way to ensure communication doesn't fall to the wayside.
Streamline your processes and systems
With employees working across the country, or even potentially across the world, having streamlined processes and systems in place is absolutely critical. Ensuring you have a robust and user-friendly ERP platform enables collaboration across different departments and significantly increases efficiency whilst removing the barrier that not working in the same location presents. Over time having an ERP platform will also help to decrease risk due to improved data handling and costs due to increased efficiencies and productivity.
Treat everyone fairly
When a workforce is split across locations it is easy to fall into the trap of having one rule for one and one rule for another - for example, allowing remote workers more flexibility or being more reactive to office workers' requests. Whilst this is typically never done with malicious intent, it can often happen naturally and may cause resentment between team members. It is important to be conscious of treating everyone fairly wherever they work, and any differences that are going to occur need to be articulated accurately within contracts.
Schedule team-building sessions and socials
In 2022 there is no excuse to not be organising team-building sessions and socials as these can now very easily take place remotely, whether that be a virtual escape room, an online workshop, or a virtual after-work drink, there is something to suit everyone. That being said, if you do have the opportunity and the means to arrange occasional in-person events, these are an extremely effective way of bringing a team together and supporting in further team collaboration.