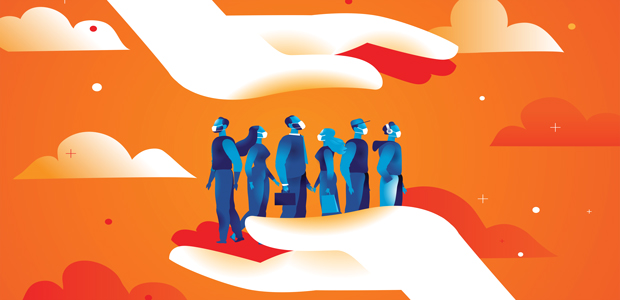 How wellbeing became serious business
Winning any award is nice, but it means so much more when that award reflects a mission you've intentionally set out to accomplish. For our team at Plux X Brighton, that's what it meant to pick up the prize for Best In-House Workplace Mental Health Awareness Initiative at the inaugural Company Culture Awards in April. The building is also on track to become the first in South East England to achieve WELL Platinum accreditation from Wellspace, global benchmark setters for wellbeing at work.
Opened in June 2020, in the middle of the year that fundamentally changed everyone's working lives, Plus X Brighton is an Innovation Hub. And that commitment to innovation includes promoting the wellbeing of everyone who works in our 7-storey building. Much as token gestures like free fruit and beanbags are lovely, we don't think wellbeing can be treated as an afterthought. It is central to entrepreneurial success. Our innovative members are shaping the future. Each member of a startup's team needs to be operating at their best to do their best work. So for workplace providers looking after people's wellbeing is increasingly becoming the number one priority. 
The good news is once you start thinking that way, wellbeing can be worked into everything. Using it as a guiding principle changes everything from architecture and interiors, to finding ways of encouraging people's healthy behaviours through curated community collaboration and even the events you host.
We are not the only ones thinking this way. There is a growing realisation across the business world that supporting wellbeing improves all aspects of working life, and that includes both mental and physical health.
With the average UK citizen spending around a third of their life at work, it's no surprise that Forbes found 87% of employees want a healthier work environment. And research repeatedly shows that supporting the wellbeing of workers provides clear boosts to creativity, positivity and productivity.
Building for positivity
People respond to the environment they are working in, and the WELL standards work across a wide spectrum of elements that impact on the health, comfort and knowledge of people within a workspace. This includes air quality, light, movement, thermal comfort, materials and sense of community.
The health of our minds is another key criterion of wellbeing that has been put in the spotlight by the pandemic. A raft of evidence points to an epidemic of poor mental health as we all faced lockdown and a constant backdrop of anxiety plus disruption to usual support services. 
As part of our commitment to good mental health we put every member of our team through Mental Health First Aid training, and we hope that training creates an unshakable belief that we can talk freely about mental health and seek support when we need it. Additionally, our twice-weekly yoga sessions are available for their fusion of physical and mental benefits and a regular programme of events brings Hub members together to boost connections for all. 
The pandemic has also been a powerful reminder of how connection with nature boosts happiness – a phenomenon dubbed Biophilia, pleasure in being around plants. As you might imagine, you'll find plantlife in every corner of our building while our top floor is an open air roof terrace with views of the sea as well as the South Downs. Now we've all got used to appreciating moments in nature whatever the weather, we hope this will provide a year-round chance for mindful breaks during the working day, as well as relaxed human connection.
Natural light is another major element for anyone looking at workplace wellness to consider. One of the reasons we chose to create a purpose-built building was the chance to install floor to ceiling windows which is rarely possible with older properties. Natural light provides vital support to our circadian cycle - the internal clock on which our sleeping and waking patterns rely. Relying on natural rather than artificial light also helps people feel in tune with day, night and the seasons, avoiding the disruptions to circadian rhythms that cause many sleep problems.
An invisible, but just as vital factor to monitor is air quality. Science is increasingly recognising that the makeup of the air we breathe has a much bigger impact on human health than has been previously acknowledged. As such we use constant monitoring systems, for example, to ensure levels of CO2, dust and humidity are adjusted to meet rigorous WELL standards. 
Platinum WELL standards also acknowledge how wellbeing can be bolstered by giving people a space that puts them on the right side of issues they care about such as climate change. Fortunately many wellness measures are also good for the environment, whether that means ride to work schemes or lowering reliance on energy-hungry lifts by promoting use of the stairs. With that in mind we commissioned a group of Brighton creatives Art and Believe to transform our huge industrial-looking stairwell into a genuine work of art. Once you step inside your path follows boldly painted words of inspiration as you get your legs and lungs working.
Lastly there's something to be said for the sense of fulfilment that comes from doing good work and achieving your goals. Ideally a workplace would help create a virtuous circle - where people's wellbeing is supported, which in turn supports their productivity, helps them realise their goals and in turn supports their wellbeing. All in all a good place to be