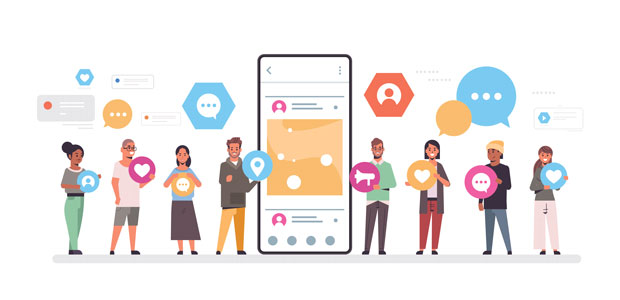 How to use social media to enhance the customer experience
How many times have you read the words 'this tweet was posted in error by an intern'? It happens far too frequently and regardless of whether it's true or not, it highlights the lack of any strategic approach to social media. Whether you have a large team, are a startup, or all of your social media content is handled by you as the founder - the common mistake many businesses make is by treating the medium as just another sales channel.  
Growth comes from telling not selling, whether that's sharing your story, your customers' stories or engaging with them 1:1. Sales can of course be part of that mix, but it needs to be considered from the perspective of the overall customer experience you're delivering.   
Businesses who get it right can help to create fans and advocates for their business, while those who get it wrong could end up losing customers. As the saying goes, a happy customer will tell three people, while an unhappy customer is likely to share their experience with at least ten. So, let's dive into how you can use social media to enhance the customer experience. 
Why does it matter?

 
According to research by Hootsuite, 82% of companies agree that social media is a vital channel for delivering exceptional customer experiences. Shockingly, only 58% of companies actually have a defined strategy for integrating social into their CX programmes. A 2021 trend report conducted by WPromote amongst B2B digital marketers highlighted that increasing customer engagement and improving customer experience were the two key objectives this year, highlighting the rise of a more customer-first approach than in the past. 
Every social media platform is capable of being used for customer experience, but which one is best will depend on the business. The right platform will be where a business's customers are predominantly found. By surveying customers, businesses can find out what that answer is and test this on different platforms to find the best fit. Choosing a few key platforms to focus time and energy on is better than being everywhere. It also reduces the risk of becoming spread too thin for any in-depth engagement. The right channel is the best place for a business to build a 1:1 experience of a deep connection and relationship with their customers. 
Get the messaging right

 
Businesses also need to consider how each social media platform requires a different approach. Some are obvious such as Instagram posts being a square format, whilst Twitter is landscape. 
Customer profiling can also help businesses choose which platform tends to perform best based on certain demographics. For instance, Facebook is primarily aimed towards the over 30s while Instagram and TikTok tend to be preferred by younger generations. The one constant emerging across all social media platforms is that short form video is being prioritised by algorithms over image and text. The human brain processes visual data 60,000 times faster than text, so it's another great reason to mix up your content.  
When crafting a customer experience strategy, social media offers businesses the biggest opportunity to humanise their brand by injecting the personality and culture of the organisation into the messages shared. It should not be focused on selling a product or service; it's about building a relationship with customers and prospects across multiple touchpoints. Get this right and the selling aspect will happen organically.  
Provide wow moments to your customer

 
Having customer experience at the heart of a social strategy is about going that extra mile and being able to link your teams together. If a customer posts about their order on social media and needs help, being able to easily identify that customer to offer support without them needing to dig out an order number will make the experience feel much more personal. Automated chatbots and messaging can also help them feel like they've received an instant reply to their query. But it's also important for automations to seamlessly switch to a human when they need to. There's no bigger frustration than being stuck in an endless automated chatbot loop with no hope of getting to a real human who might actually be able to help.  
Research shows that answering a social media complaint increases customer advocacy by as much as 25%, with 86% more likely to be more loyal to a brand that engaged with them on social media.   
Great customer experience primarily comes down to the personal touch. This can be as simple as thanking individual customers for engaging with a brand on social media, responding to queries or resharing posts that their customers have tagged them in. This 1 to 1 experience is worthwhile as it creates a "wow" experience with your customers, who will in turn help you grow your community as your key advocates. In fact, 51% of consumers say they'd be more likely to engage with and/or purchase from a brand if it shared their photo, video or social post across its marketing channels. This further demonstrates how user generated content can lead to increased customer engagement. 
Personalisation matters
Offering personalised recommendations based on products they've shared can also create better customer relationships. This doesn't have to be a manual process and by integrating various social apps with your customer experience automation platform, messaging can be delivered seamlessly. You can also use social media to reward fans. For example, customers who share one of your marketing campaigns on social media can be sent an email containing a thank you and voucher code. ActiveCampaign has an automation recipe that takes care of this, but there's also no reason why you couldn't do it manually by sending coupons via DM. 
You can also take inspiration from bigger brands to see how they personalise their social media interactions. There are numerous examples on Nike's social media where a customer has asked for advice on the best trainer for an upcoming marathon. Nike didn't just end the conversation by recommending a trainer, but asked the customer when their race was and followed up with them the day before to wish them luck. 
Make a meme

 
If you think back to the content you share most, it's usually the one that made you laugh or that you could relate to. Content doesn't always have to directly lead to a purchase or subscription conversion. Sometimes it's simply about creating awareness. Fun and engaging content can show the personality of a brand and become extremely shareable, which in turn can build your audience.  
In an example from Wayfair, it joked about New Year's resolutions that it was unlikely to keep. Another idea for a baby clothing business could include content highlighting the frustrations of raising a newborn, or getting a certain Disney song stuck in your head after your children rewatched the same film for the 10th time.  
Ultimately by creating a social media strategy that includes engaging with your followers, delighting them, or finding a way to go above and beyond through personalisation, it is possible to use social media to enhance the customer experience you deliver.