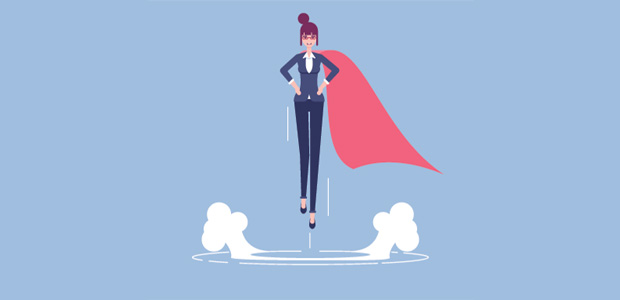 How to thrive as a woman in fintech
What's sexy about financial technology? When I joined a fintech startup called Littlepay, I could see some of my friends and peers struggle with why I had left an uber-cool venture role to do something they didn't understand in the fintech space.
What hooked me was the breadth of opportunity in the sector, which applies innovative technical solutions to simplify and modernise financial services. Although I cringe using the word, fintech is 'disruptive', shaking up centuries-old financial establishments. 
Once upon a time, the first person to create a monetary denomination in a barter economy would have been a fintech disruptor. What could be more exciting being part of a shift in gear in an industry so deeply fundamental, yet so slow to change?
While studying for a master's degree in economic history, I became fascinated by the long term evolution of macro-trends in finance, and in particular the gradual movement towards a cashless economy. When I heard, in the early stages of its inception, about what Littlepay was setting out to achieve, I leapt at the opportunity to be involved in bringing its big idea to life.
Littlepay saw how Transport for London's groundbreaking contactless payments system normalised tap-to-pay across the city's transport network. People loved the convenience of using their contactless bank card or digital wallet to pay for their travel and quickly became accustomed to paying contactless for coffee, lunch and shopping too. The tap-on, tap-off scheme TfL created didn't just change transit payments, it altered consumer behaviour.
This passenger-pleasing payment channel caught the attention of Littlepay's Founder. He decided to create a platform that makes the same technology accessible to all transport operators. Circumnavigating the complex design-and-build process, Littlepay is a cloud native, API-based contactless payment processing solution that can be deployed within weeks.
While working within the investments team of retail and consumer incubator TrueStart, I was introduced to the Founder of Littlepay. After a few exciting meetings and much research into the market landscape, I accepted an invitation to join the team as Head of Partnerships. 
This was a challenging role, at first focused on developing strategic partnerships with financial institutions and device manufacturers. There was never a dull moment, as the team set about assembling an end-to-end contactless payments solution with Littlepay's payment processing piece at its core. When we were ready to take our solution to market, I was integral to developing and delivering sales presentations and securing our first clients.
In four years with Littlepay, my role has expanded. As Head of Commercial, I oversee a team responsible for partnerships, sales and marketing. Over 100 operators use our micropayments solution in the UK, Ireland and Europe with our first deployment in the USA happening this year. 
Our expansion has been accelerated by the coronavirus pandemic, as more transport operators have pushed forward with plans to offer hygienic contactless payments, which reduce interaction and congestion in stations and on vehicles. Unlike other payment processing solutions, we offer agility and speed to market, which is in demand at this time.
Despite the typically non-diverse cultures of businesses in both finance and tech, it was clear as we put the founding team together that Littlepay could be different. As a startup, it was a blank canvas with its story yet to be painted. The beauty of joining a company in its infancy is that there's no entrenched toxicity. You can build an inclusive culture from the top down.
It excited me to be a young woman in this industry, as I'm a firm believer that balanced gender representation is a foundation for attracting diverse talent. I am proud of Littlepay, which now has an over 50% female leadership team and incredible women working in a range of key roles in operations, software development, marketing, finance, HR and more.
It's an interesting time to be a woman in fintech. With giants such as Goldman Sachs announcing this year that they won't support IPOs unless they have at least one diverse board representative, we are seeing increasing commitment at policy level to diversity. 
The equal opportunities debate has been placed front and centre of the news agenda by the Black Lives Matter movement and the business world is entering a phase of self-enquiry and action. Are we doing enough to reverse inequality? What more can we do? Are we really living our values? At Littlepay, we keep inquiring and challenging ourselves to do better. 
From my perspective, as a well-educated white woman, I acknowledge that I have been in a position of immense privilege to get where I am today. Opportunity has been there for me, so I see it as a responsibility to ensure it is also there for BAME candidates and those from less privileged backgrounds, as well as women in general. 
How to thrive as a woman in Fintech: top tips
Be inquisitive about company culture:

No matter how much you want a job in a particular company, it's important to consider the impact its culture will have on your wellbeing and career progression. Look out for red flags, such as lack of women on the board or in leadership teams, or a high churn rate of female employees (this may require a LinkedIn deep-dive). If you're at an interview, ask about where they stand on cultural diversity.

Think positively about your skills:

Fintech is a young industry and many of its success stories have come about as a result of a good idea and a great team with the passion to see it through. With many businesses in their early stages, learning on the job comes with the territory, so having sector-specific qualifications and experience isn't always a big issue. 

Make your voice heard

: Put forward a suggestion, push back when you aren't happy with something, don't stay silent for fear of being shot down. Fintech businesses thrive on challenging the status quo, so everyone's voice is welcome and all ideas can be expressed.

Let people underestimate you:

Occasionally, as a woman in the workplace, you come across people that underestimate you. Although it can be frustrating when male colleagues are assumed to have a more senior position to you, don't take it to heart. Being misjudged isn't a reflection of your talent, but of another person's preconceived notions. It can be rewarding when you overcome that hurdle by demonstrating knowledge and experience. 

Grow your network consciously:

If you want a career in fintech, startup and entrepreneurial events are a good place to seek connections and opportunities. However, networking for the sake of it can be a time-consuming distraction. I've found it valuable to keep specific achievable and 'stretch' goals in mind, whether that's to attract a mentor, gain investment, or access a wider network via a 'connector'.