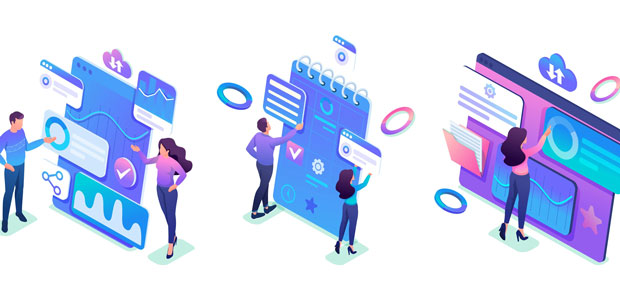 How technology is democratising the professional services industry
At the start of the pandemic, thousands of employees were forced to work from home overnight, resulting in businesses scrambling to adapt. In the coming days and weeks, digital adoption accelerated like never before.
During these tough times, technology has been the driving force keeping organisations afloat, allowing them to still be able to provide the same level of service to clients. One of the major plus points to emerge from this new way of working is the democratisation of information through technology. With people able to work from anywhere, technology is enabling the best professional services people to shine and win the business, the job, or the promotion they deserve based on merit. 
This also means that businesses are no longer required to select candidates from a far smaller talent pool because of their proximity to the office. This will increase the quality that can be delivered in professional services, as an individual's physical location becomes less and less relevant.
It's a particular advantage for startups, who will be more agile and able to adapt than corporates, with fewer processes and policies to navigate, giving them a competitive edge. As remote working becomes more prevalent and the need to have in-house staff less prevalent, larger companies will also begin exploring their options of outsourcing work to freelancers and startups, creating even more opportunities. 
New freelancing platforms emerge alongside the rise of the passion economy
Outsourcing work via online freelancer marketplaces such as Fiverr, Upwork, and PeoplePerHour is nothing new, however, with thousands of freelancers on these platforms, many of whom are offering their services for very little money, it can be difficult to secure gigs. Equally, it can be difficult for businesses to select the best person to work with - something that becomes even harder with a more complicated brief.
These platforms offer an affordable solution for businesses who need a one-off or infrequent task to be completed, but this rarely translates to a long term relationship between the freelancer and the company. Many projects require an in-depth understanding of the client and its industry. Price is often the deciding factor, rather than quality. 
To rectify this, some platforms are offering freelancers who provide exceptional levels of service and expertise with the option of elevating their profile to help them stand out in a crowded marketplace.
Unlike the gig economy, which relies heavily on one-time payments with fewer opportunities for repeat business, the passion economy generates ongoing revenue by building audiences and developing relationships.
New platforms are emerging that work on subscription models rather than taking a cut of each job completed, of which creators are paid a percentage based on how engaged their audience is with their content.
Another way of building and monetising audiences is through community. When many people think of community, they often turn to social media, but these platforms are not the best place for hosting communities and there are few opportunities for monetisation without a massive number of followers. And when numbers get too big, the relationship simply can not be maintained. 
A much better way to build communities which are smaller, but more engaged, is by looking for SaaS solutions that have been designed to allow meaningful conversations with experts, peers, and prospects within your industry to happen, without the noise and distraction that comes with social media. By sharing insights within the community for free, a premium can then be charged to those who wish to have someone apply that knowledge in the form of consultancy, training, or completion of a project.
This provides a great opportunity for startups to carve out a niche and compete with larger, more established companies.
Pedigree of the people, not the pedigree of the company
For many years, people were hired based on the reputation of the established businesses they worked with, or for, in the past. Employees spent a few years at an organisation, before moving to a similarly established firm, to another, climbing the ladder each time, despite them not necessarily being the best person for the job. This is thankfully, no longer the case in many industries, who are now looking beyond the name of a big brand listed on a CV when making hiring decisions. After all, being an established business with a well-known brand does not ensure success anymore - many major companies have recently collapsed - in part due to them not moving with the times.
Technology is once again levelling the playing field, opening up opportunities to those who would have been previously overlooked. It's not about who you know, how many years of experience you have, or who you rub shoulders with on the golf course. It's about being able to demonstrate your skills - nothing more, nothing less.
This benefits the companies who hire them as much as the individuals themselves; your business is only as strong as the people within it. It allows startups to select the best people to employ or partner with without the overheads of having someone in the office full-time, such as equipment, pension payments, national insurance, holiday and sick pay.
The future of professional services
While the Coronavirus pandemic acted as the powder keg, there was no doubt that it only accelerated what was already going to happen. Better access to technology has given us the freedom to work how we want, when we want, from where we want - and now we've had a taste of that freedom, it will be nearly impossible to justify going back to the rigid way of working that comes with the office-based 9-5. A glimpse into a different way of working, alongside a surge of redundancies has been enough to prompt many to start their own businesses; whether it was the final push towards a pipeline dream, or a completely new direction.
Either way, with the right technology, productivity, engagement and collaboration can all be improved. Remote working can be achieved for a high percentage of the workforce, allowing businesses to broaden their horizons when it comes to finding someone who is the right fit.
In addition, over the coming years, more and more Gen-Z will be joining the workforce. These younger, tech-savvy employees bring fresh ideas and new ways of thinking, invigorating tired and outdated processes to make the businesses they join stronger. As digital natives, they have adapted more quickly than most to this new way of working.
The way in which we work may have changed forever. As technology allows knowledge to be democratised, the possibilities for innovative new ways to monetise professional services are endless.