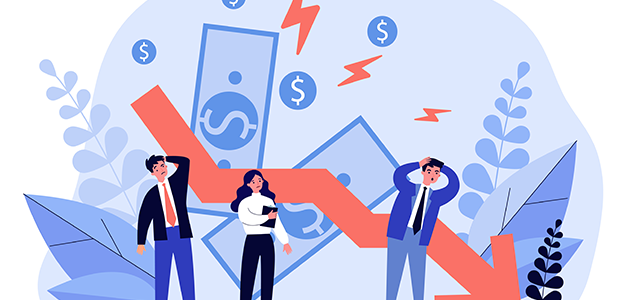 How to tackle the productivity crisis caused by financial stress
Every year, an estimated 12 billion working days are lost across the globe as a result of depression and anxiety. Not only does this bring a deep mental cost to those suffering, but it has a direct knock-on effect on businesses to the tune of $1 trillion in lost productivity.
The link between mental health and productivity is so intertwined that, when looked at from the other angle, companies that prioritise mental health tend to have more engaged, satisfied, and productive employees.
Boosting personal wellbeing through wellness days, psychological support and similar should be commended. Yet, one area that even the most supportive companies rarely factor in is the significant impact caused by financial stress.
It's not that these companies aren't recognising the need for financial wellness initiatives – the number of companies offering such initiatives is 20% higher than it was five years ago – but they're failing to effectively address the root causes.
Work to live, or live to work
Ironically, considering the majority of us work in order to make a living, with compensation remaining the number one reason why employees switch jobs, discussing finances in the workplace is still taboo. This is despite the fact financial stress is increasingly prevalent.
Research shows that in the UK alone, 1 in 5 employees say financial stress impacts their productivity. Those experiencing financial stress are twice as likely to experience suicidal thoughts and women, as well as employees aged 25-34, are said to be the most affected. Some of the factors driving financial insecurity include inadequate pay, poor investment in career development and a lack of structure and communication around financial matters. This all leads to confusion, misunderstandings, and uncertainty - further exacerbating employees' financial stress.
In an ideal world, all companies would raise salaries, issue bonuses, deeply invest in learning, development and upskilling, and be fully transparent about company pay structures and compensation. Sadly, this isn't sustainable so in lieu of being able to achieve this utopia, there are a number of steps you can take.
Seek feedback
To truly understand how deep and ingrained financial stress is among your teams, you need to ask them. You need to create a benchmark from which you can measure the success of any and all of your efforts in this space. In doing so, you'll not only get a barometer of financial wellness but you'll indicate to your teams that you're there for support.
Avi.medical, a European data-driven healthcare provider, is a good example of this. It conducts an engagement survey three times a year in which it drills into the state of wellbeing across its teams. These surveys have inspired the launch of a minimum salary. Avi.medical has amended its benefits structure to make it more responsive to wider economic issues, such as introducing a grocery allowance in the wake of the increased cost of living.
It introduced a range of flexible working arrangements, implemented salary bands and introduced a transparent compensation structure that everyone in the company has access to.
Inspire a culture of transparency and openness
If you can't stay up to date with the market trends for compensation, one of the next best things you can do is to communicate why and when it will change. This creates a culture of transparency, openness and fairness.
Through our work at Figures, we've seen that when employers are open and honest about their pay structures, employees have a better understanding of how their salaries and benefits compare to industry standards and their peers.
This knowledge can help employees make informed decisions about their career development, negotiate for fair pay, and plan for their financial future. All of this decreases the chances of them experiencing financial stress and can lead to increased engagement and motivation and ultimately greater productivity.
It also helps to be transparent about the financial state of your company. Many employees may be watching the news and feeling nervous. This is a key opportunity for you to reassure your team of your financial state, where you are going next and what actions you are taking. It's also a great time to update everyone on bonuses, pay rises and review processes. By communicating as honestly as you can – and by setting honest timelines, budgets and objectives – you can support your team in building trust and providing the next steps.
Destigmatise mental health by leading from the top
Mental health initiatives shouldn't just be "nice to have" for company culture – strong employee mental health makes a huge impact on your organisation's financial position, saving money on sick days, presenteeism, turnover and more.
To achieve this you need to make mental health an open topic of conversation, working to destigmatise issues like stress, anxiety and depression. This needs to come from the top so senior leaders need to live this value and share challenges and vulnerability in order to become role models.
Then there is a range of employee mental health tools and benefits – like nilo.health – that allows staff to access professional support as and when they need it. Nilo.health has a team of clinicians and scientists on hand to both reactively, and proactively support staff members with their mental health.
Don't assume financial literacy
The number one mistake made by even the most well-meaning employers is treating financial wellbeing as a one-time investment or fix. The reality is that every single employee has a subjective relationship with money.
Instead of trying to fix the issue, organisations are better off providing solutions that empower employees to gain more control over their finances. And this comes down to robust financial education and support via experts and tools.
Tools such as Bippit, for instance, provide personalised guidance from professional financial coaches so that individuals are able to get the insight necessary to take positive action based on their personal circumstances.
It should be noted that none of these solutions is a replacement for unliveable pay. To create lasting change, we need to address the root causes of financial stress but these solutions are for companies that are trying their best, given the economic climate, to support their employees while staying financially viable.