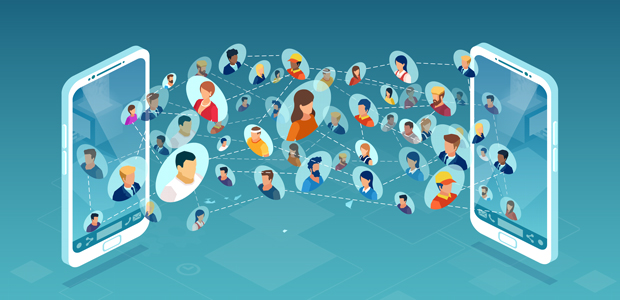 How to successfully close business deals at hybrid industry event
Events mean business, with industry events actively driving markets forward by bringing key industry professionals together to share ideas, create new opportunities, and forge new business deals.
Although we have spent the last year adjusting to online events, the UK events industry is gearing up for more in-person interactions, meaning we need to familiarise ourselves with hybrid versions of events and how to navigate them. 
Industry events still remain the optimum place to make impactful connections - providing the urgency needed for people to make new connections and close deals with existing ones. 
Hybrid events - a mixture of both in person and online experiences for attendees and exhibitors - offer the opportunity to reach a much larger and more global audience.
Having hosted over 500 events and 1.5 million people attending sessions using Grip over the last 12 months, we know the best way to network and close a deal in this new environment. So, here are my top five tips to guarantee your next hybrid event is as fruitful as it can be. 
Make your profile stand out
Whether attending online or in person, update your online profile on whichever platform you're using. On most event platforms, you have the option to build your profile for other attendees and exhibitors to view, so make sure this is up to date. Connections will also look for personal or company social profiles, so ensure that they are not only able to find you easily, but are able to access all the information they might need about your experience, your business and how you can help them.
Pre-networking 
Identifying the most valuable people to connect with before you even attended an event would have sounded impossible five years ago. However, with virtual and physical worlds merging, there are a number of platforms, like Grip, designed specifically to support the networking process ahead of attending the event. Spend some time identifying the key people you want to connect with, and keep this list concise.
Be selective  
Virtual and hybrid events have very different offerings to in-person events, offering attendees far more flexibility to suit different networking requirements. However, not every event organiser has mastered facilitating digital events. The networking element is key especially for digital events where the true value lies in the connections you make and content available. If a digital event offers no option to network, then it's likely not to be of any value to attend.
Nail the pitch
Virtual networking requires a very different approach to in-person events. We've noticed that virtually, attendees will have spent significantly less time preparing for them. If you do virtual speed networking then you have even less time to make your connection and it's harder to engage with a stranger. When you're networking in-person, you have more control over the situation, including communicating through body language.
Condense your elevator pitch to be tailored to each person you want to connect with, and have high quality digital material to hand that can be quickly shared to leave new contacts with something to remember you and your company by. 
Don't forget to follow up 
Although time consuming, following up with connections can be the most valuable takeaway. Business transactions are brought to fruition within a short time frame after an initial connection is made, so it's key to make a note of their details and be proactive in getting in touch afterwards. When you do make contact, reference a personal part of the discussion, before launching into how you feel your business can benefit them. As time is so valuable, if you can offer your connection something in return in a value exchange, then the likelihood of developing that relationship will also increase.