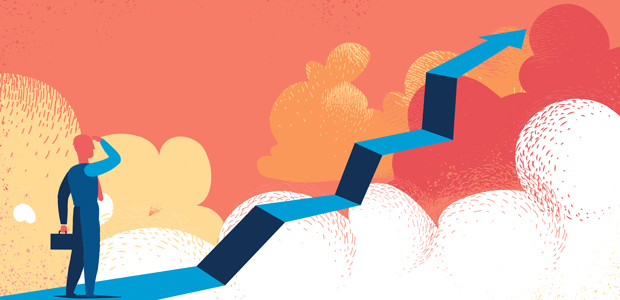 How to speed up the enterprise sales cycle
COVID-19 is affecting every area of our lives. As well as the immense personal cost of this global health tragedy for so many, there are likely significant business implications for your customers as well.
Securing enterprise customers in a scalable and repeatable way is more challenging than ever, as uncertainty grinds sales cycles to a near halt. David Vatchev, EMEA Lead of R3's Venture Development team, explains how startups can still continue to build, launch and scale their enterprise Go-To-Market (GTM) efforts in these difficult times.
Startup products and solutions can give enterprises access to new revenue streams, cut costs, facilitate new connectivity and drive out legacy inefficiencies. However, the current climate has enterprises thinking very carefully about every spending decision and priority.
Startups must adapt to customers' needs and ensure they have the right strategy in place to speed up the lengthened sales cycles and keep themselves relevant amid the uncertainty.
As illustrated below, the B2B sales cycle is often lengthy, complex and multi-faceted. This guide will help you get from start to purchase decision most effectively and quickly in the current uncertain environment.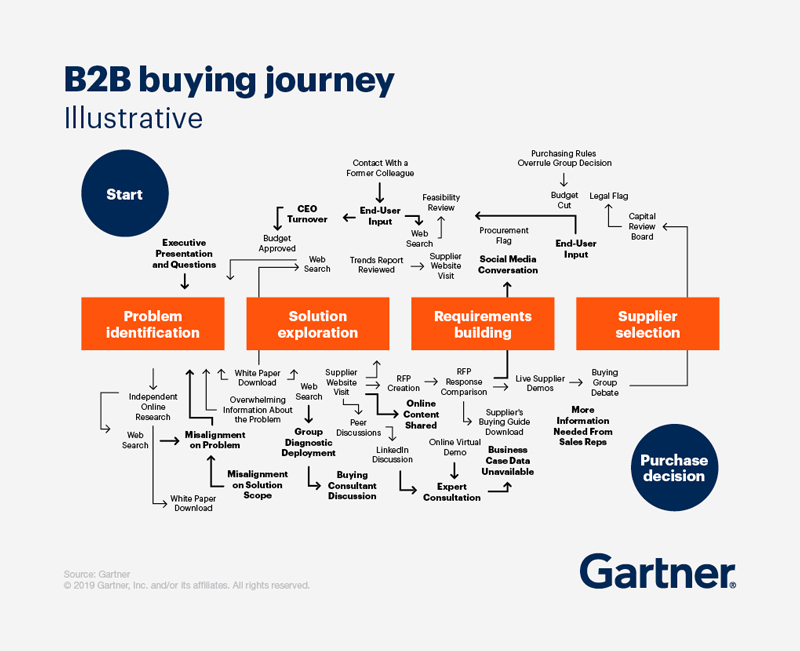 Create a sales funnel
Breaking into modern enterprises requires novel and adaptable solutions. The traditional sales funnel has evolved to reflect the raft of information now freely available and the importance of strong relationships, as corporates seek to protect their brand and market perception.
An effective sales funnel is essential in mapping the customer decision journey and making sure it aligns with your business goals.
The modern sales funnel is essential in defining action steps, tracking progress, measuring success and refining back to improve conversion.
Digital strategy: automate your technology
While traditional sales and marketing channels are limited by social distancing and disruptions in working conditions, you must leverage technology to your advantage. Without the right tools, your business sales cycle may be far longer than it should be.
Sales and marketing automation is essential to allow employees to close deals faster and manage multiple deal volumes. You must standardise the B2B sales process across the company in order to scale your processes efficiently as well as tracking and monitoring your lead to customer conversion rates to understand what is working and what needs to change.
Managing KPIs and having access to an effective Customer Relationship Management Suites is also critical. Modern CRM suites are essential to track leads, engagements, identify potential customers and focuses attention on potential sales. It is essential opportunities are tracked, monitored and scored effectively. For startups, CRM solutions need to be cost effective, customisable, easy to integrate and offer customer support.  
Adapt Quickly With Early Customer Feedback
Initial customer feedback provides invaluable information and must acted upon. Client purchasing decisions and processes are changing and your offering must adapt with them. Enterprises are now more budget and resources constrained, staff are scattered remotely, and forward strategy is being updated constantly. Everyone's time is now at a premium. It is therefore essential that feedback is acted upon promptly and effectively.
Analyse why early adopters engaged with you and why they continue to do so. Such questioning will bring out benefits that customers see in your product that you might have been less vocal about. Conversely, it may also highlight others that you now see are less important that you initially thought.
Then, go back and make necessary changes to address your customers' needs better. This is a 'living process' at the early stages where you constantly learn and build with your end users in mind. This Build-Measure-Learn feedback loop is at the core of the 'Lean Startup Model'.
Deliver Value First, Then Sell
Your revenue model has to be aligned with your customers' success. Ask yourself: "Does my solution directly alleviate an immediate pain point?". The incentives for success have to be aligned for all parties.
In the present climate, over-communicating or adding new intro's into calendars, while your enterprise customers' staff are still adjusting to new mandates and remote working conditions could be adding to the disruption. You must ensure you are part of the solution, not the problem!
There are three key elements to understanding your customers' immediate needs.
Buyer Persona
Build a buyer persona and work to deliver value based on a client's needs. No matter what the circumstances, a successful sale needs an in-depth understanding of your target customers.
This accelerates the process towards converting, as the client is now secure in the knowledge you have their interests in mind.
Stakeholder Mapping
It is essential to identify, connect and access the key stakeholders and decision makers that ultimately influence and control the budget and purchasing decisions.
Visual maps of the key players enable you to quickly identify the 'must have' votes and key risks in an account or opportunity. They allow you to understand who matters, as well as what matters most to each party: price, quality, service or relationship.
Customer Journeys
In order to deliver a great customer experience, a framework that visually illustrates customers' processes, needs, and perceptions is needed.
A customer journey map allows us to step into the shoes of the customer and understand how our processes impact on the experience they have with your product and company.
Manage Key Stake Holder Needs
When discussing your product or service with potential clients, give only a high level overview of what you do. Then, focus the discussion around understanding the client key stakeholders' needs. The goal is to understand how they buy a solution like yours.
Think about questions such as:
What is their role in relation to your solution?

What other stakeholders are involved in the decision cycle?

What are the dynamics of their internal decision making? 

What are their internal timelines?

Do they currently have the budget?

Importantly

,

do they see this problem as a big, urgent and pressing one? Will they act now and prioritise cash flow to make budget?
Remember, your aim is to exchange information and navigate their internal sales process, then build a case encouraging them to buy your product. Your goal is not to get to the end of your presentation!
It is a good idea to end with a question in your communication. You want to create any opportunity to follow-up on the conversation. If your question remains unanswered, you have a legitimate reason to reach out again.
Demo A Solution (Not Your Product)
Too many startups use demos, proof of concepts and trials to showcase their technology and potential use cases. This doesn't create any urgency for enterprises and lengthens the sales cycle. Instead, clarify with stakeholders their top three problems, and list specifically how your product solves each of them, over any potential solutions out there.
Enterprises are in urgent need of solutions that free up time, mobilise resources and accelerate their success. The demo must showcase an immediate boost to their productivity by addressing their specific pain points with your solution.
An example of this in practice is to walk them through a scenario that illustrates their current most urgent problems and how your product addresses them one by one. The effectiveness in this strategy is in the demonstration of the value to your customers, rather than the features of your product.
Conclusion
As markets and conditions change, it is essential your business model does also. Being able to move fast and provide a real tangible benefit to your customers will set you apart from the pack.
Allocate your resources where they are most needed, question every budget decision, and be nimble. Sell only that which immediately addresses your customers' current problems and showcase maximum value to key stakeholders.
The current environment is tough, but that means that any solution that helps customers save time and resources in their business will be a welcome addition.
Visit the R3 Venture Development site here.