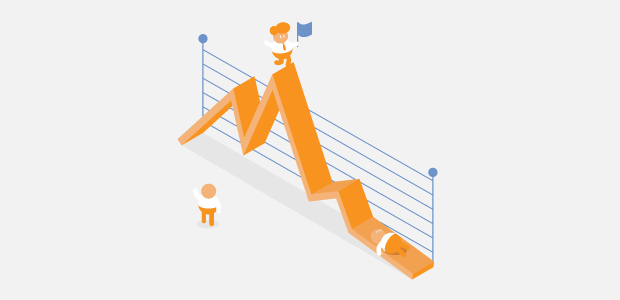 How SMEs can capitalise on sunnier economic outlook
If there was one word to summarise the last few years, it would be "uncertainty" – and studies suggested this was being felt by SMEs across the country.
At the end of 2019, 64% of small business owners did not anticipate any improvement in performance over the next few months and 14% were planning to actively decrease investment in their operations.
With the new year, however, came signs of a more optimistic mood. The latest research has revealed that over a quarter of SMEs (37%) expect a revenue bounce following Brexit two weeks ago. Business owners from the West Midlands are most confident of this economic upturn with 50% predicting a boost – closely followed by SMEs in the North East at 42%.
Whilst the signs are encouraging, suggesting that business owners are expecting calmer and more prosperous times ahead, it's important that small businesses get the fundamentals right to take advantage of the new landscape.
Listening to customers is hugely important for any small business to get a sense of how their target market is consuming a product or service and what they think of a specific offering. It could be that the target segment has changed their habits or desires due to the new climate, or that they've not accessed this customer knowledge pool recently.
While opening up a business to feedback from customers can be difficult (none of us like to be criticised!), it's extremely valuable. Tapping into audiences online through Google or Trustpilot reviews is relatively quick and can reveal what's working for customers and what isn't. They could even discover that some products should be retired in place of other initiatives, for example.
While it may not be the most exciting element of running a business, entrepreneurs should make sure that they're up to date with the latest regulation before making a major decision. The most popular piece of advice amongst business owners is to take time to get the foundations right – and this should also apply to any controls the industry is subject to.
For example, before the expansion of a retail or hospitality business it's wise to check the new health and safety regulations coming into force in 2021 to ensure a growing business will be compliant in the long term. Similarly there will be new rules impacting businesses which provide services within the EU and those who handle data. Getting to grips with these ahead of time will prevent any last-minute panics before launching something new.
With market research and regulatory change in mind, it's also important to assess business needs before beginning an expansion or investing into a startup. SMEs should consider how their business growth will take shape and what they are looking to achieve. Are they developing an untapped market, for example, or launching a new product or element to their current offering? How should they work out whether their expansion has been a success and in what timeframe? Setting objectives will help SMEs plan effectively to reach their desired business impact.
With all this change afoot it's even more important that businesses protect themselves against risks, such as the loss of data or legal disputes to give themselves the confidence to capitalise on an improved economic outlook. Yet, our research shows that a quarter of businesses are still without insurance, a likely barrier to embracing the risks needed to take their business to the next level. While the outlook is positive, SMEs can't afford to leave themselves exposed due to the risk of destabilising their business and destroying growth prospects.
Instead, it might be helpful to sit down and figure out what elements of the startup might be at risk. For example, will expansion involve collecting more personal data from consumers or taking in more high value stock? Whilst growing a small business is exciting, not accounting for the risks associated with these and other factors may come back to bite a SME in the longer term. 
Without confidence, it's hard to do anything in business. Confidence allows startups to do something no one has done before or make something in a way no one ever has.  Whilst ideas get an SME to the dance, confidence helps it do the moves.
And confidence doesn't only come from a sunnier economic outlook, but from having the tools and security net in place to get things back on track should something go wrong.