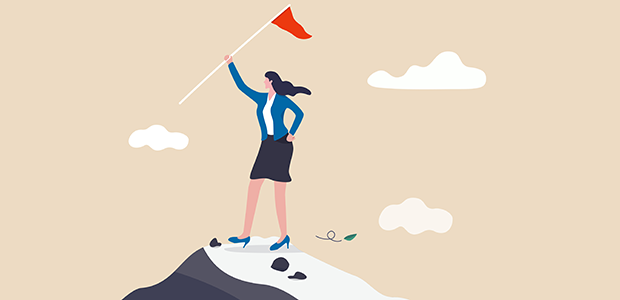 How Skai Social is empowering women entrepreneurs
When it comes to social media, it can be a bit of a mind-field to business owners, as it is ever evolving and hard to keep up with. With so many constant changes and shifts, how can one truly be ahead of the curve?
Skai Social, a UK-based social media management/influencer marketing agency, has a unique key within its courses, and one that empowers women in business to take the lead on their own social media channels, and become experts themselves to help their businesses thrive.
Highlighting KPI (key performance indicators) for growth – such as how reels focus on transitions and catchphrases, and how to best utilise cover photos – the courses help those who are struggling in these areas to think outside of the box, and to turn any raw and natural material into relatable, relevant content that would bring significant returns.
With five modules to the course: 'New Era of Social Media' covers defining business dreams to how to build aesthetics, branding and create the media strategy and content creation. Last but not least it helps anyone understand influencer marketing and how it works and breaks down how to ensure launching and selling successfully via social media!
We spoke with Skai Pakalnyte, owner of the SME agency, in this short interview below, about why and how her five modules can be both a lifesaver and a game-changer to any women in business.
Why do you think women entrepreneurs need to be social media experts themselves?
I believe that behind every successful entrepreneur, there's been sweat and tears of trying to multi-task and wear a variety of hats in the business until you are able to hire assistance. Social media is a huge part of showcasing yourself and your work online, so every entrepreneur has likely begun their socials themselves first and then handed over to a social media manager. I think it's important to have a strong balance between work and your personal life, but not disconnect from social media completely. This is so you can understand the trends happening and have new suggestions for your team. Also, for personal branding profiles, you as a person have to be the main character, meaning you will have to understand why you're doing what you're doing to stay authentic and true to your beliefs.
For SMEs, what are the top reasons for having social media channels? Do you have a case study or example of a client you can talk about to illustrate this?
Having a social media presence online will raise awareness, widen your industry knowledge, create a sense of community, showcase your latest achievements, sell your services/products, and show your true, real authentic self. People no longer buy products. People buy into people and their stories.
We have a variety of clients in the beauty, hair, fashion and lifestyle industries in the UK and Dubai who are predominantly using social media platforms to communicate and sell to their audience. For example, with our client @vikjetfinejewelry we are always discussing ways to keep their bespoke jewellery aesthetically pleasing, and Instagram channel growing. We also showcase the items well and sell these via Instagram. Clients are able to DM our clients and arrange payments directly.
Who are the courses for? Are they just for newbies to social media, and should you take all the modules, or can you take just one or two?
The 'New Era of Social Media Course' is made for those looking to understand and grow their presence on social media. We invite social media managers, content creators and business owners to learn how to have a successful feed online from colour tones, branding, strategy, how to do influencer marketing and launch with a full sell-out! I would highly recommend completing all five modules in order as they slowly lead you into the new you and your business. You would not be able to understand or physically do your launch in Module 5 without having your branding from Module 2 and Social Media Strategy understood in Module 3.
What are your five top tips for people to be aware of when managing social media accounts (to keep the account authentic and not just selling something all the time)?
I teach a very simple yet super powerful strategy:
1. Educate – provide value, think about your ingredients, introduce your staff, how is your product made and why is it so amazing?
2. Inspire – entertainment is growing on all social platforms, if you can make someone feel good and even better, laugh then you are on to something. Allow your audience to connect with you through inspiring content that allows them to feel welcomed and safe in your environment. It's a little like inviting someone into your home, you don't want them to feel overwhelmed.
3. Create – make sure you are staying consistent with texts, fonts and are creating content that has 'viral potential'. You want to know all the latest audios and current trends to have more of a chance to be seen by a wider audience.
4. Collaborate – don't forget to work with others! This can be done via influencer marketing, working with friends, family, your partner, and your clients. People love to see real results from real people, more than studio-shot perfect pictures.
5. Promote – of course, you are here to sell! So don't forget to have a good sales strategy in place alongside all of the beautiful content. You can promote yourself via client testimonials, showcasing your products, and services in fun ways whether that's speaking on a reel or TikTok, doing LIVES or sharing a carousel of studio photos.
What do you think is the future for social media and social media channels? Do you see it evolving in a different direction?
The future is all about community. It is going to be more interactive than ever. We are already finding more ways to work remotely, speak online and even host events online. The community will stay strong online but also, in real life. Before, most people only ever knew how to work or interact in person, since lockdown we have all learned there are two ways, and this will highly impact the world altogether. Expect more video content, instant LIVE's, instant online shopping and e-commerce platforms, NFT's, physical events and communities within their niches joining together.