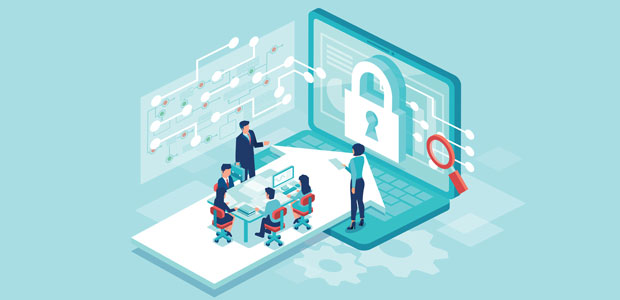 How Secure is the Digital Side of Your Business?
Running an organisation free of issues is what everyone wants. No business wants to fall victim to cyber attacks. However, that's not always the case. Day in day out, cyber criminals are devising means of compromising businesses. According to Purplesec, Cyber crime is up by 600% due to the COVID-19 pandemic. Some other factors, such as software issues, make enterprises insecure.
The safety of your business is dependent on the deliberate attempt you've taken (and will continue to take) to keep it secured. The rest of the article will explore ways how to secure the digital side of your business.
How to Secure the Digital Side of Your Business
Below are points on how you can ensure the digital safety of your business;
1) Staff Training
Awareness remains the first step towards securing the tech ecosystem of a business. The exploitation of human errors is the most common way criminals gain access. You have to organise either online or offline training (or both) for your employees.
Your workforce needs to be trained in the following areas:
How Social engineering and Phishing works - they need to understand the different tactics hackers use in performing actions that lead to a security compromise. Most times, hackers trick users into clicking malicious links or revealing sensitive credentials. Today, hackers deploy sophisticated phishing attacks using the COVID-19 theme.
Security best practices - this focuses on teaching your employees the dos and don'ts of cyber security.
2) Hire Cyber Security Experts
You need experts to help analyse your business and provide a professional report of what you need to tie up. I know you might be thinking of security software to buy - that's lovely. But having an expert evaluate your business will help you purchase the appropriate software products for you.
3) Institute a Cyber Security Policy
Many companies have issues because they lack standard security policies. Experts can help you put a standard policy in place. Your company security policy should address the following:
Backup policy

Disaster recovery plan

Principles guiding on-premise and remote work conditions
4) Safe Storage of Data - Cloud Storage
How and where you store data determines the security of the digital side of your business. Storing data away from the reach of enemies has become easier than ever since the emergence of cloud computing. Cloud storage combines security and accessibility. With adequate research, you will find the Cloud service that suits your business needs.
Furthermore, it is best to use software that is backed by Cloud for other operational purposes, such as sending large files, and other documentation throughout the entire team securely.
5) Password Best Practices
There are advanced technologies hackers leverage to crack passwords. Just with a tool, hackers can test thousands of password combinations in a few minutes. This makes it very easy for strong passwords to be compromised. Passwords are also compromised through theft, social engineering, and phishing attacks.
The remedy is to have password best practices in place. Take the following steps to secure passwords:
Use a password manager - a password manager generates and saves strong passwords. It helps close the loopholes created by the inability of some employees to memorise and keep complex passwords.
Use two-factor authentication - make sure to institute a two-step login process. In this case, logging in requires that you enter a password plus a code that will be sent by phone, email, or generated by a separate security device.
6) Use a Private Browser
A private browser provides a secure way to browse the web. Mainstream browsers are good but they do not offer the level of security feasible with a private browser. There are some Settings on regular browsers such as the Incognito mode that gives a level of privacy. But the privacy you get through the Settings of normal browsers is not reliable. If you care about the privacy of your business activities, use a private browser.
7) Use a VPN
A Virtual Private Network (VPN) allows you to establish an encrypted connection with the internet. It protects the information you share through public networks. Using a VPN is a sure way to cover your trails online. It offers the security and anonymity your business needs to thrive in the digital space.
You can secure the digital part of your business by giving attention to some standard measures. Using a trusted VPN service such as Surfshark VPN will definitely offer your business the maximum security.